Dessert Recipes
Chocolate Raspberry Cheesecakes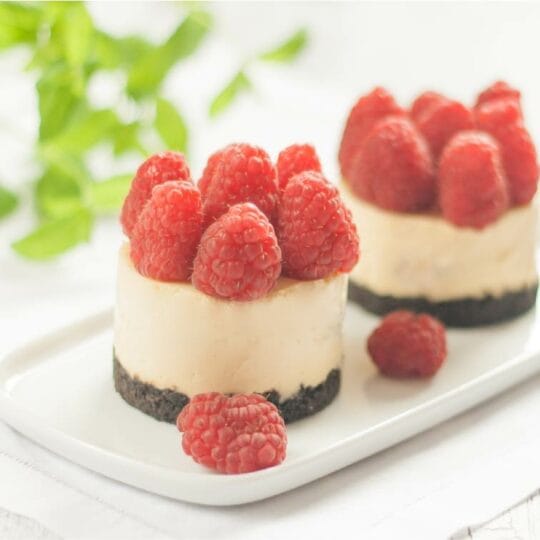 Dessert
Chocolate Raspberry Cheesecakes
Serves: 24
Ingredients
1 container Reynolds foil baking cups
1 bag Santa Fe Farms fat free chocolate chocolate chip cookies 24 cookies
2 packages Organic Valley Neufchtel cheese at room temperature
2 tablespoons Wilkin Sons raspberry seedless preserves
1 package fresh raspberries
Directions
Preheat oven to 325 Fahrenheit. Set foil baking cups in the bottom of two standard muffin pans. Place one cookie at the bottom of each cup and gently press down so they mostly cover the bottom of the cup.
In a mixing bowl, combine the Neufchtel cheese, sugar, eggs, and vanilla. Beat on high with an electric hand or stand mixer for about five minutes, until smooth, scraping down the sides as necessary.
Use a soup spoon to scoop scant spoonfuls of cream cheese mixture onto the cookies, filling each tin about 2 inch from the top. Bake for 12 to 15 minutes, until set. Cool on a rack and then chill in the refrigerator two to three hours.
When ready to eat, remove cakes with foil cups from pan and arrange on a platter. Heat raspberry preserves briefly in a small, heavy saucepan over low heat to melt. Spoon about 8 teaspoon of preserves into the center of each cheesecake. Top with three raspberries and serve. Can be made up to a day ahead of time.