Lunch Recipes
Chorizo Seitan Tacos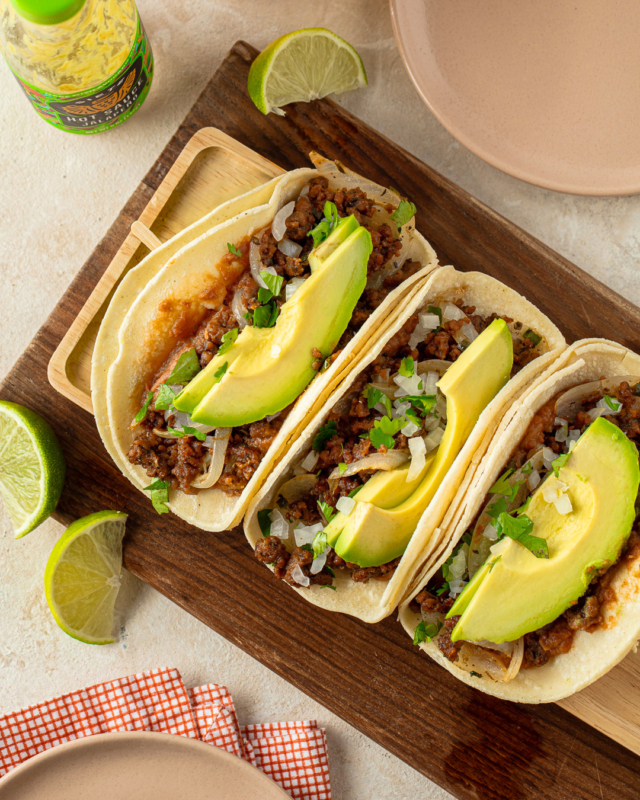 If you're a vegetarian, you're probably familiar with seitan, which is another name for wheat gluten. It's been used as a meat substitute for thousands of years, and it comes in a variety of textures, from light and fluffy to spongy and chewy.

Like tofu, seitan is packed with protein, and it's a terrific vehicle for seasoning. And that's why even the meat-eaters among us are pretty crazy about these chorizo seitan tacos — they have a lot of flavor. The chorizo has a nice mild guajillo chile heat and plenty of cumin. In the taco, it's the perfect chewy, spicy layer between the salty soft refried beans and all the fresh veggies and herbs we piled on top.

And second, these tacos can be on the table in under 30 minutes. Our tip? Keep the base ingredients in your collection of staples and mix up the toppings with whatever you've got around — cabbage, lettuce, tomatoes, radishes, olives, salsa, corn, cheese — for an easy, breezy, no-planning-needed weekly taco night.
Servings: 3-4
Ingredients
1 teaspoon vegetable oil
½ white onion, sliced
2 teaspoons jalapeño, chopped and seeded
1 package Upton's Naturals Chorizo Seitan
1 can vegetarian refried black beans
12 corn tortillas, warm

Toppings
½ white onion, diced
¾ cup chopped fresh cilantro
2 avocados, sliced
3 lime slices
Optional: deep-fried avocado slices, pickled red onions

Directions
Heat oil in large, nonstick skillet over medium heat, and sauté sliced onion and jalapeño until tender, about 10 minutes.
Add the chorizo and cook until beginning to brown in spots, stirring often, about 5 minutes.
Meanwhile, cook beans in small saucepan over low heat until heated through, stirring occasionally.
Assemble tacos: Stack 2 warm tortillas for each of 6 tacos (12 tortillas total). Spread scant 2 tablespoons of beans over each stack. Top with the chorizo mixture, dividing equally. Sprinkle with diced onion, cilantro, avocado, a squeeze of fresh lime juice, and any other toppings.