Lunch Recipes
Colorful Summer Tortellini Salad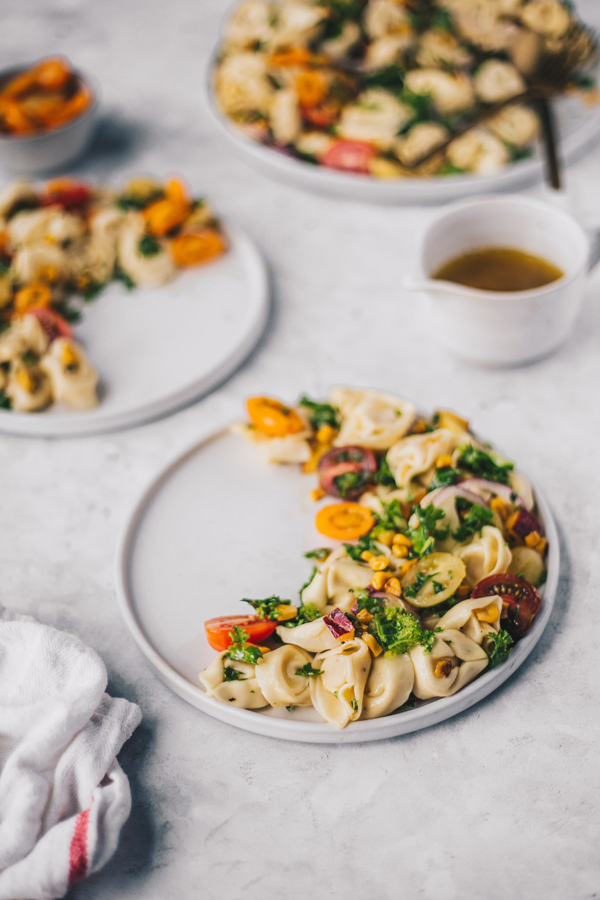 Once you taste Nuovo Pasta, you'll want bite after bite. This Colorful Summer Tortellini Salad is the ideal side for a casual yet elegant gathering.
Total Time: 15 minutes

Ingredients
2 packages (1 pound) Nuovo Pasta tortellini, cooked according to package's instructions + a drizzle of an olive oil
1.5 cups rainbow cherry tomatoes, halved
1 cup kale, chopped
1/4 cup red onion, thinly sliced
1 ripe peach, cubed
salt and black pepper, to taste
Pan "roasted corn":
1/3 cup organic corn
1 tsp oil of choice
salt, to taste
Dressing:
1/2 cup extra virgin olive oil
2 tbsp apple cider vinegar
2 tsp male syrup
1 tsp dijon mustard
1/2 tsp oregano
1/4 tsp garlic powder
1/2 tsp salt, or to taste
black pepper, to taste
Instructions
Cook the tortellini according to package's instructions. Once cooked, dry and rinse with a cold water. Drizzle with an olive oil and lightly coat the tortellini (to prevent from sticking). Let it cool.
On a small pan, preheat an oil. Add corn along with salt. Cook until corn is golden and beginning to brown (around 5 minutes).
For the dressing, combine all ingredients in a jar and shake well. Set aside.
In a large bowl, place tortellini, halved rainbow cherry tomatoes, chopped kale, onion and cubed peach.
Pour desired amount of dressing over the top, then toss to combine.
Serve immediately or cover and refrigerate up to one day.
Recipe courtesy @nateats.