Recipes
Cottage Cheese and Green Onion Biscuits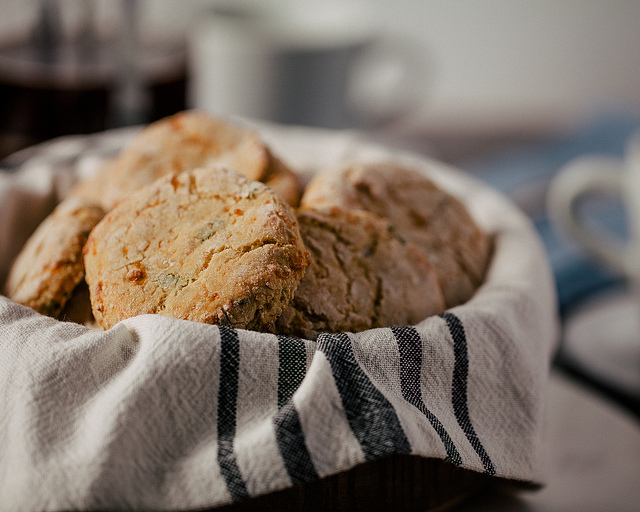 Creamy cottage cheese keeps these quinoa biscuits nice and moist and gives them a subtle salty tang that's lovely with the green onion. We like them best right out of the oven, sliced in half, and topped with a knob of sweet cream butter — a nice savory afternoon treat or brunch side. And a healthy one: between the cottage cheese and the quinoa flour, these babies are packed with protein!

Our tip: These biscuits would be perfect for a brunch with your gluten-free pals. As you're making them, take care not to overwork the dough. You want to mix it until it's just combined, and then pat it into a rough rectangle — no rolling pin please! The goal is a light, flaky, layered biscuit.
Servings: 10
Ingredients
2 cups quinoa flour, plus extra
2 tsp coconut sugar
4 tsp baking powder
½ tsp sea salt
2 5.3-oz containers of Good Culture Cottage Cheese
4 green onions, chopped
½ cup unsweetened cashew milk (or almond milk)
Directions
Preheat your oven to 450º, and line a baking sheet with parchment.
In a large bowl, combine the dry ingredients.
Add in the cottage cheese, milk, and green onions, and stir with a wooden spoon until a rough dough forms. Note: It's important not to overwork the dough. You want the ingredients to stay slightly loose, so that it bakes into nice, flakey layers.
Move the dough to a well-floured surface, and use your hands to pat it into a rough rectangle of about 1-inch thickness.
Using a biscuit cutter or the floured rim of a glass (2 inches in diameter), cut the dough into biscuit-shaped pieces.
Place the biscuits on the baking sheet and slide in the oven for 15 minutes or until golden brown on top. Serve immediately.
Recipe source: Good Culture .