Lunch Recipes
Creamy Mushroom Soup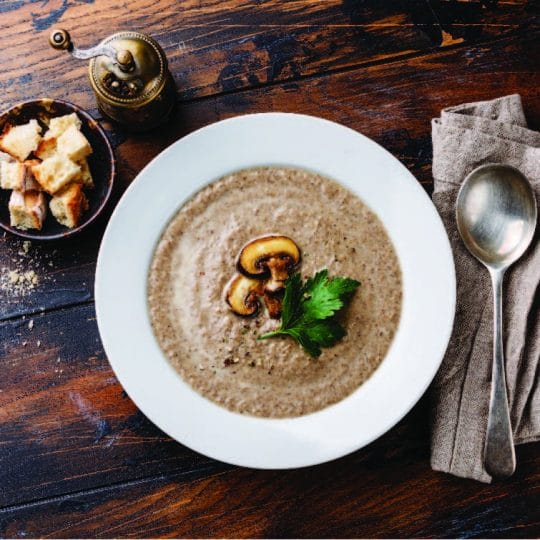 Lunch
Creamy Mushroom Soup
Serves: 6
Ingredients
2 ounces Melissas dried porcini mushrooms
2 to 3 cups very hot water
2 tablespoons Napa Valley organic olive oil
2 medium leeks stalks only chopped
2 baby red potatoes peeled thinly sliced and chopped
1/2 pound shiitake mushrooms wiped clean stems removed
1/2 pound portobello mushrooms wiped clean stems trimmed
1 tablespoon all purpose flour
3 to 4 cups Health Valley fat free chicken broth
2 tablespoons fresh thyme leaves minced
1 cup Horizon Organic plain nonfat yogurt
1/4 to 1/2 teaspoon black pepper
Directions
Soak dried mushrooms in enough hot water to cover them for 10 to 20 minutes. While soaking, clean and chop the leeks, garlic, potatoes, and fresh mushrooms. Remove the rehydrated mushrooms from the water, reserving the soaking liquid, and chop. Strain the soaking liquid through a mesh strainer lined with cheesecloth or a paper towel.
Heat olive oil over low heat in a soup pot and add leeks, garlic, and potatoes. Cover and sweat until tender, stirring occasionally. After about 8 to 10 minutes, raise heat to medium, add all the mushrooms, and saut For 5 minutes. Sprinkle mushrooms with flour and pour in the sherry, stirring constantly for 4 minutes. Add the mushroom soaking liquid, chicken broth, and thyme. Bring to a boil, reduce heat and simmer, about 20 minutes.
Use an immersion blender to puree the soup to a thick liquid with small bits of mushrooms, or puree the soup carefully and briefly in a blender or food processor.
Stir in yogurt and salt and pepper to taste. Remove from heat and serve.