Dinner Recipes
Crostini with Steak & Herbed Cheese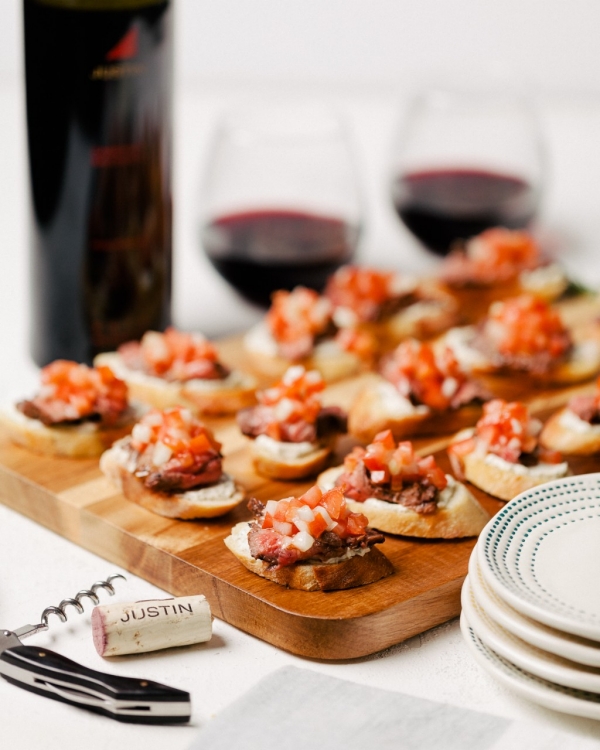 For our latest crostini creation at Gelson's Market, we've spread a creamy garlic and herb cheese on baguette toast and layered it with thin slices of steak and a garnish of fresh tomatoes and onion. It's such a rich and satisfying combination, you could pair it with a salad and call it a light dinner, or serve it with a few additional appetizers and call it heavy hors d'oeuvres.

In fact, we think it would be perfect for your book group (or any sort of casual gathering). It comes together in minutes, it's quite comforting — just the thing to fortify the meek, calm the contrarians, and settle everyone in for a good conversation — and it pairs brilliantly with red wine.

Our tip: Try a Justin Cabernet Sauvignon or a J Lohr Cabernet. Both are awesome food wines, smooth yet full bodied and bold enough (think black cherries and dark chocolate) to stand up to the crostini's steak and bright onion and garlic.

Ingredients You Will Need
Servings: 4
1 16-oz skirt or flank steak
3 Tbsp olive oil, divided
2 to 3 Roma tomatoes, seeded and diced small
1 medium onion, diced fine
Cracked black pepper
1 pkg Alouette Garlic & Herbs Soft Spreadable Cheese
1 baguette, sliced ½-inch thick

Directions on How to Make Crostini with Steak & Herbed Cheese
Heat the grill to medium-high, or preheat the broiler with the rack set 4 inches from the heat source.
Brush one side of the bread slices with 1 tablespoon of the olive oil. Place on the top rack of grill or broiler and toast to desired doneness. Set aside.
Toss the tomatoes and onion in a bowl with 1 tablespoon of olive oil. Set aside for garnish.
Rub steak with 1 tablespoon of olive oil and desired amount of cracked pepper.
Transfer meat to the grill and cook, covered, until it is medium-rare, about 5 minutes a side — or broil until charred and medium-rare, about 4 to 6 minutes per side.
Slice steak into strips measuring about ⅛ to ¼ inch.
Spread generous amounts of cheese on the toast slices, divide the steak among them, and garnish each with the tomato-onion mixture.

Recipe source: Alouette Cheese