Appetizer Recipes
Curried Cauliflower, Potatoes, and Peas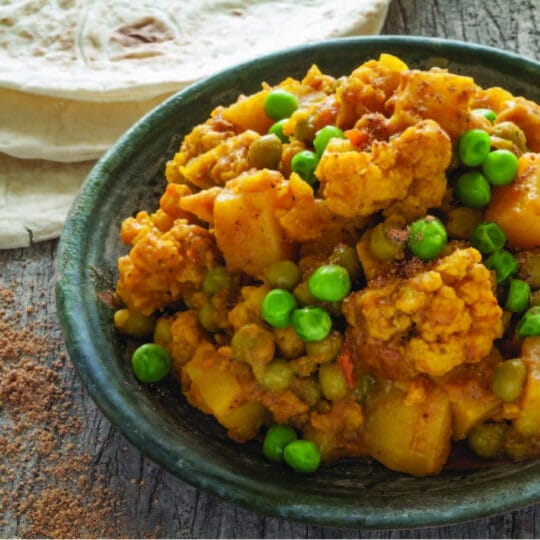 Appetizer
Curried Cauliflower, Potatoes, and Peas
Serves: 6
Ingredients
2 tablespoons canola oil divided
1/4 teaspoon salt divided
1 large head Earthbound Farms organic cauliflower washed and cut into florets
1 16 ounce package Melissas baby Dutch potatoes scrubbed and halved
1 Melissas organic onion peeled and quartered
2 Melissas organic garlic cloves peeled and halved
1/2 red jalapeo pepper seeded
1 1 inch piece gingerroot peeled and quartered
1 tablespoon Bombay Brand Madras curry powder
1/8 teaspoon red pepper flakes
1/2 cup Cascadian Farm organic frozen peas
Directions
Preheat oven to 400 F. In a measuring cup, combine 1 tablespoon canola oil, cumin seeds and 1/8 teaspoon salt.
Place cauliflower and potatoes in a glass baking dish. Toss with oil and spices. Arrange in a single layer in the dish. Spray tops lightly with olive oil spray. Cook for about 30 minutes, shaking the pan or turning the veggies every 10 minutes. Remove from oven when they start to brown on the outside, and are crisp tender when pierced with a fork.
While the veggies are roasting, place the onion, garlic, jalapeo, and ginger in a food processor and pulse until minced, but not pureed. Heat remaining tablespoon of canola oil in a large skillet over medium heat. Add the minced vegetables and cook, stirring frequently, until onions start to brown, about 10 minutes. Sprinkle in curry powder, red pepper flakes, and peas and cook to brown curry powder for 2 more minutes. Add water and scrape down sides and bottom of skillet. When water is mostly evaporated, mix in roasted vegetables, cover, and cook 3 more minutes, stirring occasionally. Serve immediately.