Dinner Recipes
Curry Cashew Vegetables & Rice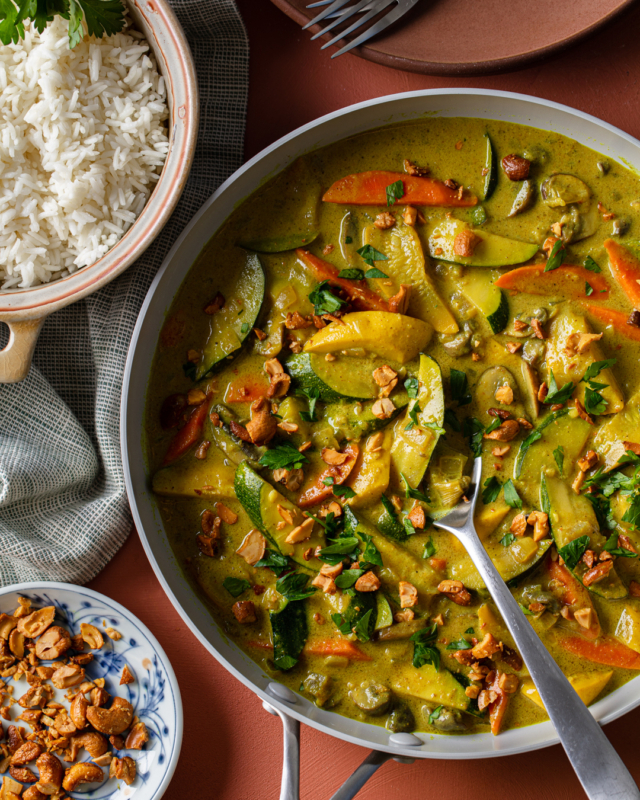 Tender vegetables and rice in a mild coconut curry redolent with garlic, ginger, and Indian spices — this dish has that wonderfully warm curry quality that feels simultaneously comforting and terrifically good for you. The curried cashews on top of it are a delightful addition. A little spicy and very crunchy, they round out the dish, and give you something to nibble on while dinner is cooking.

Curries often come with a long, intimidating list of ingredients, but this one is short, sweet, and weeknight-easy — in part because you don't have to mess with blending your own spices. You can pull it together in 45 minutes or less!

Our tips: This recipe is very versatile. You can mix and match the veggies based on what's in season and what you love, and you can also add chicken, fish, or tofu while the sauce is simmering at the end. Want to keep things simple? Pick up a rotisserie chicken in the Gelson's Kitchen. And make a double batch of the curried cashews — they're splendid with a beer.
Servings: 4
Ingredients

For the curry toasted cashews:
½ cup cashews
½ tsp canola oil
½ Tbsp curry seasoning

For the curry:
1 Tbsp canola oil
1 cup yellow onion, ¼-inch dice
1 cup mushrooms, chopped
1 Tbsp ginger root, peeled and minced
1 Tbsp garlic clove, minced
2 Tbsp curry seasoning
1 14-oz can coconut milk
½ cup water
1 cup zucchini, cut into quarters length-wise and cut on the bias
1 cup yellow squash, sliced into ¼-inch rounds
½ cup carrot, peeled and sliced ¼-inch on the bias
1 ½ cups rice, cooked
Kosher salt, to taste
Black pepper, to taste


Directions
To make the curry-toasted cashews: Preheat the oven to 400º and line a sheet pan with parchment.
In a medium stainless steel bowl, toss cashews, oil, and curry seasoning together until well combined.
Spread cashews out evenly on the sheet pan and bake until golden brown, about 8 minutes.
Allow the nuts to cool to room temperature, chop them into small pieces, and set them aside. Note: If you have leftover nuts, you can store them in an airtight container for 1 week.
In a large skillet, heat the oil over medium-low heat, and then add the onions and sauté until translucent, about 3 to 4 minutes.
Add the mushrooms, stirring constantly, and continue to cook for 2 additional minutes.
Add the ginger and garlic and cook for 2 more minutes, or until aromatic.
Sprinkle in the curry seasoning and stir to combine all ingredients well. Continue cooking until the curry is fragrant.
Add the coconut milk, water, zucchini, yellow squash, and carrots to the pot and stir to combine well. Bring mixture to a boil, then reduce the heat to low and simmer for 10 to 15 minutes, or until vegetables are cooked through.
Season the curry with salt and pepper, and serve it with rice and a garnish of toasted cashews.
Recipe source: The Spice Hunter