Appetizer Recipes
Deviled Eggs Three Ways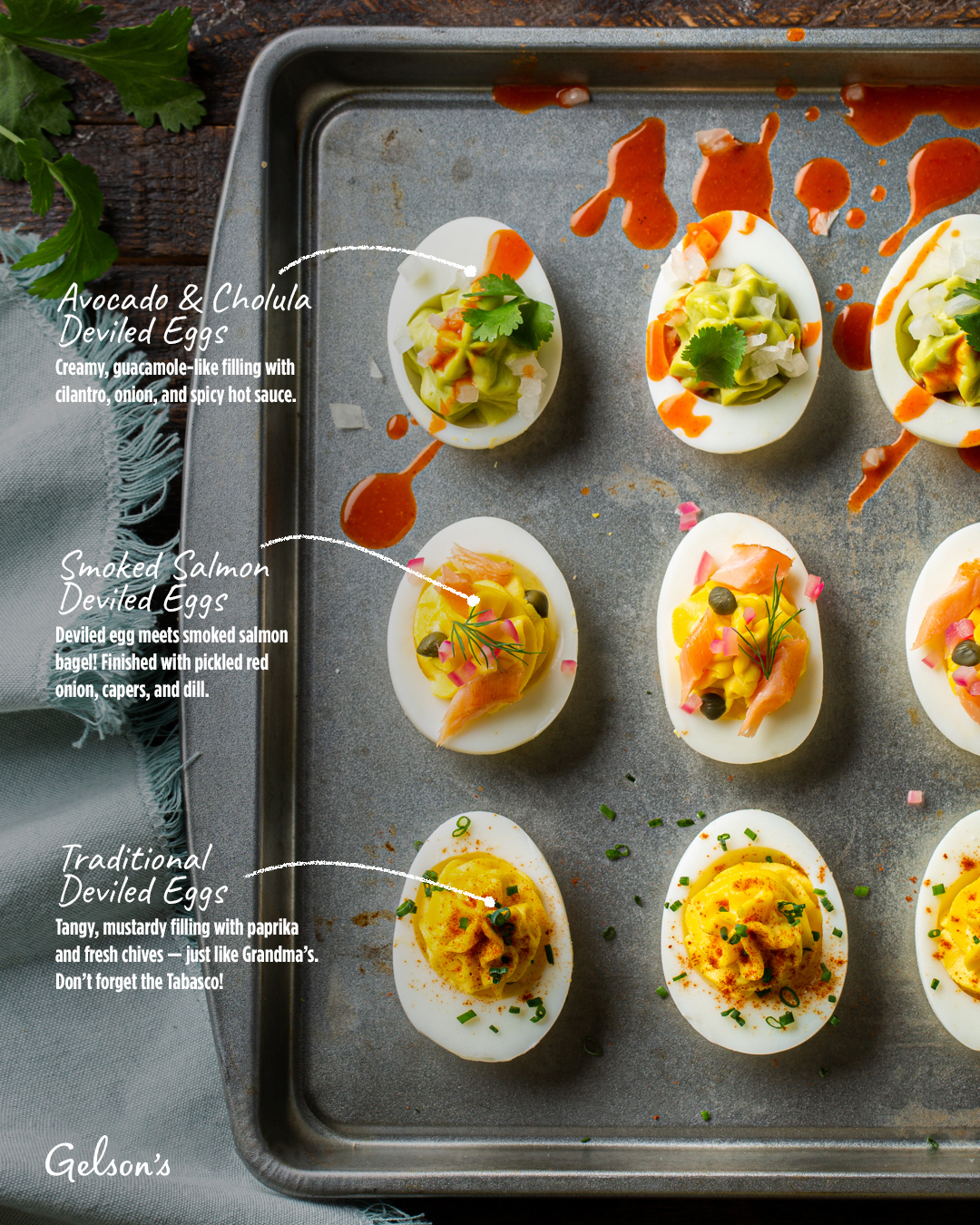 Every now and then, we like to indulge our inner food-history nerd and revisit some of the most popular recipes of decades past. As an iconic fixture of mid-century American parties, picnics, and potlucks, deviled eggs are certainly one such recipe. But today, they're still as popular as ever — and usually one of the first appetizers to disappear from the table.

According to food historians, the roots of these timeless stuffed eggs trace all the way back to ancient Rome, though they've evolved quite a bit since then. At the homes of wealthy Romans, they were boiled and slathered with spicy sauces as the first course of a meal. In Petronius' Satyricon, there's even mention of peahen eggs stuffed with fig pecker (a small songbird) meat marinated in peppered egg yolk.
By the 13th century, stuffed eggs made their way to what is now modern-day Spain. A cookbook from the time had a recipe that called for mashing boiled egg yolks with cilantro, onion juice, spices, and murri, a sauce made of fermented barley or fish — and then stuffing the mixture into the egg whites, securing the halves with a stick, and sprinkling them with pepper. Medieval European cookbooks from the 1400s also contained recipes for boiled eggs stuffed with raisins, cheese, and herbs. And unlike the cold stuffed eggs of our time, these were served hot, and sometimes fried.
In fact, the version of deviled eggs we Americans consider classic — made with mayonnaise, mustard, Tabasco sauce, and paprika — is a relatively recent culinary invention. The first appearance of a deviled egg recipe that used mayo as a binding agent was in Fannie Farmer's 1896 Boston Cooking-School Cookbook, but it wasn't even until the 1940s that the condiment became a staple ingredient in the filling. After WWII, the deviled egg really hit its stride, and since then, it's never really disappeared from the American home-cooking canon.
That said, chefs and home cooks have long experimented with deviled eggs — which is exactly what we've done here. Starting with a basic deviled eggs recipe, we played around with different garnishes and mix-ins, from pickled red onions and smoked salmon to cilantro and avocado, resulting in two very distinct (but equally delectable) variations on a theme. And don't worry, the traditional toppings are here, too!
Basic Deviled Eggs
Ingredients
12 large Gelson's eggs, hard-boiled
⅓ cup mayonnaise
1 Tbsp yellow mustard
1 tsp white wine vinegar
4 dashes Tabasco sauce
Kosher salt, to taste
Directions
Slice the hard boiled eggs in half lengthwise, remove the yolks, and transfer them to a food processor.

Add in the remaining ingredients and process until smooth.

Transfer the mixture to a piping bag fitted with a large star tip. Pipe the mixture into the egg white halves and garnish with your favorite toppings.
Traditional Deviled Eggs Garnish
As promised above, we top the creamy, tangy, mustardy filling with a sprinkle of paprika and fresh chives, and then serve them with Tabasco sauce for some heat — just like Grandma used to do.
Ingredients
12 deviled eggs (see recipe above)
Gelson's paprika, to taste
1 Tbsp chopped Gelson's organic fresh chives
Tabasco sauce, to serve
Directions
Garnish the deviled eggs with a sprinkle of paprika and chives.

Serve with a bottle of Tabasco sauce.
Smoked Salmon Deviled Eggs
If a deviled egg and a deli-style smoked salmon bagel had a baby, it would look like this. The tang of the classic deviled egg filling is delightful with the smoky fish — and the pickled red onions and capers bring brightness and brine to the bite.
Finished with lacy dill fronds, these eggs look so vibrant and elegant, especially with the flouncy piped filling. They make any brunch spread feel luxe (but they're not so pretty that you won't want to eat them!).
Ingredients
12 deviled eggs (see recipe above)
2 oz Gelson's sliced Scottish smoked salmon, chopped
2 Tbsp capers
2 Tbsp pickled red onions, finely diced
24 small Gelson's organic fresh dill fronds
Directions
Garnish each egg with a few pieces of smoked salmon, a few capers, a pinch of pickled red onion, and a dill frond.
Avocado & Cholula Deviled Eggs
Turns out, stirring an avocado and lime juice into a classic deviled egg filling makes it taste like a super light, super creamy guacamole. It's so yummy, we could eat it by the spoonful.
We topped these green guys with chopped white onion and fresh cilantro for some traditional-taco-topping vibes — and then doused them with Cholula hot sauce, in true deviled fashion. We just love all that spicy heat with the bright avocado filling.
Ingredients
12 large Gelson's eggs, hard-boiled
1 avocado, pitted
1 tsp freshly squeezed lime juice
1 tsp kosher salt, to taste
2 Tbsp white onion, finely diced
3 Tbsp Cholula hot sauce
24 Gelson's organic fresh cilantro leaves
Directions
Follow the directions for basic deviled eggs (recipe above) through step 2.

Transfer ⅓ of the filling to a large bowl, and add the avocado, lime juice, and kosher salt. Taste and add more salt, if needed. Note: You will have some leftover deviled egg filling. Use it to make sandwiches, or add chopped chives and a bit of paprika and eat it as a dip.

Transfer the mixture to a piping bag fitted with a large star tip and pipe the mixture into the egg white halves.

Garnish each egg with a pinch of diced white onion, a few dashes of Cholula sauce, and 1 cilantro leaf.