Dinner Recipes
Dirty Rice
This beloved Creole classic has an origin story seeded deep in southern Louisiana, where the Mississippi spills into the Gulf of Mexico and there's an intersection of African, French, and American cuisines.
If you've ever wondered what makes rice dirty, it's a mix of meat and aromatics. Many traditional recipes take their rich flavor from a combination of organ meats, like chicken livers, and ground beef or pork. Here, we capture that savory dynamic with minced chicken thighs and ground beef. Add in the holy trinity — chopped green peppers, onion, and celery — and a layer of low, slow heat from Cajun-inspired spices like smoky paprika and cayenne, and you have a deeply comforting, super-satisfying dish.
Dirty rice is often billed as a side dish with red beans or fried fish, but we'd happily eat it as a main. Put it in the center of the plate, and it will pair beautifully with a fresh green salad. And hey, we wouldn't judge if you skipped plating and ate it straight from the pan! (Because that's what we did in the test kitchen.)
Our tip: Drizzle on a little Louisiana hot sauce. Its salty, bright heat is just right with the dirty rice.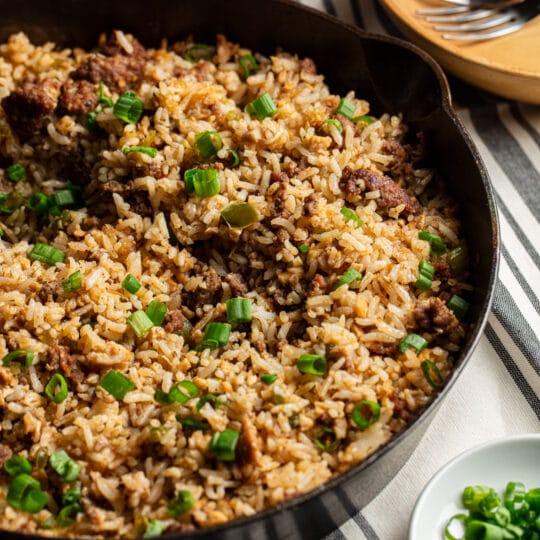 Dinner
Dirty Rice
Serves: 4
Ingredients
1 cup long grain white rice
2 Tbsp grapeseed oil, divided
½ cup small-diced yellow onion
¼ cup small-diced green pepper
½ lb Gelson's ground beef
½ lb boneless skinless chicken thighs
1 tsp freshly ground Gelson's black pepper
½ tsp Gelson's smoked paprika
¼ tsp Gelson's cayenne pepper
Green onions, thinly sliced, for garnish
Hot sauce (optional), for serving
Directions
Cook the rice according to package instructions and set aside.

In a large cast iron skillet, heat 1 tablespoon of the oil over medium heat until it shimmers. Add the onion, green pepper, and celery, and season with salt. Cook until the onion is softened and translucent, 3 to 5 minutes.

Stir in garlic and cook until fragrant, 1 minute.

Increase heat to medium-high and add the ground beef. Season with salt and cook for 8 to 10 minutes, or until the beef is browned and cooked through. Transfer the beef and vegetables to a large plate.

Wipe out the skillet, add the remaining 1 tablespoon oil, and heat over medium-high heat until it shimmers. Pat the chicken thighs dry, season all over with salt, and add to the skillet. Cook for 5 minutes a side, or until browned and the internal temperature reaches 165º on an instant-read thermometer.

Transfer the chicken thighs to a cutting board, let cool for 10 minutes, and then mince.

Heat the skillet over medium heat and add the minced chicken, ground beef, and vegetables. Stir in the black pepper, ground sage, smoked paprika, and cayenne. Cook for about 2 minutes, or until the seasonings are fragrant.

Add the cooked rice and gently stir until the rice takes on a brown color, about 2 minutes.

Garnish the dirty rice with the green onions and serve hot. Drizzle with hot sauce, if desired. Leftovers can be stored in an airtight container in the refrigerator for up to 3 days.
Recipe adapted from: Serious Eats
Calculate nutrition information for this recipe.