Breakfast Recipes
DIY Sausage McGriddle
What we love about the Sausage McGriddle — what we wake up craving on a sunny morning — is the interplay of texture and flavor. It's soft and fluffy like a pancake, melty like cheese, and chewy like a sausage patty. And it's got that breakfast-y seesaw of sweet and savory. Mmm, mmm, mmm.
The secret to the McGriddle's sweet pancake is a little maple syrup in the batter. In the test kitchen, we riffed on that, swirling maple syrup, brown sugar, and cinnamon through our batter. We cook the pancakes in a cookie cutter to get the signature shape, and the result is extremely pleasing: a lightly sweet, moist, and fluffy pancake with just a hint of fall spice.
We also went rogue with the sausage. Instead of the classic breakfast sausage, we used Gelson's hot Italian sausage. In the McGriddle, that heat comes on like a sneaker wave. It's an irresistible bite: you get the sweet pancake, the tangy American cheese and fluffy egg, and then the spicy sausage crescendo.
DIY Sausage McGriddles are the kind of kitschy fun that must be shared. They'll be perfect for an easy Saturday morning with houseguests — make a pot of coffee, put on some music, and let the day roll out slow and delicious.
Our tip: Not into spice? Feel free to use your favorite breakfast sausage: herby, sweet, or full of fennel, it will taste awesome in this pancake sandwich.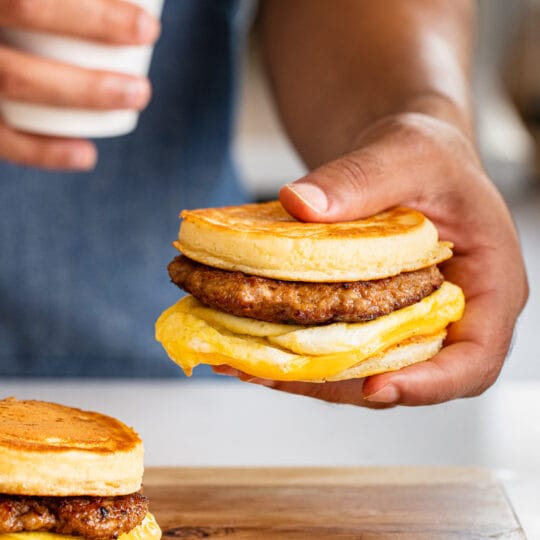 Breakfast
DIY Sausage McGriddle