Recipes
Dry-Fried Green Beans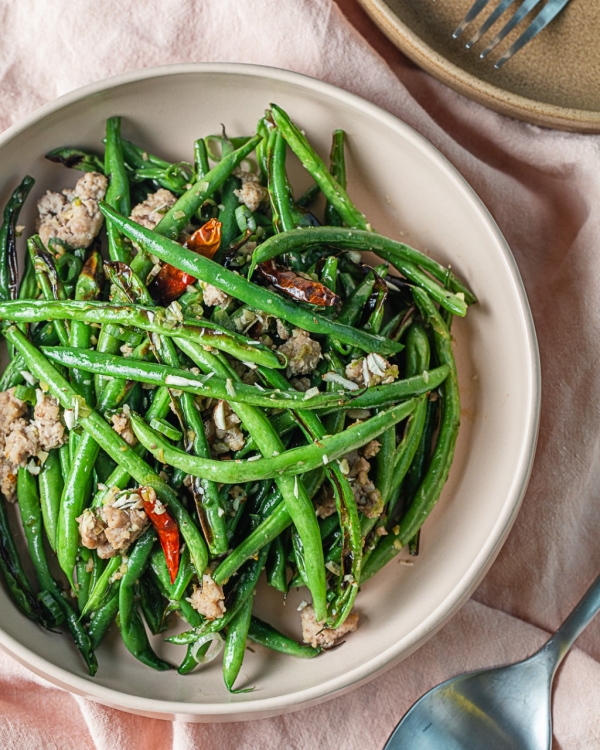 If you've been missing the Sichuan dry-fried string beans from your local takeout place, this recipe is for you. It's easy as can be — your broiler does the trickiest step — and turns out a near-perfect replica of the real deal, so it's destined to become a regular on your weekly menu rotation.
Traditionally, dry-fried green beans are cooked in fiery hot oil, which can be a little intimidating. Here, we broil the green beans and it works like magic: they come out lightly charred and blistered, but tender and a little al dente inside. (Not even a shade overdone.) We toss them with ground pork, garlic, ginger, and dried chiles. They've got some spicy heat, but we dial it back a little by coating them in a savory-sweet sauce of sugar, sesame oil, soy sauce, dry sherry — and a few chopped almonds for texture. They're as easy to wolf down as French fries, and yet they also feel pretty darn healthy.
What can you do with these beans? Add a bottle or two of beer, and they make a terrific happy hour snack. They're nice as a side dish too, or in an ensemble with other light dishes. But lately, we like them best as the main attraction: pile them on a bed of rice and call it a light lunch or dinner.
Servings: 4 to 6
Ingredients
3 Tbsp grapeseed oil, divided
3 whole dried chiles de árbol
¼ tsp black pepper, plus more to taste
¼ tsp ground coriander
4 medium garlic cloves, minced
1 Tbsp minced fresh ginger
3 green onions, thinly sliced
4 oz ground pork
1 lb green beans, trimmed
Kosher salt, to taste
⅛ tsp white pepper
½ tsp sugar
1 tsp sesame oil
2 tsp soy sauce
2 tsp dry sherry
1 Tbsp chopped almonds, plus more for garnish
Directions
Adjust the top rack in your oven as close as possible to the broiler and preheat the broiler to high. Line a rimmed baking sheet with aluminum foil.

In a medium skillet, heat 2 tablespoons of the grapeseed oil and the dried chiles, stirring frequently, until aromatic, about 2 minutes.

Add the black pepper and coriander and let the spices bloom, about 30 seconds. Add the garlic, ginger, and green onions, and cook, stirring continuously, until aromatic, about 1 minute.

Add the ground pork and cook, stirring to break it up, until it is slightly browned, about 4 to 5 minutes. Remove from the heat and set aside.

In a large bowl, toss the green beans with the remaining 1 tablespoon of grapeseed oil. Season with salt and white pepper.

Arrange the green beans in a single layer on the baking sheet. Broil until the green beans are blistered and lightly charred, about 6 to 8 minutes.

Transfer the hot green beans to the skillet. Add the sugar, sesame oil, soy sauce, dry sherry, and chopped almonds to the skillet.

Toss to coat the green beans thoroughly, and season with more salt and black pepper if desired. Garnish with more almonds and serve immediately.