Dinner Recipes
Duck Breast with Pluot Sauce over Arugula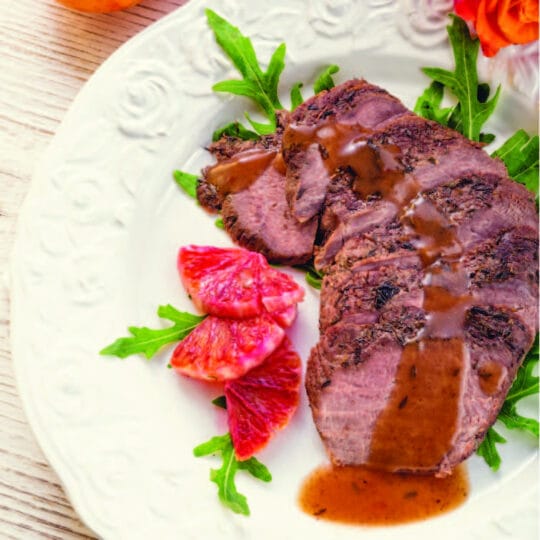 Dinner
Duck Breast with Pluot Sauce over Arugula
Serves: 4
Ingredients
1 tablespoon Napa Valley organic olive oil
1/2 large red onion quartered thinly sliced
2 medium Melissas organic shallots chopped
1 large clove Melissas organic garlic minced
4 black pluots pits removed diced divided
1 cup Monari Federzoni balsamic vinegar
1 teaspoon Wholesome Sweeteners organic raw blue agave nectar
4 7 1/2 ounce packages Maple Leaf Farms frozen boneless duck breast filets defrosted skin removed
1/2 teaspoon pepper divided
10 ounces organic arugula
Directions
Preheat broiler. Spray broiler pan with cooking spray.
Heat olive oil over medium heat in a small, heavy saucepan. Add onion and shallots and saut until soft, about three minutes. Add garlic and cook 30 seconds. Add 3/4 of the diced pluots and all of the balsamic vinegar. Turn heat up to medium high and bring sauce to a boil, stirring occasionally. Reduce sauce by half, about 10 to 12 minutes. It should have a syrupy thick consistency. Stir in one teaspoon agave. Simmer while duck is cooking.
Preheat broiler. Spray broiler pan with cooking spray. Wash duck breasts and pat dry with paper towels. Season one side of the breasts with the salt. Season the same side with half of the pepper. Turn breasts over and season with remaining pepper. Broil for about five minutes on each side. Use a meat thermometer to make sure the internal temperature is at least 155 Fahrenheit for medium and 160 Fahrenheit for well. Remove from oven and let rest on a clean cutting board for five minutes. Cut each breast into thin slices.
Arrange arugula on a serving platter and sprinkle with remaining plum pieces. Transfer duck to a serving platter and spoon one cup warm sauce over the duck and the salad.