Breakfast Recipes
Dutch Baby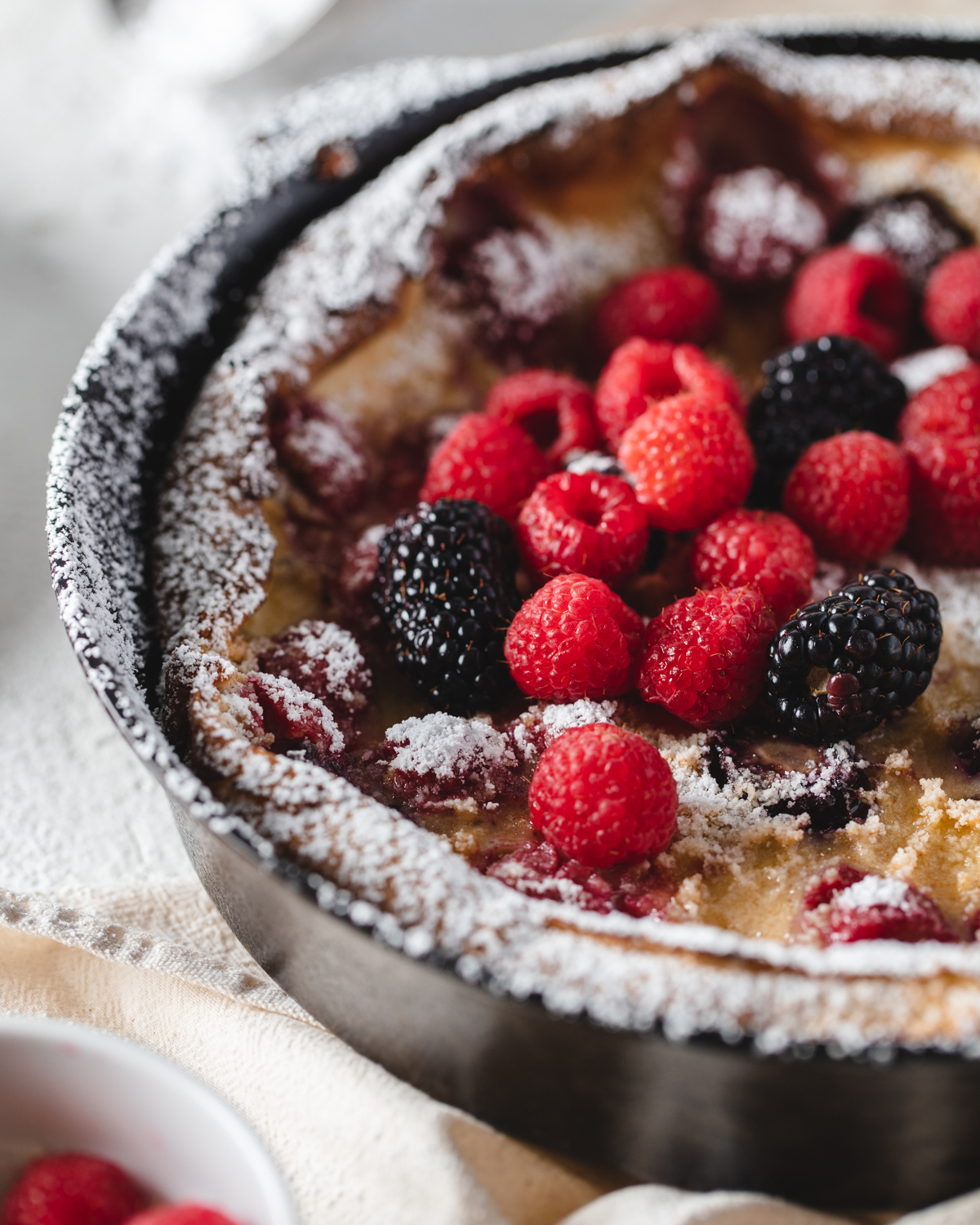 A Dutch Baby is perfect for brunches because it comes together faster than a pancake mix — and it's far more elegant. All you have to do is whisk together a handful of ingredients, dump in the raspberries and blackberries, pour it all in a hot, buttered skillet, and slide it in the oven. Minutes later, you've got a giant, fluffy, golden Dutch Baby.
We love the texture of a Dutch Baby: it's as light as a crêpe and has the soft, custardy interior of a popover. Here, the berries add some color and a sweet-tart foil for the egginess. The whole thing is a marvelous vehicle for powdered sugar.
Dutch Babies are a lovely morning treat. Because they come together so quickly, and they taste best hot, you'll want to have the bacon, coffee, and mimosas ready to go — and everyone at the table — when they roll out of the oven.
Tip: We like this Dutch Baby for dessert too. A scoop of vanilla bean ice cream melting over the bright berries and warm pastry is nothing short of scrumptious.
Servings: 6 to 8
Ingredients

3 large eggs, room temperature
½ tsp finely grated lemon zest
⅓ cup sugar
Pinch of salt
⅔ cup all-purpose flour
⅔ cup milk, room temperature
2 cups raspberries, divided
2 cups blackberries, divided
4 Tbsp unsalted butter
Confectioners' sugar, for dusting

Directions

Preheat the oven to 425°.

Heat a 10-inch cast-iron skillet over medium heat.

In a medium bowl, whisk together the eggs, lemon zest, sugar, and salt until combined.

Add the flour and milk and whisk until smooth.

Add 1 cup each of the raspberries and blackberries.

Melt the butter in the skillet and add the batter, spreading the fruit evenly.

Bake in the center of the oven for about 22 minutes, until the edges are browned and puffed and the center is lightly browned in spots.

Transfer the skillet to a trivet and dust the Dutch Baby with confectioners' sugar. Cut the Dutch Baby into wedges, and serve it with the remaining fresh berries.
Recipe source: Food & Wine