Dinner Recipes
Easter Dinner Recipes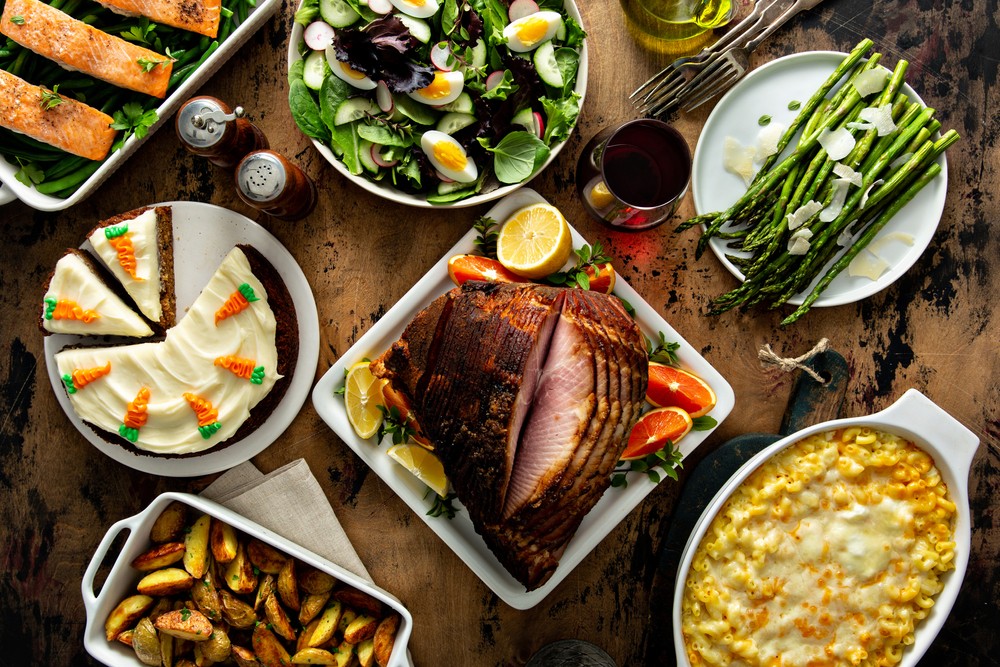 If the Easter holiday seems to have snuck up on you this year, you aren't alone. Luckily, you can still put together a delicious dinner.
Every family celebrates Easter a little differently, but no matter what your dinner table looks like, it's a special way to celebrate spring. Whether you enjoy an ultra-traditional take on the spring holiday or you like to get creative with modern, unique Easter recipes, we've put together a list of options to make meal planning a breeze.
The Best Easter Dinner Recipes for Your Family Table
Browse our favorite Easter dinner ideas for recipes both classic and creative to add to your holiday menu.
Glazed ham is, without a doubt, a staple of the traditional Easter dinner. But if you've never made a homemade ham recipe, you might be intimidated by the process - but don't be. This recipe takes you step by step, starting with trimming and scoring and finishing with the final glaze. The result? Even if you're an amateur in the kitchen, you can wow your guests with a mouth-watering ham they'll be talking about for years to come.
If you want to switch out ham for a different entree this year, why not give braised lamb a try? Using a food processor, you'll grind a blend of spices into a paste that can be easily spread all over the lamb for flavor in every bite. The slow roasting process is key for a juicy, tender final result.
Do you prefer pork to other Easter entrees? This elegant pork roast is wrapped in pancetta for a savory kick and rubbed in a garlic-herb mixture that makes for a meal that's as beautiful as it is appetizing. Once it comes out of the oven, it's an impressive centerpiece that's bound to command attention around the table.
Cheesy potatoes and ham are a match made in heaven and the perfect pairing for everyone to enjoy. A decadent combination of Parmesan, mozzarella, asiago, and raclette cheeses allows this side dish to take center stage. Take it out of the oven once it's hot and bubbly, and then watch how quickly this dish disappears.
Even the Easter Bunny himself would be delighted to see this spring side dish, which is ready to serve in less than 20 minutes. You probably have most of the ingredients in your pantry already, and once combined with fresh baby carrots, you'll have a sweet and savory veggie dish that adds cheerful color to your Easter dinner.
Springtime harvests bring us a bounty of fresh produce to enjoy, including sweet spring peas of the English, sugar snap, and snow varieties. The crisp flavor of the peas is balanced beautifully by salty, savory pancetta and heavy cream, adding an element of indulgence to a veggie-rich side.
Whether you're a fan or not, deviled eggs are an undeniable Easter tradition. There are plenty of creative deviled egg recipes out there, but this recipe sticks to the classic version. If you have older children in your family, including them in the preparation process can be a fun way to get them involved in the cooking.
While we're all about classic comfort foods for Easter, having a light salad in the name of balance is always a good idea. Instead of the usual chopped Iceberg mix, switch to this vibrant variation for something new. Granny Smith apples, fennel, dill, radishes, and cucumber are combined with butter lettuce, then topped with Pecorino cheese and a crisp apple cider vinaigrette.
Elevate your collection of Easter dinner ideas with this vegetable tart, a sure showstopper that uses premade puff pastry for an easy bake. Creamy ricotta and heavy cream create a rich layer beneath a rainbow of veggies and herbs. Even better, you can prepare this tart several hours ahead of time.
This Italian-style appetizer platter lets the seasonal spring veggies truly shine. Colorful and full of fresh flavors, the assortment of veggies is served alongside a simple salt and olive oil dip. You can choose your favorite seasonal vegetables to include, but you can't go wrong with fennel, asparagus, carrots, and radishes.
When it comes to Easter dessert recipes, carrot cake can be a real crowd-pleaser. This cake is dense but surprisingly moist, with both sweetness and spice for a truly layered flavor experience. Topped off with a quick and easy homemade cream cheese frosting, carrot cake is the best way to end the holiday on a sweet note.
Looking for fun Easter recipes for kids? This is a great one to get children of all ages excited about baking, especially because the final product is a sweet, fluffy bunny! It might look like something that belongs in a bakery window, but it's surprisingly simple to assemble using store-bought decorative elements.
Hot cross buns are an Easter tradition that dates back generations, especially for families hailing from Europe. While learning how to make hot cross buns is definitely a process, it can be a fun tradition to add to your annual holiday menu.
Treat the chocolate lovers in your family to a gourmet-quality dessert with this tart recipe. A chocolate crust is filled with incredible caramel custard, then topped off with a dark chocolate ganache and a sprinkling of salt. Quick tip: Use a flaky sea salt, not standard table salt, for best results.
Adults and kids alike will smile when they see these adorable, bunny-inspired, and bite-sized desserts. Inside each one is a cookies and cream truffle, made with chocolate sandwich cookies and cream cheese. Once you've rolled the mixture into individual bites, it's time to dip and decorate: marshmallows make sweet bunny tails, feet, and ears, while pink icing adds an irresistible cute bunny nose.
Enjoy an Easy, Stress-Free Easter by Shopping at Gelson's
Hosting Easter dinner doesn't have to be a source of stress, especially not when you're well-prepared with a great menu and a kitchen stocked with all your cooking necessities. At Gelson's Supermarket, you can find all the ingredients you need for Easter entrees, side dishes, and desserts alike. We take pride in supplying the dinner tables of Southern California with a plethora of fresh produce, premium meats and seafood, and everything else for a delicious Easter holiday.
If cooking a full meal isn't in the cards this year, consider turning the task over to the talented team at your neighborhood Gelson's instead. Our pre-prepared holiday dinners can be ordered online and picked up at your convenience, so you can skip spending time in the kitchen and go straight to the big meal. Meal options feature favorites such as roasted turkey, prime rib, spiral cut ham, mashed potatoes, cornbread stuffing, and more.
No matter how you're celebrating Easter this year, Gelson's has what you need to put together a memorable dinner menu. Visit your nearest Gelson's Supermarket to start shopping today!
Image credit: Shuttershock/By Elena Veselova