Dessert Recipes
Easy Halloween Dessert Ideas for the Family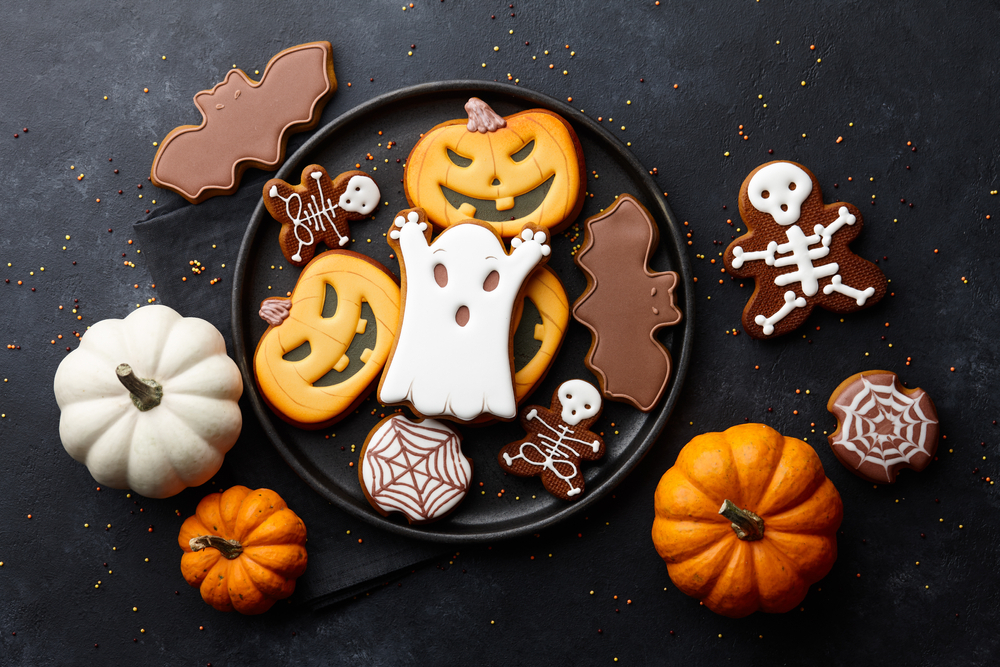 Halloween may be the spookiest time of year, but it can also be the sweetest! Whether you're preparing for a monster-sized Halloween bash, a cozy scary-movie night at home, or any other Halloween event, being equipped with tasty Halloween treats is a must. When kids and adults alike can join in on the festive fun of mixing, baking, and decorating, the holiday can become that much more special.

Here's a round-up of frightfully delicious Halloween desserts that the entire family will love eating – and making – this spooky season.
Take your cookie cravings to the dark side with these dark chocolate Halloween chip cookies. Equal parts festive and fun, these cookies don't just look the part; they pack a punch of rich, chocolatey flavor in every bite. Between the soft chocolate cookie and the orange, black, and white chocolate chips, a dozen of these cookies are the perfect addition to your Halloween dessert table.
You can't go wrong with a classic loaf of homemade pumpkin bread, and this is one of the highest-rated pumpkin bread recipes on the internet. And besides the pumpkin puree, all of the ingredients are things you probably already have on hand. Stick to tradition by following the recipe exactly, or toss in a handful of chocolate chips for a little added decadence. Don't be surprised if this pumpkin bread ends up becoming a staple all autumn long!
These bite-sized shortbread cookies are just what you need for a kid-friendly party snack, and they're surprisingly easy to make. You'll need just six ingredients and 30 minutes to whip up a batch. Choose nonpareils in colors to match your Halloween décor for a completely custom look – and keep this recipe on hand because by switching out the nonpareils, you can make these work for any holiday!
You don't have to be a cake decorating pro to create an edible work of art! More cute than creepy, this Halloween cake is inspired by Frankenstein's monster. There's no need for any complicated cake cutting, shaping, or decorating because you'll use a standard 9x13-inch cake pan and pre-made mixes to save time and effort. Black string licorice adds a three-dimensional effect to the decorations, while the neon-green frosting is sure to wow your guests.
Are you looking for ideas to use up extra Halloween candy? This incredible ganache tart features a chocolate cookie crust, a chocolate ganache filling, and a topping made up of colorful sprinkles and the chopped-up candy bars of your choice. Adults and kids alike will love the gourmet twist on their favorite fun-sized candies.
Turn your Halloween baking into a memorable, family-friend activity with these no-bake cookies. They're a salty-sweet treat that you'll want to make again and again, especially once you realize that you only need a shortlist of ingredients. A chocolate candy tops off a chocolate-dipped, salted cracker, then gets a colorful touch to create a yummy hat that only the sweetest little witch would wear.
Melted milk chocolate, cinnamon and sugar, and a supremely-soft cookie make for an adorable and mouth-watering dessert this Halloween. If you're searching for dessert ideas for Halloween, this one definitely checks the boxes for any occasion. Cute and classy, they'll be just at home at a kids' Halloween party as an elegant, All Hallows Eve soiree.
The chewy squares of melted marshmallow and crispy rice cereal are a childhood classic, one that has a special spot in just about everyone's heart. With a little green food coloring, some melted chocolate, and a few candy touches, you can turn each treat into a mini-Frankenstein's monster.
Make Grocery Shopping Less Scary at Gelson's
Getting ready for Halloween shouldn't be frighteningly frustrating – and it doesn't have to be when you shop at your local Gelson's. We have all of the ingredients you need for your favorite Halloween sweets and treats so that you can spend less time shopping and more time having fun. And if you want to skip the dessert prep altogether, our bakery has you covered with plenty of delicious, freshly-made options to choose from.
Make the most of your Halloween festivities with yummy, fun-to-create desserts, and get everything on your shopping list with one stop at the Gelson's nearest you.
Image Source: kobeza / Shutterstock