Breakfast Recipes
Eggs Baked in Lacinato Kale & Bacon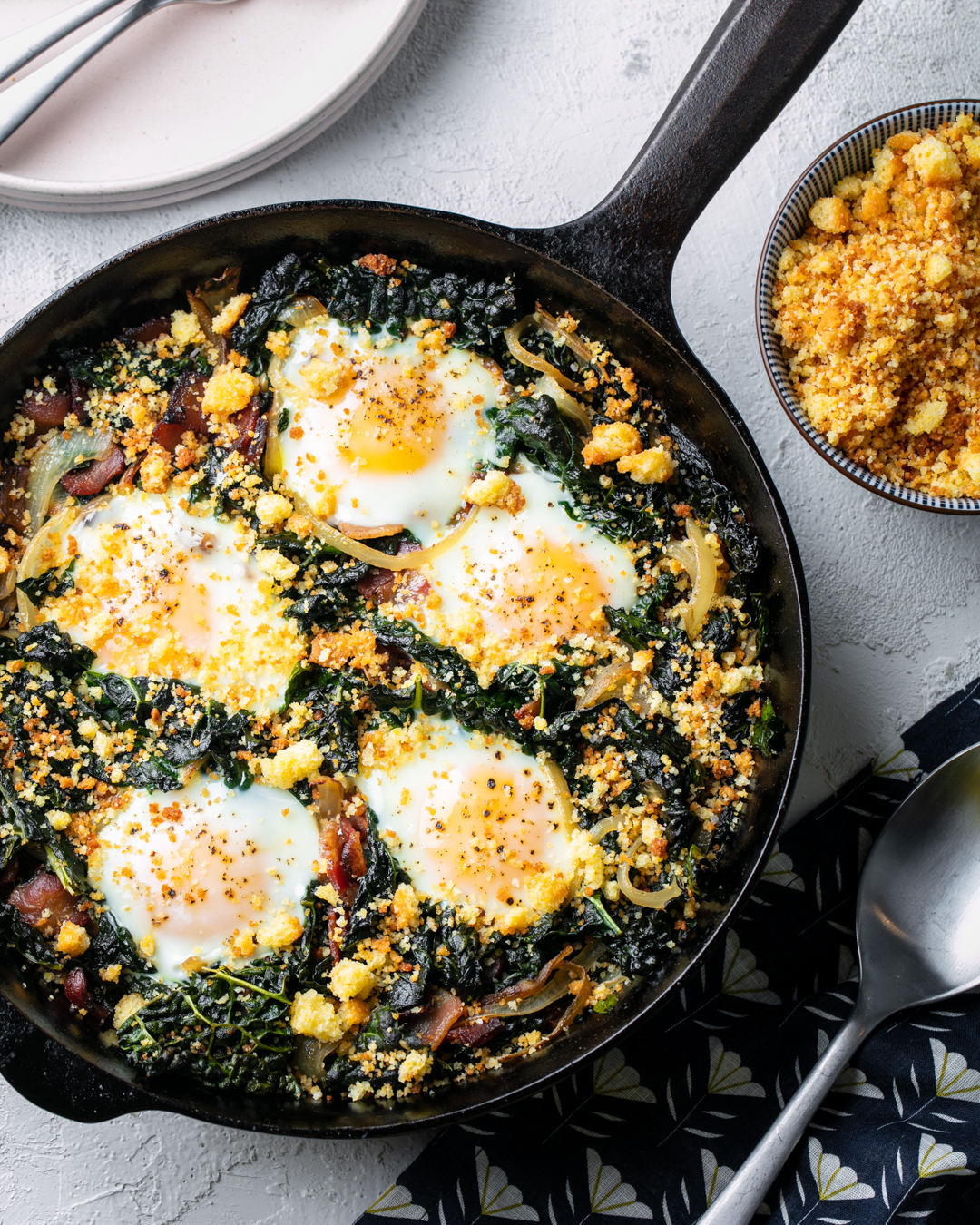 Do we like green eggs and ham? We do! Especially when the eggs are nice and jammy, the greens are hearty kale, the ham is crispy bacon — and the whole thing is sprinkled with cornbread crumbles.
This is one of those wonderfully light breakfasts that manages to feel extra luxe, thanks in part to the caramelized onions at the base of the dish. We cook them down in bacon fat, so they have a rich, earthy sweetness, a little smoke, and a silky texture. Combined with the creamy egg yolk and chewy bacon bits, they give the dish a deeply savory flavor. It all tastes so good layered in the tender kale and those toasty cornbread crumbles!
One of the very best things about this recipe is the baking cornbread. It fills the air with the aroma of buttery-sweet baking bread and corn. When we tested the recipe, it was the cornbread that brought everyone into the kitchen — they thought we were making a cake. That's the kind of smell we all want to wake up to, right? That said, you don't need a ton of it, so it's a great way to get rid of leftover cornbread. And, if you feel like sleeping in, you can always skip the baking and pick up some delicious Gelson's cornbread.
Make this egg bake for a weekend breakfast or brunch, and serve it with hot buttered toast and a bunch of coffee. Oh, and don't forget the hot sauce: a few drops really bring the whole thing to life.
Our tip: you can use just about any leafy green — chard, collard, spinach — to make this dish.
Servings: 5
Ingredients
½ cup large cornbread crumbs
1 tsp extra-virgin olive oil
1 ½ tsp kosher salt, plus more to taste
2 bunches lacinato kale
6 slices Gelson's premium bacon, cut into ½" pieces
1 medium yellow onion, thinly sliced
2 garlic cloves, minced
½ tsp freshly ground Gelson's black pepper, plus more to taste
½ cup chicken stock
2 tsp white wine vinegar
5 large Gelson's eggs
Directions
Preheat the oven to 350°. Place the cornbread crumbs on a sheet pan and drizzle with the olive oil. Season lightly with kosher salt to taste, gently toss, and bake for 10 to 15 minutes, or until golden brown. Set aside to cool.

Increase the oven heat to 400°.

In a colander, rinse the lacinato kale thoroughly. Remove and discard the stems and roughly chop the kale leaves.

Heat a large cast-iron pan over medium heat. Add the bacon and cook, turning occasionally, for 5 to 8 minutes, or until browned. Using a slotted spoon, transfer the bacon to a paper towel-lined plate and set aside.

Drain all but 2 tablespoons of fat from the pan. Add the yellow onions and cook, tossing occasionally, for 4 to 6 minutes, or until lightly browned and tender.

Add the garlic and cook for 30 seconds more, being careful not to scorch the garlic.

Add a large handful of the chopped kale to the pan, along with the kosher salt and black pepper. As the kale wilts, continue adding more kale until all of the kale has been added.

Add the chicken stock and white wine vinegar, and continue to cook for 3 to 4 minutes, tossing often, until the kale is tender. Return the bacon to the pan and toss to combine.

Using a spoon, create 5 shallow wells in the cooked greens. Carefully crack 1 egg into each well and season with kosher salt and black pepper. Bake for 8 to 10 minutes, or until the egg whites are set.

Sprinkle a handful of cornbread crumbs over the greens and eggs, and serve with additional cornbread crumbs on the side.
Recipe adapted from: The New York Times
Calculate nutrition information for this recipe.