Dinner Recipes
Farro & Radicchio Salad with Salmon
Flaky salmon, crisp cucumber, crumbly feta, delicate dill, soft farro, crunchy radicchio — this salad is a textural treat. It's bursting with flavor, too: the tangy feta plays well with the mellow cucumbers, and the salmon really comes to life next to the bright dill. It's warm, it's cool, it's full of bright color. Each bite is a salve for sullen, winter taste buds and a sight for sore eyes.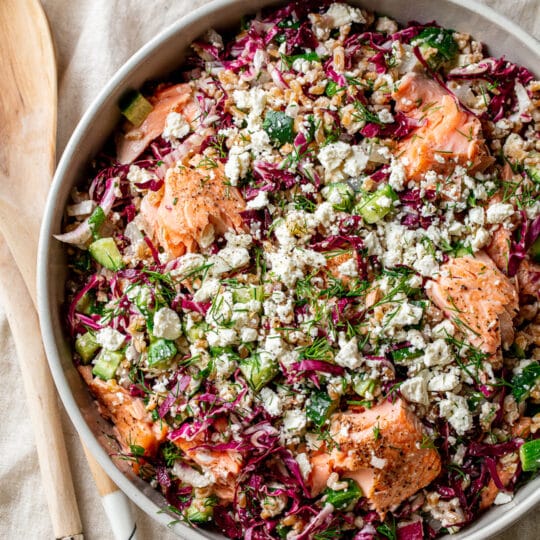 Dinner
Farro & Radicchio Salad with Salmon
Serves: 4
Ingredients
5 Tbsp Gelson's 100% California extra virgin olive oil, divided, plus more for drizzling
1 lb boneless salmon fillet
Freshly ground Gelson's black pepper, to taste
Zest and juice of 1 lemon
6 Persian cucumbers, medium diced
1 large radicchio, cored and thinly sliced
⅓ cup packed Gelson's fresh dill fronds, finely chopped, some reserved for garnish
¼ cup loosely packed Gelson's fresh parsley, finely chopped
8 oz crumbled feta, some reserved for garnish
Directions
Preheat the oven to 400º. In a large saucepan, heat 2 tablespoons of the olive oil over medium heat. Add the onion, season with salt, and sauté until translucent, about 3 minutes.

Stir in the farro and cook until toasted, 2 minutes. Add 3 cups of water, bring to a boil, reduce to a simmer, and cover. Cook for 25 to 30 minutes, or until al dente. Drain off the excess water and set aside.

Lightly grease a sheet pan with olive oil. Place the salmon on the sheet pan, skin-side down. Lightly brush the salmon with olive oil and season with salt and black pepper. Bake for 12 to 15 minutes for medium doneness.

In a large bowl, combine the lemon zest, lemon juice, red wine vinegar, and remaining 3 tablespoons of olive oil. Whisk to emulsify.

Add the cucumber, radicchio, shallot, dill, parsley, and feta. Toss to coat, season with salt and pepper, and let marinate while the farro and salmon finish cooking.

Add the farro to the vegetables and toss to combine. Use a fork to flake the salmon into large pieces.

Divide the farro and radicchio salad among 4 bowls. Top each with the flaked salmon, and garnish with more feta and dill fronds. Serve warm.

Recipe adapted from: New York Times Cooking