Lunch Recipes
Feta, Za'atar & Escarole Omelet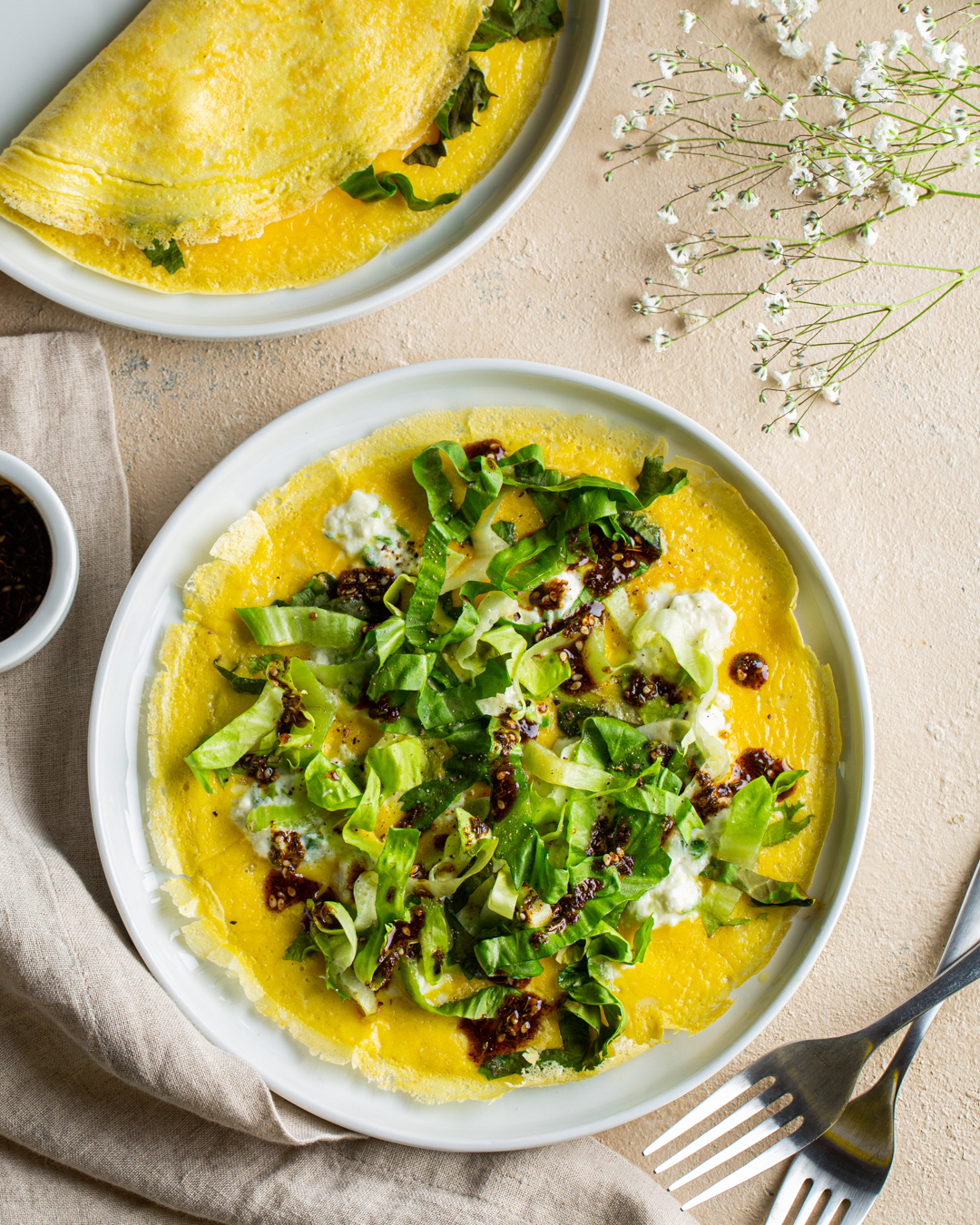 The beauty of the omelet is its endless potential: you can fold whatever you want into that airy, crêpe-like egg! Here, we've composed a lovely little egg-scape with crumbled feta, escarole chiffonade, and za'atar-infused olive oil. It's so easy and full of flavor — but most importantly, it feels fancy, like a good omelet should.
We've used sheep's milk feta for this omelet because it's so soft, creamy, and wonderfully tangy, and not as salty as other types of feta. And did we mention how creamy it is? We mash up this delightful cheese with green onion and jalapeño for a vegetal kick — and then scatter it over the omelet with the escarole.
Once the eggs are cooked, the feta is melted, and the escarole is slightly wilted, we slide the omelet out of the pan and drizzle it with the za'atar olive oil. It brings some bright, herby, toasty notes to the plate — the perfect finishing touch to balance the crisp, mild bitterness of the escarole, the tang of the feta, and the hint of heat from the peppers.
Ultimately, this is a very light omelet, in spite of all that flavorful goodness tucked inside. We love it for a sophisticated brunch with a warm, cozy cup of black tea and some juicy oranges. But it also makes a fantastic weeknight dinner: just add a glass of citrus-forward albariño and a slab of buttery toast.
Our tip: Make sure you keep the heat on medium-low. This is more of a French omelet, so you don't want it to brown; it should be perfectly yellow.
Servings: 2
Ingredients
1 Tbsp Gelson's za'atar seasoning
1 ½ Tbsp plus 2 tsp extra-virgin olive oil, divided
3 oz sheep's milk feta cheese, crumbled
1 green onion, white part only, finely chopped
½ jalapeño, minced
2 Tbsp water, divided
3 large Gelson's eggs
2 tsp all-purpose flour
¼ tsp kosher salt
3 cups shredded escarole, divided
Freshly ground Gelson's black pepper, for garnish
Directions
In a small bowl, mix the za'atar seasoning with 1 ½ tablespoons olive oil and set aside. In a separate small bowl, mash the feta cheese, green onions, and jalapeños with 1 tablespoon water until smooth.

In a medium bowl, beat the eggs with the all-purpose flour, kosher salt, and remaining 1 tablespoon water (it's okay if a few lumps remain).

In a small nonstick skillet, heat 1 teaspoon olive oil. Pour half the egg into the skillet and swirl the pan to form a thin omelet.

Sprinkle half the escarole and half the feta cheese mixture evenly over the eggs. Cook over medium-low heat until the escarole starts to wilt, the feta melts, and the eggs are just cooked through, about 3 minutes.

Slide the omelet onto a plate and season with black pepper. Repeat with the remaining olive oil, eggs, escarole, and feta cheese mixture.

Drizzle the za'atar olive oil over the omelets, fold them in half, and serve.
Recipe adapted from: Food & Wine
Calculate nutrition information for this recipe.