Dinner Recipes
Filet Mignon and Cherry-Balsamic Reduction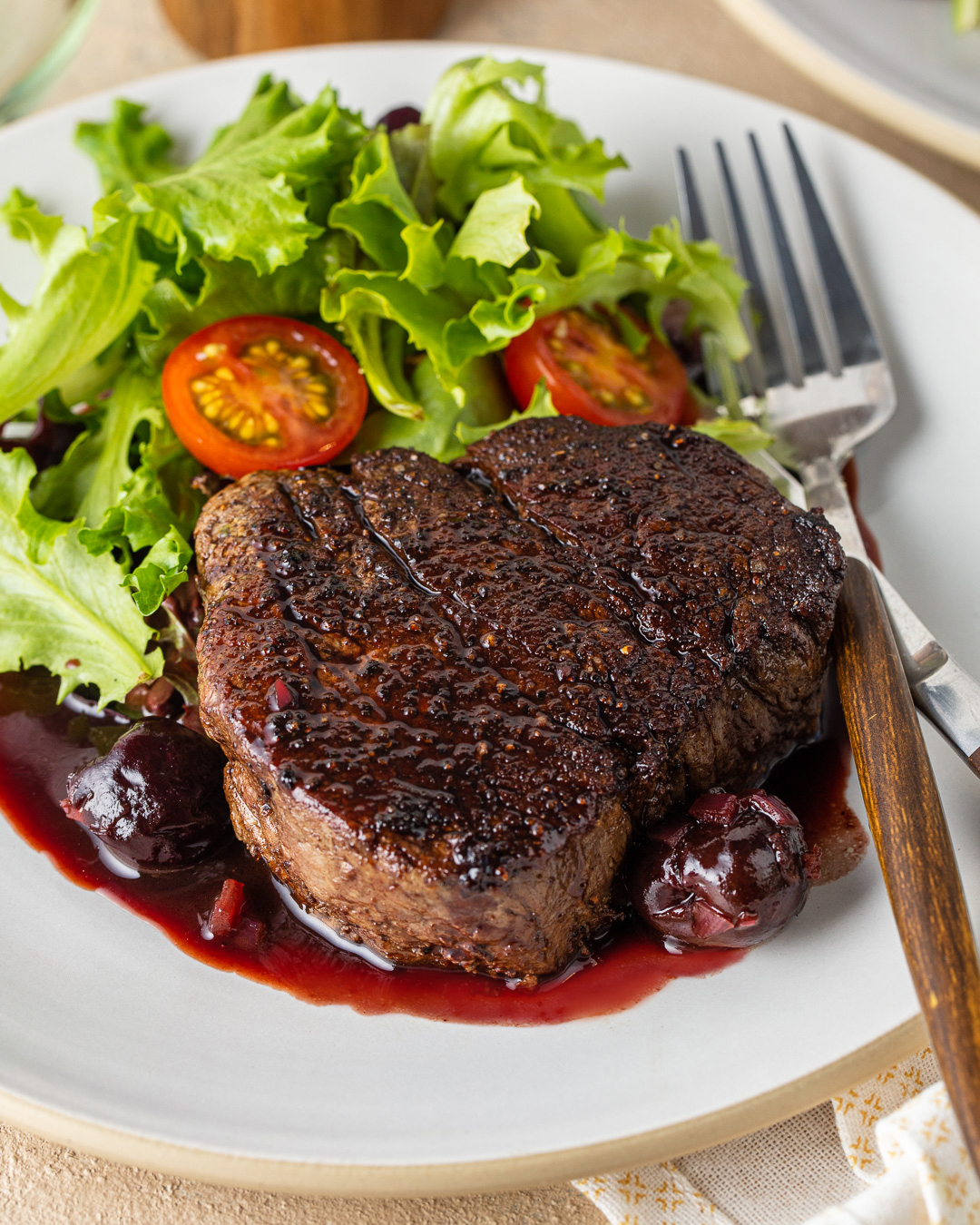 In a reduction, balsamic vinegar's tang is heightened and it gains a deep, molasses sweetness. Here we've added dry red wine, savory shallots and garlic, and a mix of tart and jammy, sweet cherries, creating a wonderfully complex sauce. Dark and rich, it's the perfect complement to a filet mignon.

Our Registered Dietitian, Jessica Siegel, recommends grass-fed beef because it's more nutritious and leaner, so it cooks up unbelievably tender. It's also rich in heart-healthy Omega-3 fatty acids and antioxidants.

Our tip: Because filet mignon are so lean, they're at their best and most tender cooked rare or medium-rare at most. We've noted the approximate times and temperatures for both in the recipe, and an instant-read thermometer will help you pull the steaks out of the oven at the right time.
Servings: 4
Ingredients

1 Tbsp Napa Valley Naturals Organic Extra Virgin Olive Oil
2 medium Melissa's organic shallots, chopped
1 large clove Melissa's organic garlic, minced
⅓ cup dry red wine, such as red zinfandel
⅓ cup Napa Valley Naturals Organic Balsamic Vinegar
2 Tbsp Bonne Maman Cherry Preserves
1 cup Earthbound Farms organic frozen cherries
4 6-oz Gelson's Beef Loin Filet Mignon Steak
⅛ tsp salt
¼ tsp pepper

Directions

Preheat the broiler.
Heat olive oil over medium heat in a small, heavy saucepan.
Add the shallots and sauté until soft, but not brown, about 3 minutes.
Add the garlic and cook for 30 seconds.
Pour in the red wine, vinegar, preserves, and cherries. Turn the heat up to medium-high and bring the sauce to a boil, stirring occasionally. Reduce the sauce by half, about 10 to 12 minutes. It should have a thick, syrupy consistency.
Pat the steaks dry with damp paper towels, and season both sides with salt and pepper.
Broil the steaks. For rare meat, cook the steaks to 120º on an instant-read thermometer, about 2 minutes a side. For medium-rare meat, cook them to 140º, about 2 ½ minutes on each side.
Transfer the steaks to a serving platter and let them rest for 5 minutes. Pour the sauce into a gravy boat and pass it with the steaks.

Each steak with ¼-cup sauce contains:

Calories 390
Fat 13 g
Saturated Fat 4 g
Trans Fat 0 mg
Cholesterol 90 mg
Sodium 120 g
Total Carbohydrate 22 g
Dietary Fiber 1 g
Sugars 18 g
Protein 40 g
Vitamin A 3% DV
Vitamin C 2% DV
Calcium 6% DV
Iron 18% DV