Dinner Recipes
Filet Mignon with Argentine Chimichurri Sauce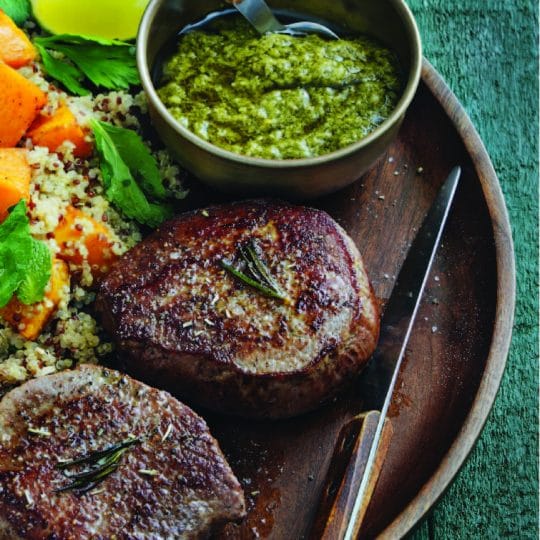 Dinner
Filet Mignon with Argentine Chimichurri Sauce
Serves: 4
Ingredients
1 cup flat leaf Italian parsley tough stems removed lightly packed about 1 bunch
2 tablespoons cilantro leaves lightly packed
2 garlic cloves peeled and quartered
cup Healthy Valley low sodium vegetable broth or chicken broth
2 tablespoons Alessi white balsamic vinegar
cup Napa Valley organic olive oil
1/8 teaspoon crushed red pepper flakes
4 4 ounce filet mignon steaks rinsed patted dry and trimmed
2 bags Epic Roots mche washed and dried
1 small wedge Universal organic Parmigiano Reggiano cheese
Directions
Combine the parsley, cilantro, and garlic in a food processor. Process until finely chopped. In a small bowl, whisk together the broth, vinegar, oil, and red pepper flakes. Stir in the chopped herbs. Cover and refrigerate while you prepare the steaks. This can be made several hours in advance and you will have some left over.
Preheat the broiler. Season steaks on both sides with salt and pepper. Place on a broiler pan and position steaks about 5 inches below the broiler. For rare meat, cook 3 to 4 minutes per side, for medium rare, 4 to 5 minutes per side, and for medium, 5 to 6 minutes per side, or to taste. Cut into the center of a piece to check for desired doneness.
While meat is cooking, arrange mche on dinner plates to form a bed for the steaks. Use a vegetable peeler or cheese slicer to shave 16 thin curls of cheese off the thin side of the parmesano reggiano wedge. Set shaved cheese aside.
When steaks are done, remove them from the broiler. Use a sharp knife to slice the steaks across the grain in inch thick slices cut perpendicular to the lines running through the meat. Arrange slices on mche and arrange 4 cheese curls around each steak on the plates. Serve with chimichurri on the side or spoon 2 tablespoons over each steak.