Snacks Recipes
Fire Roasted Corn Guacamole with California Avocados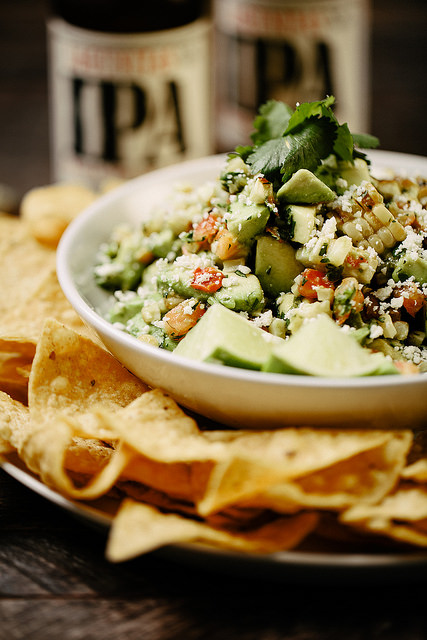 California Avocados travel from tree to table in just a few days, so we get them when they're at the peak of ripeness — and they make incredible guacamole. In this recipe, they're combined with fire-roasted sweet corn, pico de gallo, and Mexican cheese to create a dip that's smoky sweet, subtly salty, a little creamy, a little crisp, and very chunky.

Our tip: Serve this guacamole with a thicker, crunchy tortilla chip and a Lagunitas IPA — a beer with just the right amount of malty richness and fruity hops to complement this flavorful dip.
Servings: 4
Ingredients
1 ear fresh sweet corn, roasted and cut off the cob
1 jalapeño, seeded and minced
2 8-oz California Avocados, seeded, peeled, and chopped
¼ cup prepared pico de gallo (salsa fresca)
2 Tbsp lime juice
2 Tbsp fresh cilantro, chopped
2 large cloves garlic, minced
1 tsp kosher salt
Black pepper
Cotija cheese, optional
Directions
Roast the corn and jalapeño over a gas flame or on a grill until blistered and charred on all sides. Set aside to cool, and then cut the corn off the cob and seed and mince the jalapeño. Tip: Wear gloves while you're handling the jalapeño — otherwise, the peppers can burn your fingers for days!
Mix together the avocados and pico de gallo, and then add the jalapeño, fresh lime juice, cilantro, roasted corn, garlic, and kosher salt. Add pepper to taste.
Garnish with Cotija cheese and serve immediately.
Recipe source: California Avocados.