Lunch Recipes
Flatbread Pizza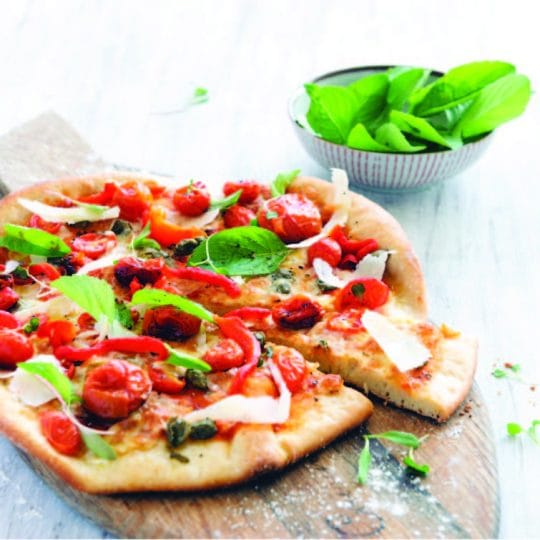 Lunch
Flatbread Pizza
Serves: 4
Ingredients
1 1/2 pounds ripe tomatoes diced
2 cloves Melissas organic garlic minced
6 Gaea organic kalamata olives rinsed and chopped small
1/8 teaspoon black pepper
1 tablespoon Napa Valley organic extra virgin olive oil
1 tablespoon balsamic vinegar
1/2 cup lightly packed slivered organic basil leaves
2 sprigs thyme stems discarded
1 sheet Babylon Bakery whole wheat lavash wrap
1 4 ounce bundle Il Pavone Burrata cheese cut in small pieces
1 ounce about 2 handfuls Jacob Farms Fine Fresh Herbs organic arugula washed and dried
2 tablespoons shredded Reggiano Parmesan cheese
Directions
Preheat the oven to 375 Fahrenheit.
In a glass bowl, combine tomatoes, garlic, olives, salt, pepper, olive oil, vinegar, basil and thyme. Allow to stand at room temperature for 15 to 30 minutes. Place a strainer over a bowl and transfer tomato mixture into strainer. Use the back of a large spoon to gently press as much liquid as possible out of the mixture and reserve liquid.
Place lavash on a baking sheet and tear off any edges that are hanging over the edge of the pan. Top with an even layer of tomato mixture. Cook 15 to 20 minutes, until crust is crisp and tomatoes are beginning to soften. Just before flatbread is ready, toss arugula with a little bit of the reserved liquid. Remove flatbread from oven and immediately dot top with Burrata cheese pieces, spread a thin layer of arugula on top and sprinkle everything with Reggiano Parmesan cheese. Allow to stand two minutes before cutting into four portions with a knife or pizza cutter and serving.