Appetizer Recipes
Fresh Spring Rolls & Sweet Chile Dipping Sauce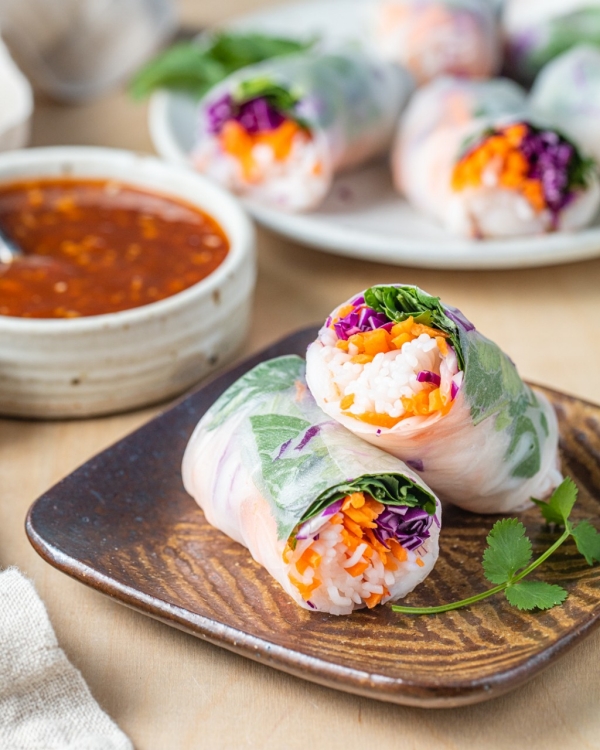 We love fresh spring rolls for a variety of reasons. They're one of our favorite ways to eat raw veggies (sorry, salad). They're so light and refreshing, we don't feel too guilty or too full if we eat two or three of them. And they're just plain fun — full of bright, cheerful color and highly dippable.
For this recipe, we filled our spring rolls with carrots, noodles, shrimp, red cabbage, basil, cilantro, and oodles of fresh mint — they taste super fresh, crisp, and clean. We love the textural jumble of the crunchy veggies, springy noodles, and tender shrimp, and how all the fresh, green herbs give them a lovely, uncomplicated depth.
The rolls are wonderful, and yet the dipping sauce totally stole the show. Instead of sweet and sour or sweet and peanutty, we went for sweet and hot. The sauce is full of garlic, mirin, soy sauce, sambal oelek — and we balance out all that bright, salty spice with pure cane sugar. The result is a well-nigh irresistible spicy-sweet sauce that turns the roll into a juicy, mouthwatering bite. It tastes amazing with those fresh herbs.
The beautiful thing about this recipe is that it's just a jumping-off point. You can make these rolls with almost any assortment of veggies: think pickled radish, cucumber, avocado, fat bean sprouts — or go wild and throw in some papaya. The proteins are flexible, too. We've made rolls with chicken, lobster, brisket, tofu, and even slices of raw fish, like fatty tuna.
Spring rolls are one of those fun cooking projects you can share with the kids — if they're of a dexterous age. You can put out all of the ingredients, give everyone a quick folding tutorial, and boom, dinner is off to the races. Will some of them get over-stuffed and burst? Yes, but even the messiest, most sprung roll tastes delicious if you made it yourself.
Our tip: Save your leftover sauce for other cooking adventures. Its sweet heat is wonderful drizzled over pizzas, sandwiches, and soups. Be sure to check out more of our recipes at Gelson's!
Yield: 8 spring rolls
Ingredients
For the sweet chile dipping sauce:
½ tsp sesame oil
3 garlic cloves, minced
¼ cup rice wine vinegar
1 tsp mirin
¼ cup granulated sugar
1 Tbsp sambal oelek (add more if you like it spicy)
2 tsp soy sauce
1 Tbsp cornstarch
2 Tbsp cold water
For the spring rolls:
3 oz mai fun noodles
8 rice paper sheets
12 16/20 tail-off cooked shrimp, halved lengthwise
1 cup shredded carrots
½ jalapeño pepper, shaved
1 cup shaved red cabbage
8 basil leaves, torn
2 Tbsp julienned mint
⅔ cup rough-chopped cilantro
Directions
For the sweet chile dipping sauce: In a small saucepan, combine the sesame oil and garlic and cook over medium heat for 2 minutes, stirring occasionally.

Add the rice wine vinegar, mirin, sugar, sambal oelek, and soy sauce. Bring to a simmer.

In a small bowl, mix the cornstarch and the cold water to make a slurry.

Whisk 1 ½ tablespoons of the cornstarch slurry into the chile dip and simmer for 30 seconds. Set aside to cool until the spring rolls are ready to serve. Note: the sweet chile dip can be stored tightly covered in the refrigerator for up to 14 days.

Cook the mai fun noodles according to the package instructions. Allow them to cool, cut them into thirds, and set them aside.

In a large bowl filled with hot water, soak 1 rice paper sheet for 2 to 3 seconds per side, and then lay it flat on a cutting board.

Place 3 shrimp halves in a line on the rice paper and layer them with a couple pinches of shredded carrot, a 1-ounce pinch (roughly) of cut noodles, a couple slices of jalapeño, a pinch or two of red cabbage, two pieces of basil, a pinch of mint, and a couple pinches of cilantro.

Fold the bottom quarter of the rice paper wrapper over the filling. Fold in the right corner of the wrapper. Fold in the left corner to match the right, and hold both sides closed. Begin to roll, keeping the sides tucked in. Continue rolling to seal. Repeat steps 6 to 8 for all 8 spring rolls.

Serve the spring rolls with a bowl of sweet chile dipping sauce and enjoy immediately.