Dinner Recipes
Fried Fish Sandwich
This fish sandwich recipe is everything we could wish for and, without a doubt, some golden brown competition for [insert your favorite fast-food fish sandwich]. It starts with a perfectly seasoned and fried slab of fish. Think gloriously crispy on the outside and tender and flaky on the inside. Next, we pile on a creamy slaw with a tiny kick and the slightly sweet, slightly acidic punch of a pickle. (Every fried sandwich should come with this slaw!) All of that is layered on a lightly toasted bun that's still pillowy-soft on the inside — the perfect contrast to the intense crunch of the fish. We spread the bun with tartar sauce, so that it clings to the fried fish and holds the whole sandwich together. Take a bite, and let loose a flurry of chef's kisses!
Our tip: At the risk of sounding bossy or evangelical, please do not eat this stack of near-perfection without hot sauce. If fish sandwiches could talk, ours would say, "Hot sauce, you complete me."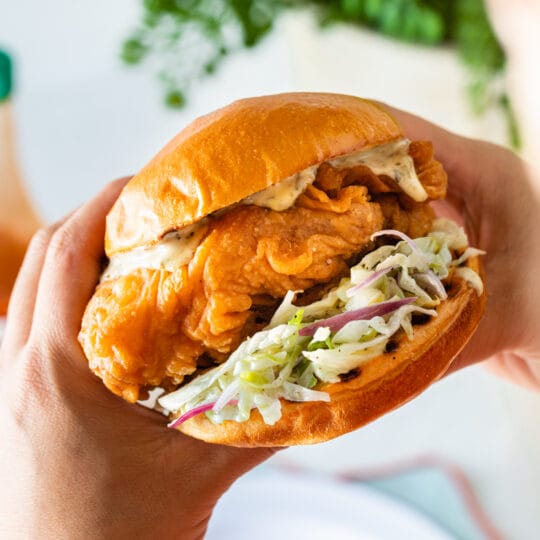 Dinner
Fried Fish Sandwich
Serves: 4
Ingredients
½ small green cabbage, finely shredded (about 6 cups)
½ small red onion, thinly sliced (about ½ cup)
1 tsp kosher salt, plus more to taste
1 tsp freshly ground Gelson's black pepper, plus more to taste
1 Tbsp apple cider vinegar
1 tsp Louisiana-style hot sauce
2 tsp sweet pickle relish
1 Tbsp drained and chopped capers
1 tsp freshly squeezed lemon juice
1 ½ cups all-purpose flour, divided
1 tsp kosher salt, plus more to taste
½ tsp freshly ground Gelson's black pepper
¼ tsp Gelson's smoked paprika
Louisiana-style hot sauce, for serving
Directions
To make the slaw: In a medium bowl, combine the cabbage, onion, kosher salt, and black pepper. Toss to combine and let rest on the counter for at least 15 minutes and up to 2 hours.

In a second medium bowl, whisk together the vinegar, Dijon, hot sauce, mayonnaise, and sugar. Set aside.

Working in batches, use your hands to squeeze the excess moisture out of the salted cabbage and onions. Transfer the vegetables to the bowl with the dressing and toss to combine. Season with salt and black pepper.

To make the tartar sauce: In a small bowl, stir together the mayonnaise, relish, capers, Dijon, and lemon juice. Set aside. Note: the tartar sauce can be made ahead and stored in the refrigerator for up to 5 days.

To fry the fish: Line a plate with paper towels. In a medium-size Dutch oven or a deep fryer, heat the peanut oil to 350º over medium-high heat. Leave your thermometer in the oil: it's important to maintain a consistent oil temperature throughout the frying process.

Place ½ cup of the flour in a medium bowl.

In a shallow dish, whisk to combine the remaining 1 cup of flour, cornstarch, baking powder, salt, black pepper, and paprika. Add the beer and whisk until just hydrated: it's okay if a few small lumps of flour remain.

Working with one fillet at a time, place the cod in the bowl of flour and turn to coat. Transfer the fillet to the batter, turn to coat, and allow any excess batter to drip off. Return the fillet to the flour one more time, quickly coating it on both sides, and then gently shake it to remove excess flour. Carefully lower the fish into the hot oil.

Cook, turning the fillets occasionally, until golden brown and crisp on all sides, 6 to 8 minutes.

Transfer the fried fillets to the paper towel-lined plate and season immediately with salt.

To serve, place some slaw on the bottom half of each bun then top with a piece of fish and a dollop of tartar sauce. Close up the bun and serve hot with more slaw, tartar sauce, and hot sauce on the side.
Recipe adapted from: Serious Eats