Dinner Recipes
Game Day Chili and Skillet Cornbread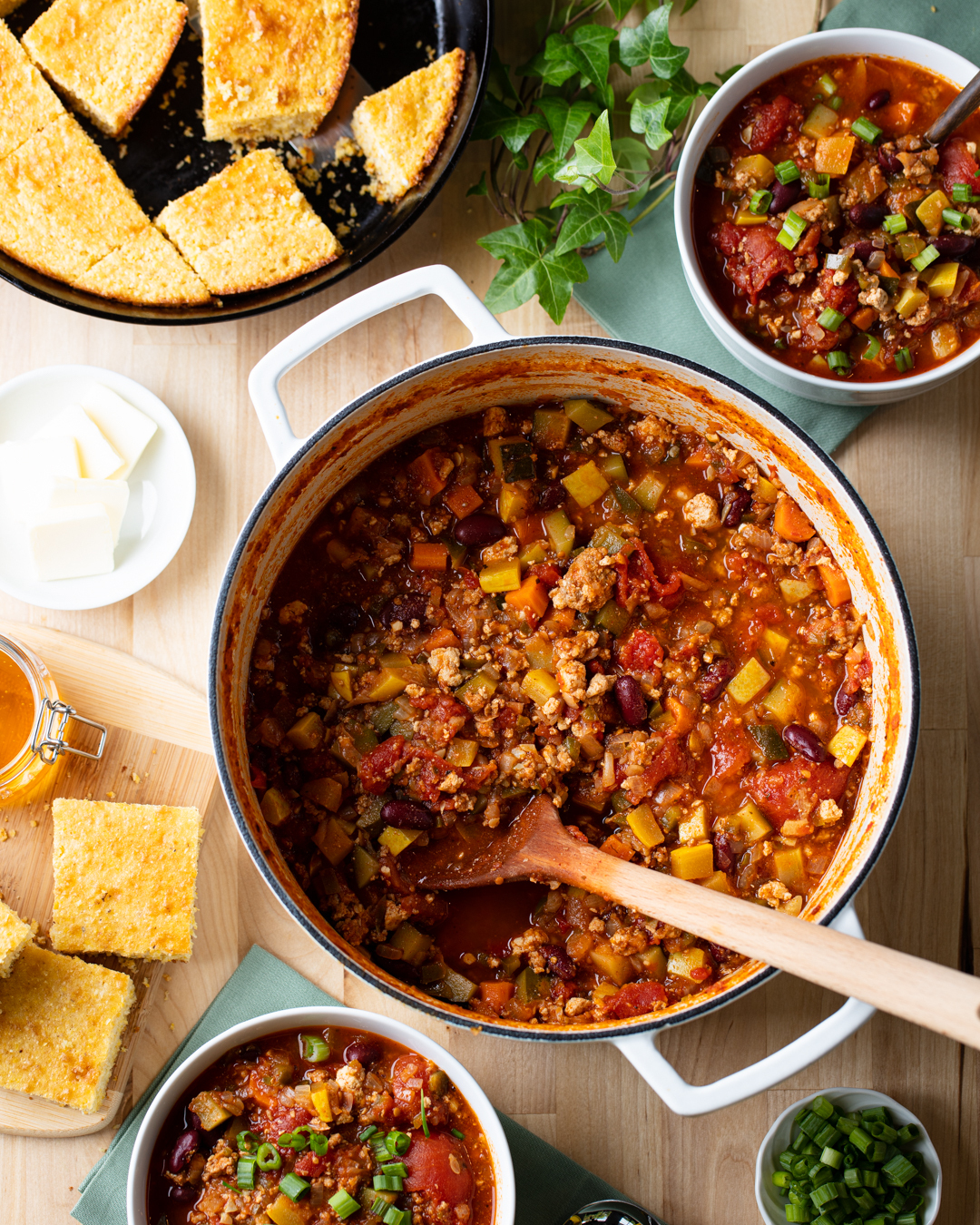 A friend and customer at our Westlake Village store always made chili con carne for her Super Bowl parties. It was a popular dish, but she wanted to make the chili a little healthier for her guests — so she gave her recipe to Jessica, our Registered Dietitian.

Jessica got to work, trading ground turkey breast and crumbled tofu for the carne, ditching the cheddar cheese, and adding a bunch of anti-inflammatory veggies. The result? A scrumptious chili with less salt, fat, and calories — and a healthier game day tradition.

We garnish our chili with a classic skillet cornbread recipe from Bob's Red Mill. You'll find the bread is so dense and moist, you won't need to put butter on it. Plus, it makes a wonderful sop for the chili!
Servings: 4
Game Day Chili
Ingredients
2 Tbsp Napa Valley Naturals organic olive oil
3 small Melissa's organic onions, chopped
1 medium green bell pepper, cored, seeded and chopped
3 cloves Melissa's organic garlic, minced
2 medium carrots, peeled and diced
¾ pound Gelson's ground turkey breast
8 ounces Nasoya organic firm tofu, drained and crumbled
1 zucchini, diced
1 yellow crookneck squash, diced
1 green jalapeño chile, seeded and minced
2 Tbsp chili powder
1 tsp dried oregano
1 tsp ground cumin
2 28-oz cans Muir Glen organic whole peeled tomatoes
1 cup Health Valley beef broth
1 16-oz can S&W reduced sodium kidney beans, rinsed and drained
¼ tsp salt

Directions
Heat oil in large pot over medium heat. Add onion, green pepper, and garlic. Sauté 4 minutes or until onion is soft.
Add carrots and cook 2 minutes.
Add the turkey and tofu, break up with a wooden spoon and brown.
Add zucchini, crookneck squash, jalapeño, chili powder, oregano, and cumin; sauté 1 minute.
Add the beef broth and tomatoes, breaking up tomatoes with a wooden spoon. Bring to a boil. Lower heat; simmer, partially covered for 25 minutes.
Stir in the kidney beans. Simmer uncovered, stirring, until the sauce is reduced and thickened to the right consistency, 20 – 60 minutes. Season with salt to taste.
Skillet Cornbread
Ingredients
1 cup Bob's Red Mill organic medium grind cornmeal
1 ⅓ cups buttermilk
1 cup Bob's Red Mill unbleached, white all-purpose flour
¼ cup Bob's Red Mill cane sugar
2 tsp Bob's Red Mill baking powder
½ tsp Bob's Red Mill baking soda
½ tsp salt
2 eggs
¼ cup melted butter cooled

Directions
Combine medium grind cornmeal and buttermilk in a large bowl and let sit for 10 minutes. Meanwhile, preheat oven to 375°. Spray an 8x8-inch baking pan and set aside.
Mix together flour, sugar, baking powder, baking soda, and salt. Add to the cornmeal mixture along with the eggs and melted butter. Mix until thoroughly combined.
Transfer to the prepared pan and bake until golden and a toothpick inserted in the center comes out clean, about 25 – 30 minutes. Let cool slightly before serving.
For muffins: Line a standard 12-serving muffin tin or a large 6-serving muffin tin with paper liners, then spray with pan spray. Bake for 15 minutes for standard muffins or 20 minutes for large.
Cornbread recipe source: Bob's Red Mill.