Beverage Recipes
Gazpacho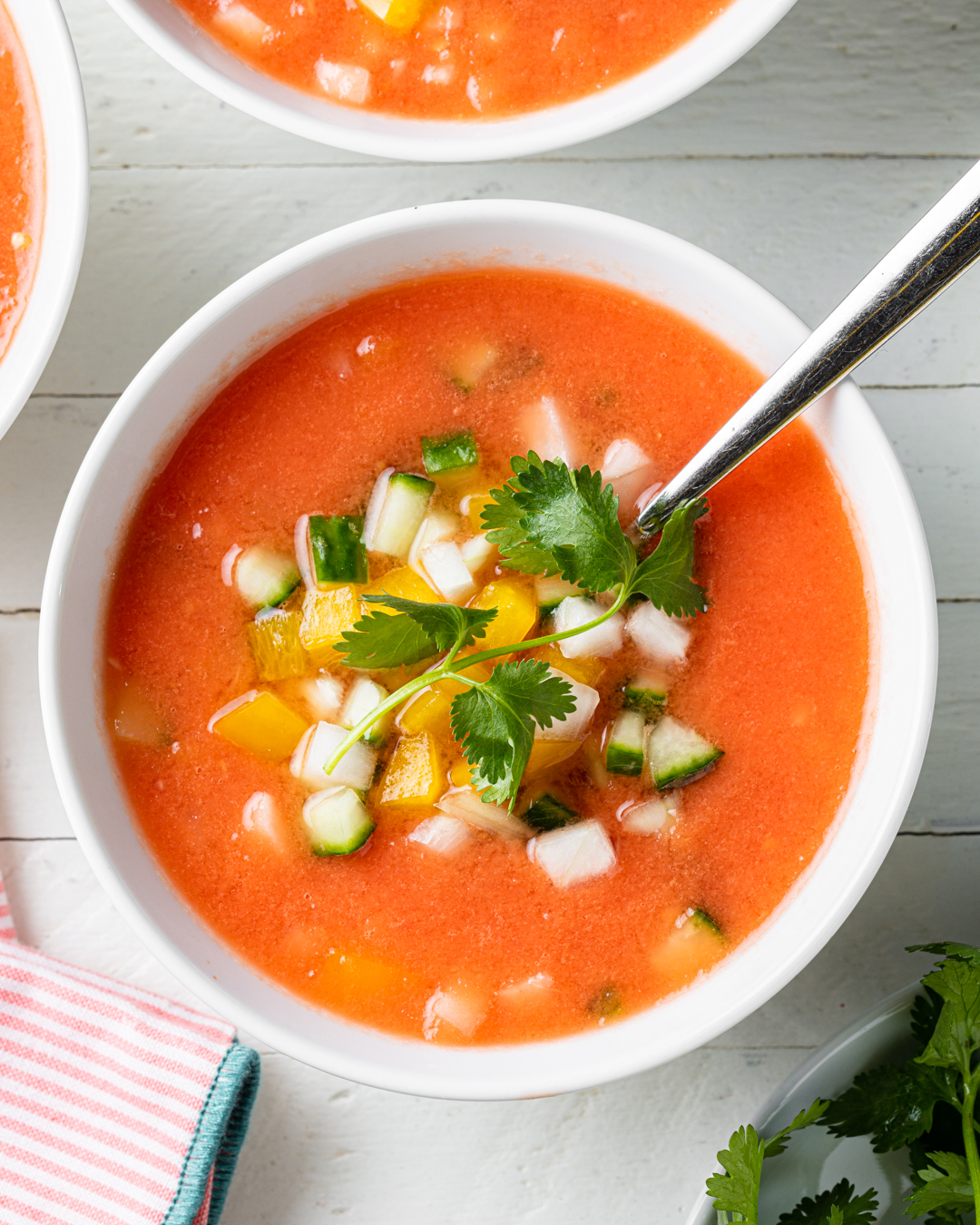 A couple summers back, we whirled up a green-as-a-garden gazpacho with tomatillos and honeydew melon that converted many of our resident cold-soup skeptics into full-blown fans of the stuff. So this year, we're leaping to the other side of the color wheel with this vibrant red-orange version.
We make it with a vinegar-laced, puréed tomato broth and a plethora of diced vegetables: mild Vidalia onion, punchy garlic, sweet bell pepper, spicy jalapeño, and crunchy English cucumber. All those veggies make this gazpacho a bit heartier than a straight purée, but it's still oh-so refreshing (a word that echoed throughout the test kitchen as our tasters slurped up their spoonfuls). We just love the combination of the cool, delicate broth with the fresh, crisp, vegetal textures.
All that to say, this gazpacho is an absolute delight on a steamy SoCal afternoon … especially with a dry, citrusy white wine, like verdejo, or if you're feeling adventurous, a fino sherry martini. It also has "summer dinner party" written all over it: chilled soup always gives off a fancy sort of vibe, and your guests are sure to gush over the gorgeous color.
Our tip: If you are planning a dinner party, you can make your life a little easier by prepping this gazpacho a day or so in advance. The flavors only get better the longer it sits in the fridge.
Servings: 6
Ingredients
6 large ripe red tomatoes, cored
2 Tbsp extra virgin olive oil
1 small Vidalia onion, diced small
2 garlic cloves, minced
1 large red or orange bell pepper, diced small
1 jalapeño pepper, seeds removed, diced small
1 English (seedless) cucumber, diced small
2 Tbsp rice vinegar
¼ tsp kosher salt
⅛ tsp freshly ground Gelson's black pepper
¼ bunch Gelson's organic fresh cilantro leaves, some stems remaining
Directions
Bring a medium pot of water to a boil. Fill a large bowl of water with half ice and half water.

Cut an "x" on the bottom of each tomato and, using a slotted spoon, gently place them into the boiling water for about 30 seconds. Remove the tomatoes with the slotted spoon and transfer them to the bowl of ice water.

Once the tomatoes have cooled, peel off the skin and cut them into quarters. Using a strainer over an empty bowl, squeeze out the seeds and reserve 1 cup of the tomato juice. Discard the seeds.

Transfer the squeezed, seeded tomatoes to a blender. Add the reserved 1 cup tomato juice and the extra virgin olive oil, and pulse until the tomatoes are puréed.

Pour the purée into a large bowl and add the Vidalia onions, garlic, bell peppers, jalapeño peppers, English cucumbers, rice vinegar, kosher salt, and black pepper, and stir to incorporate. Note: you can reserve some of the chopped vegetables to garnish the soup.

Refrigerate the soup for 1 hour, allowing the flavors to develop. Note: This soup can be made a day or two in advance, and stored in a sealed container in the refrigerator for up to 5 days.

Serve in chilled bowls and garnish with fresh cilantro and reserved veggies, if applicable.
Calculate nutrition information for this recipe.