Breakfast Recipes
Giant Hash Brown With Peppers & Onions
Waking up to hash browns on a Sunday morning is a joy. Waking up to a giant hash brown? Downright thrilling. It's crispy, buttery, pan-fried potato goodness to the max!
Thanks to onion and green and red bell pepper, these gargantuan hash browns have a bunch of savory, garden-veggie flavor, too. And we put shredded mozzarella in the center that melts through the grated potatoes, so you get some cheesy action in every bite.
We like to serve the giant hash brown in wedges (though no one will stop you from digging right into a big one) with a crispy fried egg and a dash (read: a hedonistic drizzle) of Cholula. The runny egg yolk gets swirled through the crispy potatoes, the hot sauce gives it some vinegary chile pepper heat — and boy howdy, is it a satisfying breakfast!

Yield: 2 large hash browns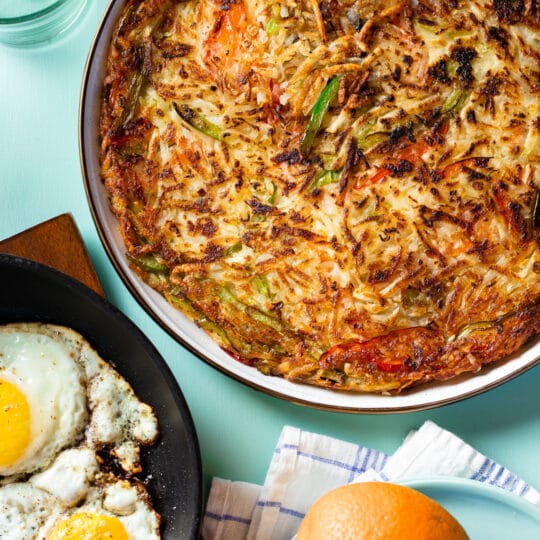 Breakfast
Giant Hash Brown With Peppers & Onions
Ingredients
1 medium green bell pepper, seeded and thinly sliced
1 medium red bell pepper, seeded and thinly sliced
1 bunch green onions, thinly sliced, white and green parts divided
½ tsp freshly ground Gelson's black pepper
¾ cup vegetable oil, divided
1 ⅓ cups shredded mozzarella cheese, divided
Directions
Peel and grate the potatoes and onion. Transfer the vegetables to a colander, and rinse under cold water until the water runs clear.

Working in batches, firmly squeeze the vegetables to remove the excess liquid and transfer them to a large bowl. Add the sliced peppers and white parts of the green onion, salt, and black pepper, and toss to combine.

Transfer half the potato mixture to a second bowl and set it aside.

In a large nonstick skillet, heat half of the oil over medium-high heat until shimmering. Add ⅔ of the potato mixture from 1 of the bowls and, using a rubber spatula, gently press it into an even layer.

Sprinkle half of the cheese in the middle of the hash brown, leaving 1 ½" around the edge uncovered. Top the cheese with the remaining ⅓ of the total potato mixture to cover it and press down gently. Cook until golden brown on the bottom and sides, 7 to 10 minutes.

Place an upside-down plate on top of the skillet, and carefully flip the skillet and plate over to invert the hash brown onto the plate.

Carefully slide the hash brown back into the pan, browned side facing up. Cook the hash brown until the bottom is golden brown, 5 to 8 minutes. Transfer the hash brown to a serving platter.

Repeat steps 4 through 7 with the second bowl of potatoes to make a second hash brown.

Top the hash browns with the green parts of the sliced green onions and garnish with flaky salt. Serve the hash browns in wedges with fried eggs and hot sauce.
Recipe adapted from: Bon Appetit