Breakfast Recipes
Gluten Free Blueberry Pancakes with Blueberry Sauce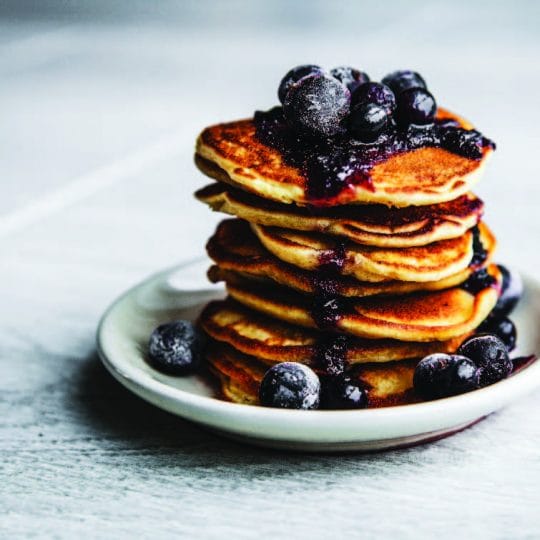 Breakfast
Gluten Free Blueberry Pancakes with Blueberry Sauce
Serves: 5
Ingredients
3 cups Earthbound Farms frozen organic blueberries with any liquid 1 1/2 bags defrosted divided
4 tablespoons 100 fruit juice of any kind I use fresh squeezed orange
2 teaspoons Wholesome Sweeteners organic raw blue agave
3 Gelson's Finest organic omega 3 eggs
6 to 7 tablespoons Organic Valley whole Grassmilk
1/4 teaspoon Bragg's apple cider vinegar
1 teaspoon Simply Organic vanilla extract
1 large ripe organic banana mashed
1 cup Bob's Red Mill almond meal/flour
1/8 teaspoon Le Saunier de Camargue fleur de sel sea salt
1 tablespoon Organic Valley pasture butter
Directions
To make the blueberry sauce, measure two cups blueberries into a small saucepan with a lid. Add juice and agave. Cover the pot and cook the berries over medium low heat. Stir the sauce after about four minutes. Cover and raise heat to medium and cook the sauce for four to six more minutes, until the berries burst and make dark juice. Turn off the stove and let the sauce stand uncovered for at least three minutes so the sauce can get thick. Reserve for serving with pancakes.
Put the eggs, six tablespoons milk, vinegar, vanilla, and mashed banana in a blender. You may do this step the night before and refrigerate until ready to use in the morning.
Add the almond meal, baking soda, and salt. Blend on low, then switch to high speed and blend for one minute total. If the batter seems too thick, briefly blend in remaining tablespoon of milk.
Heat butter in a griddle or large non stick skillet over medium low heat if you don't have a griddle, you will need to cook in batches in a skillet, so divide the butter. Pour about three tablespoons of batter to make ten pancakes total. When pancakes start to bubble, scatter remaining cup of blueberries into pancakes. Cook three minutes, turn over and cook three to five more minutes, checking the bottoms to make sure they don't burn, since almond meal browns quickly.
Serve with blueberry sauce.