Beverage Recipes
Grapefruit Brûlée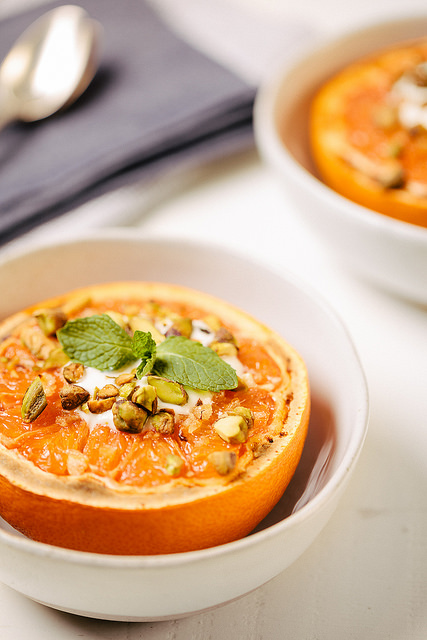 Our grapefruit brûlée, you may be disappointed to discover, is broiled. No torch required! When the grapefruit emerges from the broiler, the brown sugar topping is lightly caramelized, providing just enough sweetness to bring out all the fruit's natural flavors — plus a tiny bit of gingery heat.

Grapefruit brûlée is a lovely treat all by itself, but here's our tip: for an immensely satisfying breakfast or dessert, top it with a dollop of creamy Greek yogurt, chopped pistachios, and mint.
Servings: 4
Ingredients
2 Texas Star red grapefruit, washed and halved horizontally
2 Tbsp Hain Organic brown sugar
2 inches Melissa's crystallized ginger, minced

Directions
Preheat the broiler and adjust the rack so the top of the grapefruit is about 4 inches below the heat.
Remove any seeds from the grapefruit. Use a grapefruit knife or a small, serrated knife to cut around the outer edge of the fruit and between the segments. Try not to pierce through the peel.
Arrange the grapefruit cut side up on a baking sheet with a rim. Sprinkle brown sugar and ginger over the top of each fruit.
Broil for about 5 minutes, until the tops begin to brown. Serve immediately.
Each grapefruit half provides:
Calories: 80
Fat 0 g
Saturated Fat 0 g
Cholesterol 0 mg
Sodium 0 mg
Total Carbohydrate 21 g
Dietary Fiber 2 g
Sugars 18 g
Protein 1 g
Vitamin A 6% DV
Vitamin C 78% DV
Calcium 2% DV
Iron 2% DV