Recipes
Green Goddess Cobb Salad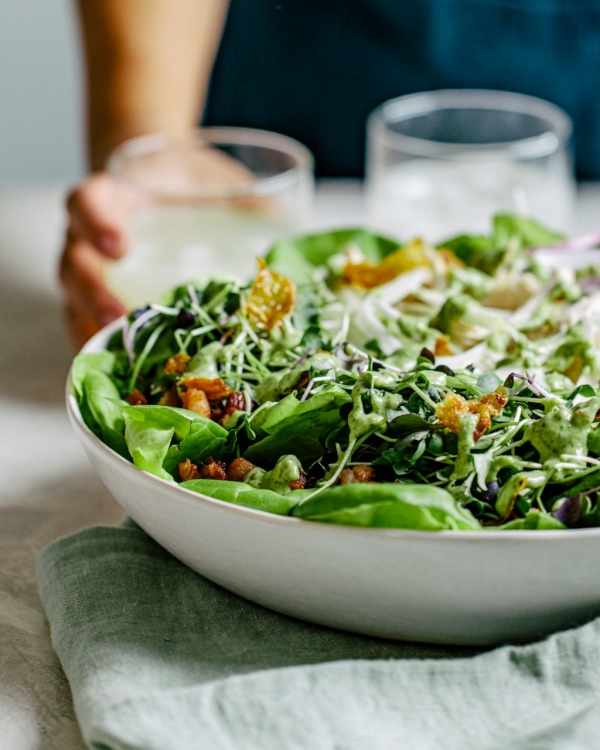 As one of our tasters so eloquently put it, this Cobb salad is greater than the sum of all its wonderful parts. It's full of creamy avocado, sweet, perfume-y fennel, and spicy microgreens. In place of the traditional bacon, it's sprinkled with crispy bits of pancetta and — to our great surprise and delight — chicken skin that has been fried to a crackle in the salty fat of the salumi.
But wait, there's more! The salad is dressed in green goddess, a classic blend of green herbs and aromatics, vinegar, and yogurt. It's wonderfully herby, light, and creamy. Anything would taste amazing coated in a zingy green goddess, but this salad — with all its disparate textures and flavors — seems meant for it. Together, they positively sing!
Make this salad when you're craving something light and summery but you also kind of want to eat with gusto. It's so hearty and satisfying.
Our tip: A jar of green goddess makes a terrific hostess gift. If you quadruple the recipe, you'll have plenty for your salad, for gifts — and for your own fridge. Green goddess is splendid in turkey wraps, as a dip for cut veggies, and drizzled over fish.
Servings: 4
Ingredients
2 scallions, finely chopped
¼ cup fresh tarragon leaves with tender stems
2 Tbsp chives, chopped
2 Tbsp cilantro, chopped
2 Tbsp parsley, chopped
¼ cup olive oil
2 Tbsp white wine vinegar
2 Tbsp plain yogurt
1 avocado, cut into ¼" slices, divided
Kosher salt and freshly ground black pepper

2 oz pancetta, very thinly sliced
1 Gelson's rotisserie chicken, skin removed and reserved, meat torn into bite-sized pieces
2 heads of Little Gem lettuce
1 fennel bulb, thinly sliced
1 cup Asian mix microgreens
½ small red onion, thinly sliced
Directions
Purée the scallions, tarragon, chives, cilantro, parsley, olive oil, white wine vinegar, yogurt, and one-fourth of the avocado in a food processor until smooth.

Thin the mixture with water, adding a little at a time, until similar in consistency to heavy cream. Season the dressing with salt and pepper.

Heat a dry, small skillet over medium heat and cook the pancetta, turning occasionally, until the fat is rendered and the meat is brown and crisp, 5 to 8 minutes. Transfer the meat to a paper towel to drain, but leave the fat in the pan.

Add the reserved chicken skin to the skillet and cook, turning and pressing occasionally, until the skin is golden brown and crisp, 5 to 8 minutes. Transfer to the paper towels with the pancetta.

Arrange the lettuce on a platter, drizzle it with half of the dressing, toss it, and season it with salt and pepper.

Top the salad with the chicken meat, fennel, microgreens, onion, and the remaining avocado. Season with more salt and pepper. Drizzle with the remaining dressing and crumble the crispy chicken skin and pancetta over the top.
Recipe adapted from: Bon Appetit