Lunch Recipes
Grilled Caesar Salad with Chicken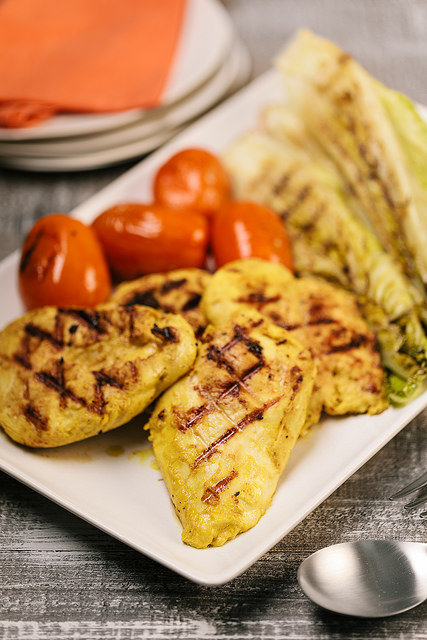 It's always fun to turn an old favorite like Caesar Salad on its head, especially when the result is so interesting and appetizing! On the grill, the tomatoes become sweet and juicy, and the romaine chars, taking on a smoky flavor that pairs beautifully with the tangy parmesan.

Here we use the term "grill" loosely. You can throw your Caesar on the grill or broil it — either way, prep and cleanup are so easy! It's perfect for a fast and healthy weeknight meal.
Servings: 4
Ingredients
½ cup plus 2 Tbsp Galeos Miso Caesar Dressing, divided
3 Tbsp Napa Valley organic olive oil, divided
3 Tbsp Grey Poupon Dijon mustard
6 cloves Melissa's organic garlic, minced, divided
½ tsp ground turmeric
4 organic boneless, skinless chicken breasts
2 heads romaine lettuce, cut in half lengthwise
1/2 tsp black pepper
1 12-oz package organic baby Roma tomatoes on the vine, stems discarded
¼ cup shredded imported parmesan cheese

Directions
In a large zip-top bag combine ½ cup dressing, two tablespoons olive oil, mustard, four cloves (two teaspoons) minced garlic, and turmeric. Mush the outside of the bag to mix the ingredients. Add the chicken and shake to coat. Refrigerate eight to 48 hours, turning the bag occasionally.
In a small bowl combine remaining two tablespoons of dressing, tablespoon of olive oil, and 1 teaspoon (about 2 cloves) garlic. Cover and refrigerate until ready to use, then bring to room temperature.
Preheat your broiler, grill or grill pan. If broiling, the rack should be about 6 – 8 inches from the heat source.
Wash cut romaine heads carefully so leaves don't break off. Dry lettuce with paper towels as much as possible.
Remove chicken from marinade. Discard marinade. Place chicken on the broiler pan or grill and season tops with pepper. Broil about 5 minutes on each side or grill for about 4 minutes each side covered, until internal temperature of the thickest part of the chicken is 165°Fahrenheit. (If you can't cover your grill pan, you can use the grill to sear the chicken, and then finish it covered in a 350°Fahrenheit oven for about 20 minutes.)
While chicken is cooking, brush cut side of lettuce heads and in between leaves with reserved Caesar dressing.
Once the chicken is cooked, set it aside.
Place the whole tomatoes and lettuce on the broiler pan or grill, cooking lettuce cut side down first. Cook for two minutes, then turn over. Sprinkle two tablespoons parmesan on cut lettuce sides and cook about two more minutes, watching that the outer leaves don't cook too quickly.
Sprinkle remaining two tablespoons of parmesan on the cooked sides of the chicken. Transfer everything to a large serving platter.
Each chicken breast with ½ romaine head and 3 tomatoes contains:
Calories 320
Fat 7g
Saturated Fat 2g
Trans Fat 0g
Cholesterol 120mg
Sodium 410mg
Total Carbohydrate 15g
Dietary Fiber 8g
Sugars 7g
Protein 47g
Vitamin A 338% DV
Vitamin C 181% DV
Calcium 23% DV
Iron 21% DV