Lunch Recipes
Grilled Halloumi Salad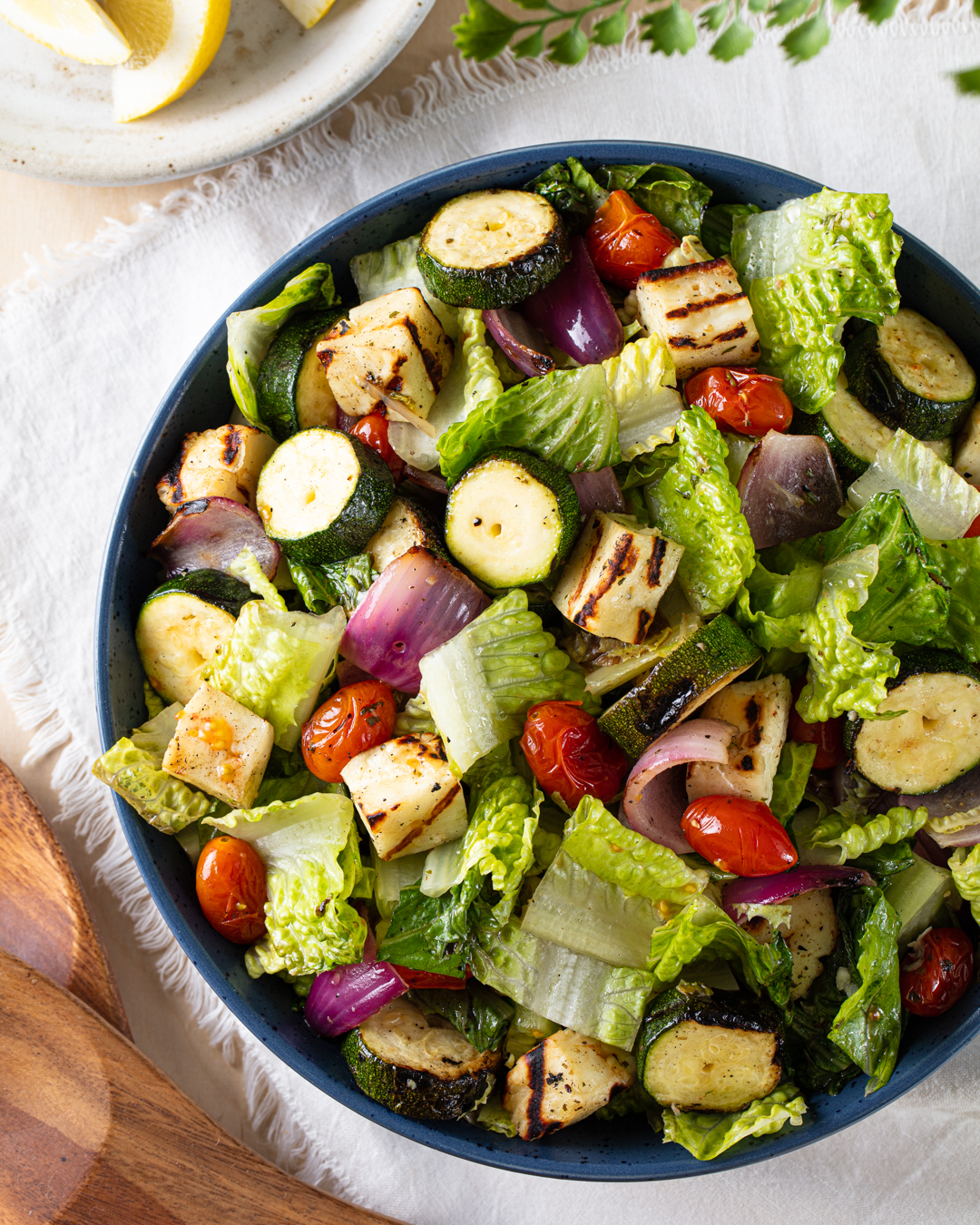 If you haven't tried halloumi yet, we're here to tell you it lives up to the hype. It's a semi-hard, unripened cheese made with goat and sheep milk. In terms of flavor, think mild feta meets cheese curd: It's got some salty tang to it, and it's texture is delightfully spongy and squeaky. We love it because it has a pretty high melting point, which means it holds its shape under heat and grills up like a champ.
Since this is the summer of kebobs, this recipe starts with tossing chunks of halloumi, zucchini, red onion, and cherry tomatoes in an herby lemon vinaigrette, and then threading them onto skewers. They go on the grill, along with a head of romaine.
Once everything is tender and lightly charred, we chop the romaine up nice and chunky, drop it in a bowl, and slide the halloumi and veggies on top. This salad is so crisp and fresh! Each flavor is distinct: the crunchy lettuce, the al dente squash, the sweet bursts of tomato, and the bright red onion — all punctuated by the savory halloumi. The tangy vinaigrette gives the whole thing a summery twang, and we like how it plays off the veggies' smoky char. Balance, it's all about balance.
Grilled salad is perfect for an easy midweek meal — a light dinner on the patio with a glass of wine is just what the workday ordered. If you're looking for something more substantial, you could tuck the whole thing into a pita or pile it on a piece of grilled toast. Either way, a little Gelson's tzatziki will round it out nicely.
Servings: 4 to 6
Ingredients
2 Tbsp freshly squeezed lemon juice
2 Tbsp red wine vinegar
2 tsp minced garlic
2 tsp minced Gelson's organic fresh oregano
1 tsp minced Gelson's organic fresh mint
6 Tbsp extra virgin olive oil, divided
Kosher salt, to taste
Freshly ground Gelson's black pepper, to taste
1 lb halloumi cheese, cut into ¾" cubes
4 medium zucchini, cut into into ½" rounds
2 medium red onions, peeled and cut into ¾" chunks
1 pint grape tomatoes
3 romaine hearts, halved through the cores
Lemon wedges, for serving
Special equipment: 12 to 15 10" bamboo skewers.
Directions
Soak the bamboo skewers in warm water for at least 30 minutes. Heat a grill to high heat.

To make the vinaigrette: In a large bowl, whisk together the lemon juice, red wine vinegar, garlic, oregano, and mint. Slowly pour in 4 Tbsp extra virgin olive oil while whisking to emulsify. Season with kosher salt and black pepper.

Add the halloumi cheese, zucchini, red onions, and grape tomatoes, and toss to combine. Thread the cheese, zucchini, onions, and tomatoes onto the skewers, alternating ingredients. Reserve the excess vinaigrette.

Brush the grill grates with 1 Tbsp extra virgin olive oil. Grill the skewers over direct heat until the cheese is lightly charred and the zucchini has slightly softened, 3 to 5 minutes per side. Transfer the skewers to a cutting board.

Meanwhile, brush the romaine hearts with 1 Tbsp extra virgin olive oil and season with kosher salt and black pepper. Grill, cut-sides down, for 2 to 3 minutes, or until charred. Transfer to a cutting board and chop into ¾" pieces.

Remove the halloumi and vegetables from the skewers and transfer them to a large serving bowl. Add the chopped romaine and toss to combine. Drizzle with the reserved vinaigrette, and sprinkle with kosher salt, to taste.

Serve the salad with lemon wedges.
Recipe adapted from: Serious Eats
Calculate nutrition information for this recipe.