Appetizer Recipes
Grilled Oyster Mushrooms
Grilled oyster mushrooms have a wonderful, meaty texture and rich, savory flavor that makes them utterly irresistible. Here, we marinate them in tamari (heyo, gluten-free-ness!), sesame oil, garlic, ginger, serrano pepper, and lime juice. The tamari builds on the natural umami depth of the mushrooms, the sesame oil lends toasty nutty flavor, and the ginger and serrano add lingering heat — all of which meld beautifully with the smoke from the grill.
This recipe is delightfully quick and simple. Two little tips from the test kitchen: Don't skip the double skewer, otherwise the oyster mushrooms will fall through the grates. And because mushrooms burn easily, using only medium heat on the grill is super important.
We love dunking grilled oyster mushrooms in a garlicky aioli: it adds some creaminess and tang to cut through the mushrooms' heat and rich, savory depth. While the mushrooms marinate, we like to whisk up our homemade aioli with a little extra garlic for a happy hour snack. In a rush? The jarred stuff will be just as delectable (and then you'll have extra time to throw together a batched cocktail).
Yield: 5 6" skewers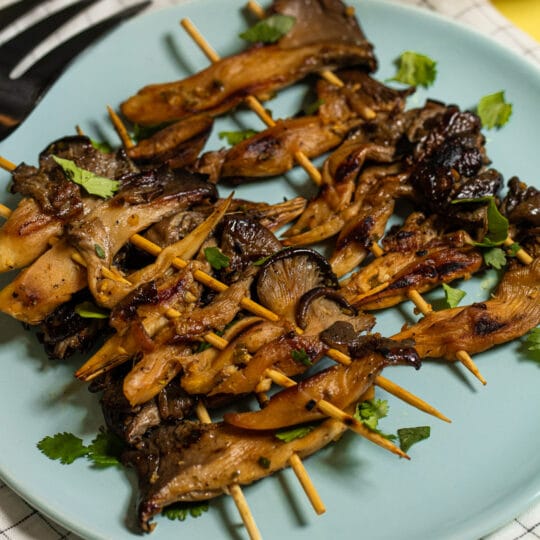 Appetizer
Grilled Oyster Mushrooms
Ingredients
1" piece of ginger, peeled and minced
1 serrano pepper, stemmed and minced
1 ½ Tbsp freshly squeezed lime juice
Cilantro leaves, for garnish
Garlic aioli, for serving
Special equipment: 10 6" bamboo skewers
Directions
Fill a small, shallow pan with water and soak the bamboo skewers for 30 minutes.

In a large bowl, combine the tamari, sesame oil, garlic, ginger, serrano, and lime juice.

Cut the large oyster mushrooms in half and leave the small mushrooms whole. Add the mushrooms to the marinade and stir to coat. Cover and marinate for 30 minutes on the counter, turning the mushrooms halfway through.

Thread the mushrooms onto paired skewers.

Preheat the grill to medium heat.

Add the mushroom skewers, and cook for 3 to 4 minutes on each side, until both sides are golden with slightly crispy edges and char marks.

Transfer the skewers to a platter, garnish with cilantro, and serve hot with garlic aioli.
Recipe adapted from: Pesky Vegan