Breakfast Recipes
Grilled Peach French Toast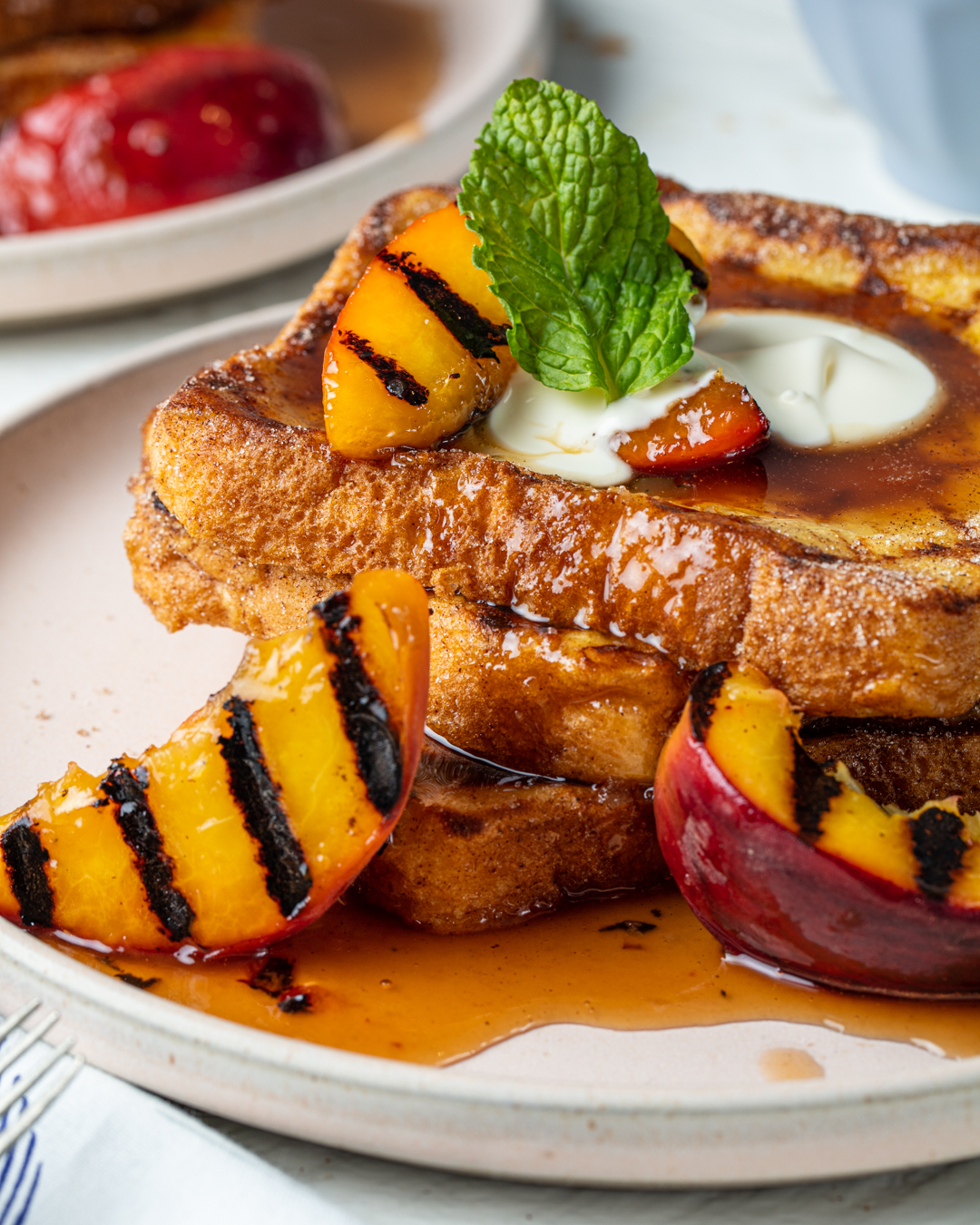 Biting into a succulent piece of stone fruit is the ultimate summer decadence — especially since stone fruit season graces us with its presence for just a few months out of the year. Adding sweet, sunny peaches to a tower of rich, eggy French toast? Well, that's an indulgence of near-Dionysian proportions … and therefore, right up our alley!
We first cook the peaches in a grill pan so they caramelize and get those beautiful blackened stripes — the contrast of smoky char and juicy sweetness is just delightful. Then we combine sugar and water in a hot pan to create a base for the syrup, and once it has simmered to a nice amber hue, we add a splash of dark rum and stir in the grilled peaches.
For the actual French toast part, we use thick, pillowy Texas-style toast and dredge them in a classic milk and egg mixture. We cook them in the grill pan as well, so they get nice and crispy and very lightly charred — and then, while they're still hot, we coat them in a healthy layer of cinnamon sugar.
Those warm, cinnamony slabs of toast are divine with the boozy, caramelly, peach-laden syrup — the vanilla notes in the rum meld perfectly with the eggy toast and the juicy peaches. It's an all-around sweet affair, which is why we love adding a dollop of crème fraîche on top. That thick, tangy cream tames any coyness (and melts into the syrup … so good!).
Grilled peach French toast is an obvious choice for glamorous, buzzy brunches with the besties (complete with sparkling rosé, of course). But it's also wonderful for a laid-back, late morning breakfast during your family's weekend beach cottage stay. Also allowed: swapping the crème fraîche for a scoop of vanilla ice cream and calling it dessert!
Servings: 4
Ingredients
For the French toast:
5 large Gelson's eggs
½ cup milk
¾ cup granulated sugar
1 Tbsp ground cinnamon
8 slices Texas toast
½ cup crème fraîche, for garnish
For the peach syrup:
2 ripe peaches
¾ cup granulated sugar
½ cup water
5 Tbsp unsalted butter
2 Tbsp dark rum
Directions
To make the French toast: In a medium bowl, whisk together the eggs and milk. Set aside.

In a separate medium bowl, whisk together the granulated sugar and cinnamon. Set aside.

To make the peach syrup: Slice the peaches in half and quarter each half into wedges, for a total of 16 wedges.

On a grill pan over medium-high heat, grill the peach wedges on each side, just until nice grill marks have formed, about 2 minutes per side.

In a sauté pan, combine the granulated sugar and water, and stir gently. Bring the pan to high heat, gently swirling occasionally, until the sugar begins to caramelize and turn amber in color.

Lower the heat to low and stir in the unsalted butter until completely melted, then pour in the dark rum and stir to combine. If the syrup is too thick, you can add hot water, stirring in 1 tablespoon at a time, until you have reached your desired consistency.

Stir the grilled peaches into the syrup, remove from heat, and set aside.

To grill the French toast: Wipe out the grill pan and return it to medium-high heat. Lightly dredge each slice of Texas toast in the egg and milk mixture, allowing any excess to drip off. Grill the French toast until slightly crispy and nice grill marks have formed, about 3 minutes per side.

Remove the grilled French toast and gently toss each slice in the cinnamon and sugar mixture.

To serve, warm the syrup and peaches and drizzle over the grilled French toast. Garnish with a dollop of crème fraîche.
Recipe adapted from: Simply Homecooked
Calculate nutrition information for this recipe.