Lunch Recipes
Grilled Scallops with Peach, Corn & Tomato Salad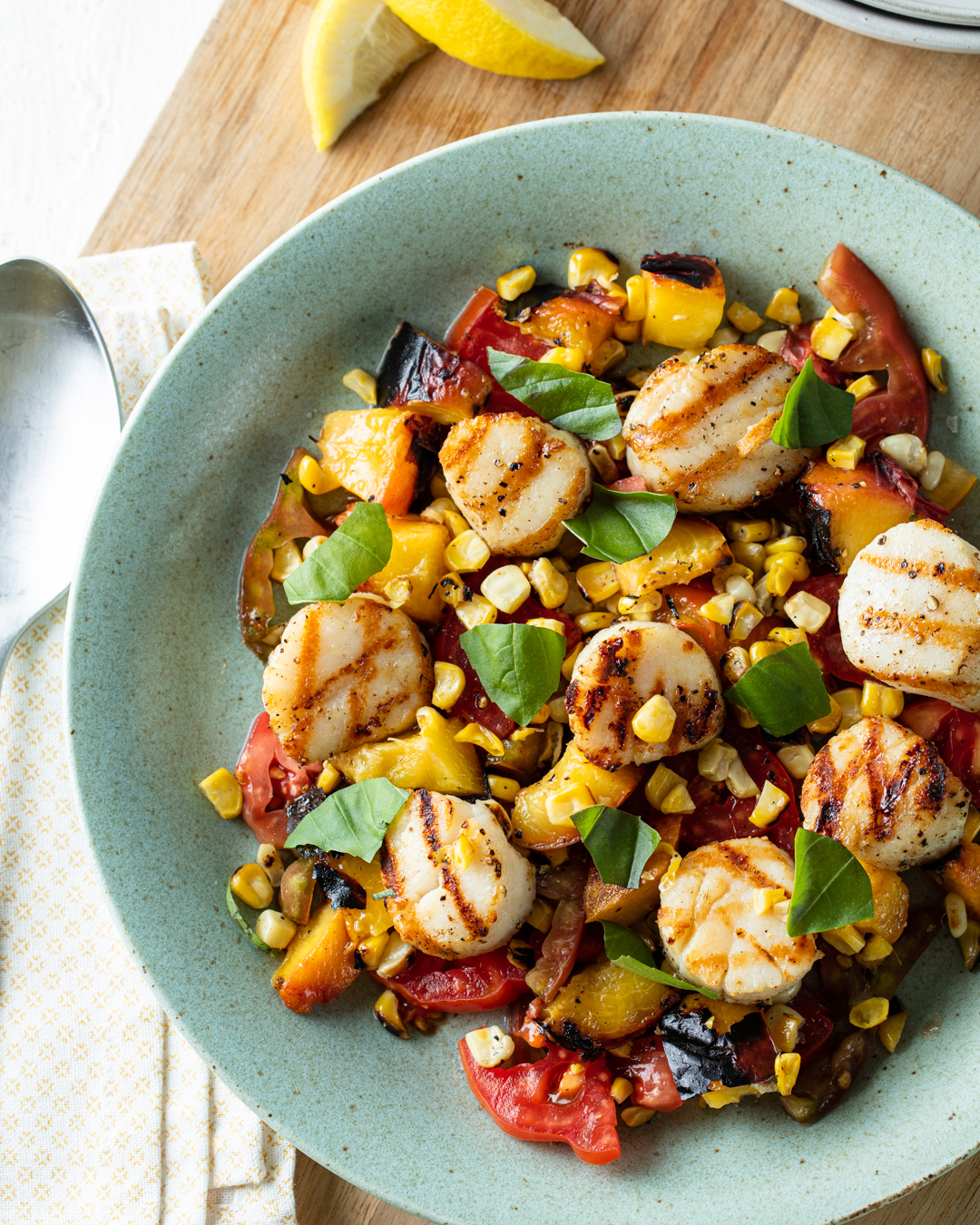 For us, this dish is like a culinary still life of summertime. It showcases lush scallops against a backdrop of some of the season's best fruits and veggies. And though you'd never guess from its elegant aura, it's also incredibly easy to make. We grill scallops, peaches, and corn all at once, and then pile them on a plate with the tomatoes.
There are a few different shades of sweet happening on the plate — and we absolutely love it. There's the honey-like sweetness of the peaches, the juicy sweetness of the tomatoes, the starchy sweetness of the corn, and the delicate, buttery sweetness of the scallops. The grill helps give it all some charred, subtly smoky depth — and a squeeze of lemon juice and a handful of fresh basil adds tartness and peppery herbaceousness, respectively.
All that to say, this simple dish is a light, bright, but wonderfully well-balanced affair — and it works for a multitude of occasions. You might serve it as an hors d'oeuvre for your garden party, or perhaps alongside a beautifully cooked steak for a playful take on surf and turf. Or maybe you'll make it on a weeknight when you're feeling a bit luxurious, but admittedly a bit lazy, too.
Servings: 4
Ingredients
3 Tbsp extra virgin olive oil, divided, plus more for brushing grill
2 ears corn, shucked
2 peaches, halved and pitted
Kosher salt, to taste
Freshly ground Gelson's black pepper, to taste
8 large scallops
2 heirloom tomatoes
Flake salt, to taste, plus more for garnish
½ lemon
Gelson's organic fresh basil, for garnish
Lemon wedges, for garnish
Directions
Heat a charcoal or gas grill until very hot. Brush the grill grates with extra virgin olive oil.

Brush the corn and peaches with 2 Tbsp extra virgin olive oil. Season with kosher salt and black pepper. Set aside.

On a large plate, pat the scallops dry with a paper towel. Brush both sides of the scallops with the remaining 1 Tbsp extra virgin olive oil. Season with kosher salt and black pepper.

Place the corn, peaches, and scallops on the grill. Cook the corn 8 to 10 minutes, or until charred on all sides and cooked through. Cook the peaches, flipping occasionally, 4 to 5 minutes, or until soft and lightly charred. Cook the scallops 2 to 3 minutes on each side, or until they're brown and release easily from the grill, but before the interiors become totally opaque.

Slice the heirloom tomatoes and place on a serving platter. Season with flake salt and black pepper.

Cut the corn kernels off the cobs, and chop the peaches into 1" pieces. Scatter the corn and peaches over the tomatoes.

Place the scallops on top of the salad.

Squeeze ½ lemon over the top of the scallops and garnish with basil and flake salt. Serve warm with lemon wedges.
Recipe adapted from: New York Times
Calculate nutrition information for this recipe.