Snacks Recipes
Guacamole Salsa
Guacamole salsa may be our favorite summer dip. It's basically a whirled-up guacamole — think ultra-creamy-smooth and full of aromatics. It's made with a handful of garlic, a bunch of cilantro, two jalapeño peppers, and a generous pinch of cumin. There's also quite a bit of lime juice in it. The flavors are wonderful: bright and puckery with some punchy heat and a smoky-sweet earthiness that's irresistible.
In the test kitchen, we polished off a bag of tortilla chips scooping it up. The chips were the perfect crispy and salty base for the vibrant salsa. And yet, we've since found a half-dozen or so other great things to do with the stuff. It's amazing in a breakfast burrito or a Tuesday taco. It gives your everyday avocado toast (is there such a thing?) some zip and your grain bowls some flavorsome depth. It's also fantastic dolloped on grilled meats, like steak and salmon. Would we dip our shrimp skewers in it? Yes, we would.
Our tip: Did you know that California avocados come straight from the trees to our stores? We ripen them in-house, and our produce managers put "ripe" stickers on the ones that are ready to eat — so you don't have to guess.
Yield: 2 cups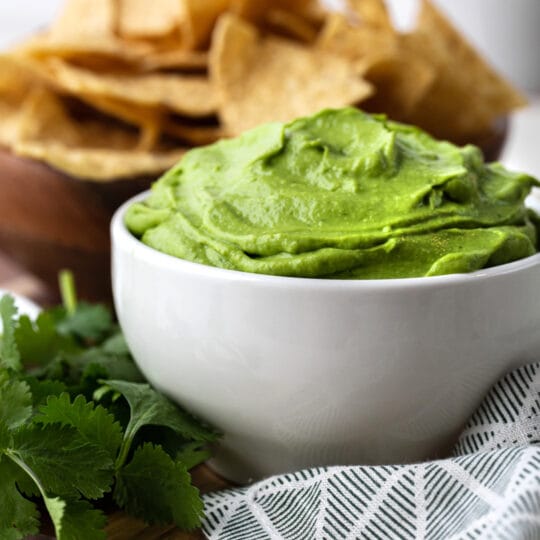 Snacks
Guacamole Salsa
Ingredients
2 ripe avocados, peeled, seeded, and large diced
1 bunch cilantro, chopped with some stems
2 jalapeños, seeded and chopped
¼ cup extra virgin olive oil
1 tsp Gelson's ground cumin
Directions
In a blender, combine the avocados, lime juice, cilantro, jalapeños, garlic, olive oil, and cumin. Blend until smooth.

Season the salsa with salt and blend for a few seconds to combine.

Serve immediately, or transfer to an airtight container and store in the refrigerator for up to 2 days.
Recipe source: Laylita's Recipes