Appetizer Recipes
Harissa Roasted Carrots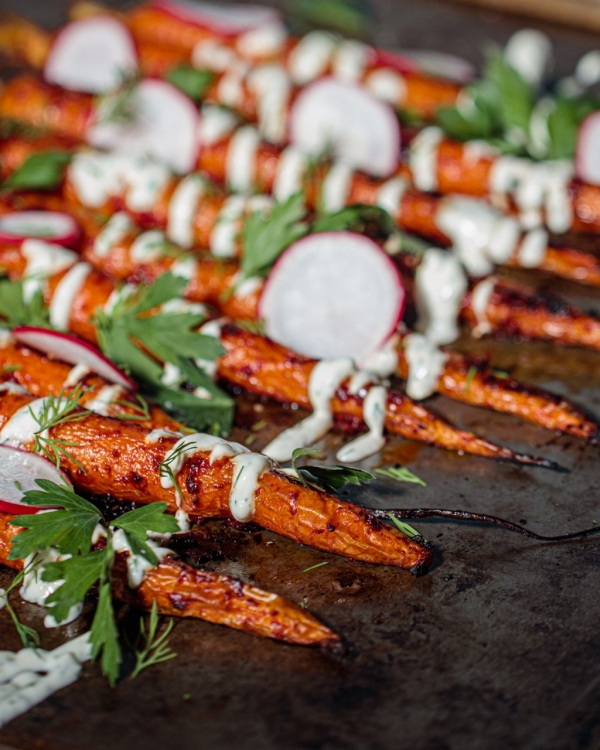 Not to be hyperbolic, but these might be the best carrots we've ever eaten. They're coated in a homemade harissa paste — chile peppers, spices, sherry vinegar, garlic, and tomato — and then roasted until soft and deeply caramelized. They taste dynamite: sweet, smoky, and full of the harissa's fiery heat. A drizzle of yogurt-dill sauce provides a cool, creamy respite from those chiles.
A dish of roasted carrots can't help but look rustic and pleasing, and between the harissa-stained carrots with their charred tips and all the pretty garnishes, this one is especially so. It's just made for special occasions. We've serve it as the main event on a vegetarian plate and as a stunning side to a lush, flaky piece of salmon.
Our tip: You'll have leftover harissa paste. What a boon! You'll find it useful in making soups, marinades, and dips. It's also a fantastic condiment. Spread it on your sandwiches, put a dollop on your hummus, and whisk it into your scrambled eggs.
Servings: 4
Ingredients
1 bunch carrots
¼ cup harissa paste (recipe below)
Salt, to taste
Pepper, to taste
Parsley leaves, for garnish
Radish, thinly sliced, for garnish
Fresh dill fronds, for garnish
Creamy dill sauce (recipe below)
Directions
Preheat the oven to 450º.

Wash and trim the carrots, leaving 1 inch of the stem at the top of each carrot. Place the carrots on a baking sheet.

Spoon the harissa mixture over the carrots, and then toss to distribute evenly. Season with salt and pepper.

Roast the carrots for 20 to 25 minutes, or until fork-tender.

Spoon the creamy dill sauce over the carrots, and then garnish with the parsley, radishes, and fresh dill fronds.
---
Harissa Paste
Ingredients
12 dried guajillo chiles
5 dried arbol chiles
1 Tbsp cumin seeds
1 tsp coriander seeds
1 tsp caraway seeds
1 tsp smoked paprika
1 tsp kosher salt
6 cloves garlic, minced
2 tsp tomato paste
½ cup olive oil
1 tsp lemon zest
1 tsp lemon juice
1 tsp sherry vinegar
Directions
In a medium bowl, cover the chiles in hot water. Cover with plastic wrap until fully hydrated, around 45 minutes.

In a small skillet, toast the cumin, coriander, and caraway seeds until fragrant, about 4 minutes.

Pour the spice mix into a mortar and pestle and break the seeds down a bit.

Drain the water, discard the stems and seeds and set the chiles aside.

In a food processor, combine the paprika, salt, minced garlic, hydrated chiles, ground spice blend, tomato paste, olive oil, lemon zest and juice, and sherry vinegar. Process until the mixture is a smooth paste.

Harissa paste will keep in the fridge for up to 3 weeks, covered.
---
Creamy Dill Sauce
Ingredients
1 cup plain yogurt
2 Tbsp lemon juice
1 Tbsp dill, finely chopped
2 tsp water
1 tsp sherry vinegar
1 tsp garlic, microplaned
1 tsp salt
¼ tsp pepper
2 Tbsp olive oil
Directions
In a small bowl, combine all of the ingredients and stir until smooth and evenly mixed.

The dill sauce will keep in the fridge for up to 1 week, covered.