Dinner Recipes
Harissa Veggie Bowl & Basil Tahini
What a beautiful early fall rice bowl! The ingredients are very simple, the colors are vibrant — and the flavors are just a little bit over the top. We toss late-summer veggies in a honey-sweet harissa sauce and roast them with a pile of cumin chickpeas 'til they're melt-in-your-mouth soft and have a subtle peppery heat.
For the tahini sauce, we wanted to bring in a little summer with Gelson's organic fresh herbs: think great big handfuls of basil and chives. They're whirled up with the tahini, jalapeño pepper, and a generous amount of lemon and apple cider vinegar, creating a sauce that's creamy, herbaceous, bright, and lively. You'll want to put it on everything, but it's especially nice on the veggies — a zesty counterpoint to their sweet, earthy flavors.
We could have stopped there, but why not add even more flavor? We finish the bowl with a heap of bright purple pickled cabbage and a sprinkle of toasted pine nuts and fresh cilantro and dill. Wowza! It's so fun running into the crunchy nuts in between the soft veggies and beans.
This simple veggie bowl has Meatless Monday written all over it, but it's so darn pretty and worthy of a nice white wine, we'd definitely make it for a sociable dinner with friends.
Our tip: Hang on to any leftover tahini sauce. It will be delicious drizzled over eggs or any workaday sandwich. Our kids also like dipping their carrots in it!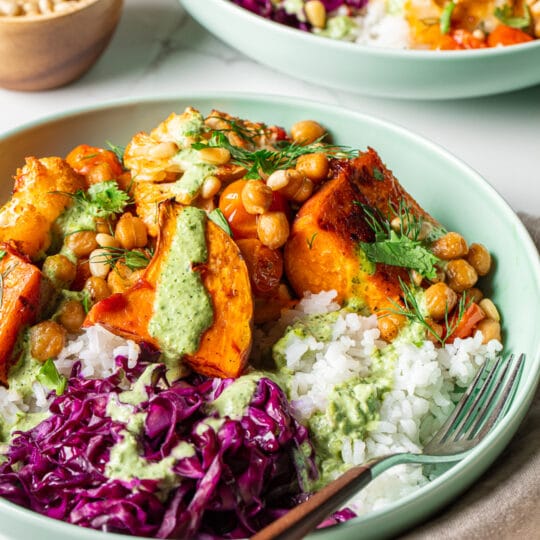 Dinner
Harissa Veggie Bowl & Basil Tahini