Appetizer Recipes
Herb and Garlic Baked Camembert 
In this ode to the stinking rose, we bury slivers of fresh garlic in a wheel of Camembert, and then slather the cheese in olive oil, rosemary, and thyme, and bake it. What a treat it makes! The cheese melts into a rich, buttery fondue, full of herbs and sweet, garlicky pungency. It's heaven on a fruity Raincoast Crisp cracker.
Serve baked Camembert at your holiday party, and you'll be rewarded with a cacophony of oohs and aahs. The cheese bakes in its little wooden crate, so it looks ridiculously cute. Plus, people tend to shy away from Camembert because they're not sure what to do with it — so this simple app will be both a conversation starter and a pleasant break from sweet, baked Bries. Make sure it gets to the table hot: your guests can vie for longest cheese pull.
Servings: 4 to 6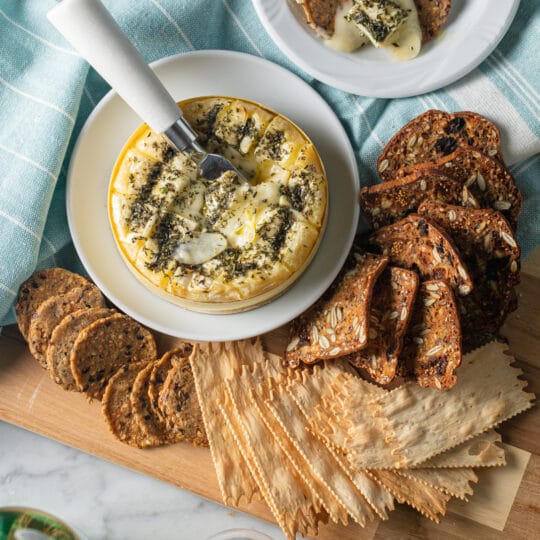 Appetizer
Herb and Garlic Baked Camembert 
Ingredients
1 8-oz wheel Camembert cheese
1 tsp minced Gelson's organic fresh thyme leaves
1 tsp minced Gelson's organic fresh rosemary leaves
¼ tsp ground black pepper
1 large garlic clove, sliced very thin
Directions
Preheat the oven to 350°.
Most Camembert comes in a little wooden crate. If yours does, remove the crate lid and any packaging or wrappers around the cheese, and place the cheese back inside the basket. Set the wooden crate on a baking tray lined with foil. If you don't have the crate, you can just set the cheese on the foil.
With a thin, sharp knife, make 3 to 4 cuts in the cheese about 1 inch apart and 1 inch deep, and then turn the cheese and repeat, so you have a grid. Don't cut the bottom rind. Use your knife tip to "open" the cuts, so you can press the garlic slivers into them, distributing the garlic throughout the cheese.
In a small bowl, combine the olive oil with the thyme, rosemary, salt, and pepper. Spread the oil mixture thickly on top of the cheese.
Bake for 15 to 20 minutes, or until the cheese is loose inside the rind. Serve warm with crackers.
Recipe source: Epicurious