Dinner Recipes
Herb Roasted Airline Chicken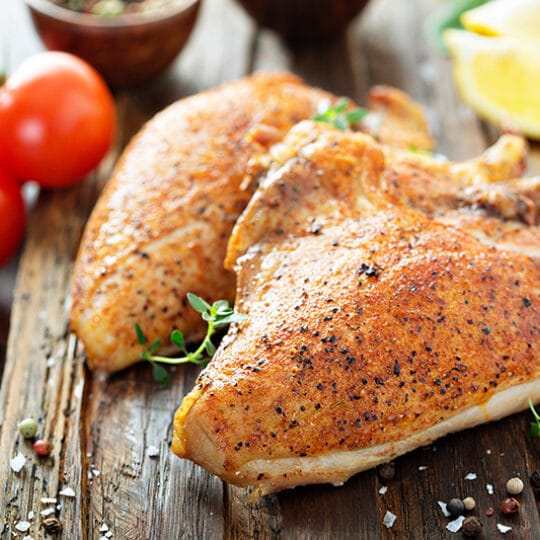 Dinner
Herb Roasted Airline Chicken
Serves: 2
Ingredients
2 Skin On, Bone-In Airline Chicken Breasts with Drumette
4 Tbsp Gelson's Herbed Compound Butter, softened (see Gelson's Herbed Compound Butter Recipe)
2 Tbsp Extra Virgin Olive Oil
1 Tbsp Kosher Salt, coarse
2 tsp Black Pepper, ground
2 tsp Fresh Lemon Juice (about ½ lemon)
2 tsp Gelson's Herbs for Garnish (see Gelson's Herbs Recipe)
Directions
Directions: Pre-Heat Oven to 375°F
1. Using your fingers, gently move under the skin; taking care not to detach the skin from the breast muscle. Attempt to lift the skin from the muscle at all points, again without separating membrane and skin completely from muscle.
2. Place compound butter under skin and begin to gently spread to cover the whole muscle. This can be done up to a day in advance. Ensure proper storage and refrigeration.
3. Season exterior skin of whole chicken breast with salt and pepper.
4. In a warmed oven-safe skillet, add olive oil, and using tongs, gently lay chicken breast with skin side down. Be careful not to burn yourself with hot oil.
5. Cook in pan for 2-3 minutes, or until skin begins to brown.
6. Transfer skillet to oven and cook for 10 minutes or until internal temperature of 165°F is achieved. We recommend using a meat thermometer.
7. Remove from oven and allow to rest for 5 minutes.
8. Squeeze fresh lemon juice over chicken breast and garnish with Gelson's Herbs.
9. Serve and enjoy.