Dinner Recipes
Herbed Rack of Lamb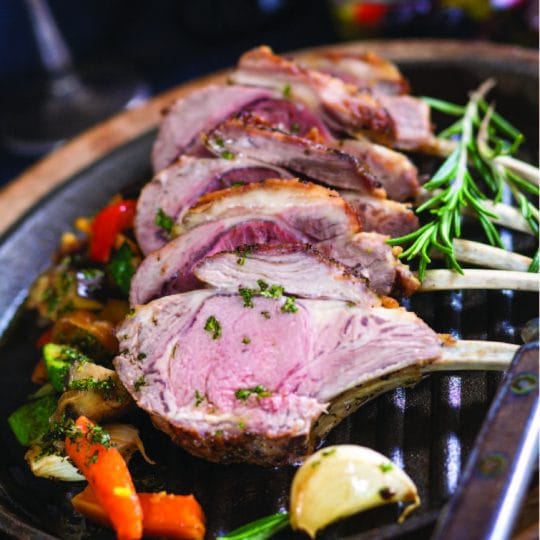 Dinner
Herbed Rack of Lamb
Serves: 2
Ingredients
1 rack of lamb trimmed approx 1 3/4 lbs
2 tablespoons extra virgin olive oil
to taste sea salt and freshly ground black pepper
4 tablespoons fresh Italian parsley minced
2 tablespoons fresh basil leaves minced
1 tablespoon fresh rosemary needles minced
4 cloves of garlic, minced
1/2 cup fresh bread crumbs
1 teaspoon fresh lemon zest
2 tablespoons unsalted butter, melted
Directions
Preheat oven to 500F., place a rack 1/3 from the top of oven.
Rub rack of lamb with olive oil and season with sea salt and pepper.
Place lamb, meat side down, on a rack in a roasting pan.
Transfer roasting pan to oven and roast lamb for 10 minutes.
While meat is roasting, combine the parsley, basil, rosemary, thyme, garlic, bread crumbs, and lemon zest.
Remove roast from oven, and turn rack of lamb meat side up.
Pat herb mixture evenly over meat and drizzle butter over herbs.
Return lamb to oven, and roast 5 minutes longer for rare, 7 to 10 minutes longer for medium.
Remove lamb from oven and allow to rest 10 to 15 minutes before carving rack into chops.