Dessert Recipes
Holiday Spice Rolls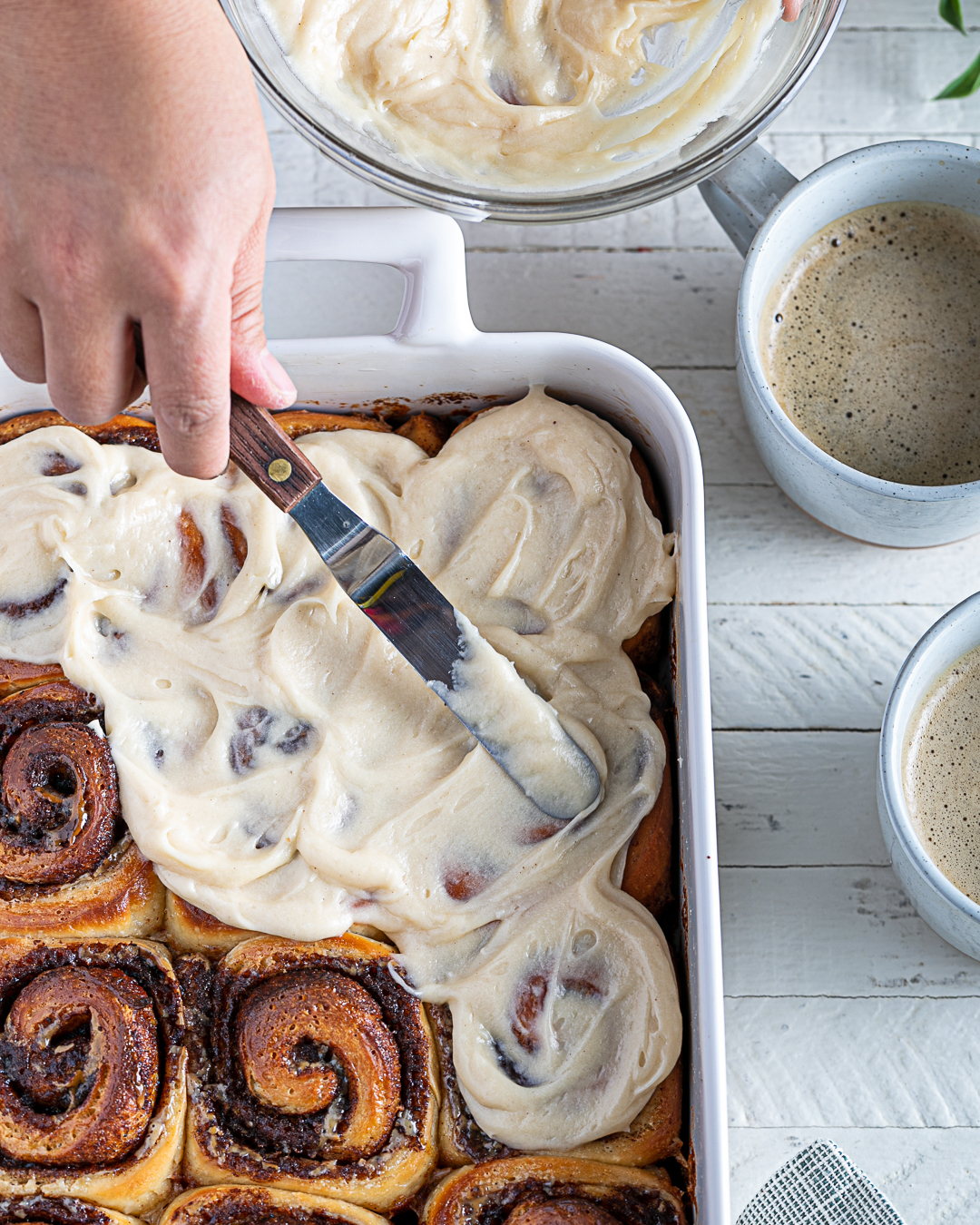 We can't wait to snuggle up with one (or six) of these sweet rolls. They are the latest episode in our famous sweet roll series, which includes some basic cinnamon rolls and a rather inspired, frosting-free version of the same with cocoa, roasted pistachios, and honey. The dough for those rolls is so easy, we couldn't resist messing with it yet again, so we've come up with a holiday special — all the classic cinnamon roll scrumptiousness, plus brown butter, bourbon, and a bunch of spices.
The filling was inspired by the spice blends you find in seasonal pumpkin pies and mulled wines — cinnamon, nutmeg, cardamom, ginger, and clove. We stir them into the brown butter with a lump of brown sugar, creating a thick, aromatic paste to brush on the dough. It bakes up so nutty, so warming, and so full of peppery kick, that you don't feel the least bit sad when you get a bite of roll with no frosting on it.
That said, the frosting is our collective favorite thing about these rolls. It's your basic vanilla-cream cheese number, but we make it with brown butter, too — and a very modest half-tablespoon of bourbon. That's all it takes to balance out some of the frosting's sweetness, and add loads of depth to its flavor. The butter is so toasty; the bourbon is full of mild spicy, woody, and fruity notes. It's hard not to eat the stuff by the spoonful while the rolls are baking …
Holiday schmoliday, we'll be making these rolls all winter long. They'll bring a lot of cheer to holiday mornings, of course, but they'll also be great for any old lazy weekend brunch. If a dozen seems like too many for a small family gathering, think again. You'd be surprised at how quickly even a family of two can demolish a pan. It turns out sweet rolls are also excellent for snacking, midday or middle of the night.

Servings: 12
Ingredients
For the holiday spice rolls:
1 ½ sticks unsalted butter, softened, divided, plus more for greasing
¾ cup brown sugar
1 ½ Tbsp cinnamon
½ tsp ground nutmeg
¼ tsp ground ginger
⅛ tsp ground cardamom
Pinch ground cloves
Pinch kosher salt
1 batch sweet roll dough
For the brown butter and cream cheese frosting:
½ cup heavy whipping cream
4 oz cream cheese, softened
½ Tbsp bourbon
½ tsp vanilla extract
1 ½ cups powdered sugar
Directions
Lightly butter a 9x13" baking dish.

In a medium skillet, melt 1 stick of the butter over medium-low heat. Let the butter foam while it cooks, stirring frequently, until it turns golden brown and smells nutty, 5 to 7 minutes, watching carefully to keep it from burning.

Immediately pour half of the browned butter into a medium mixing bowl and half into the bowl of a stand mixer.

Add 3 tablespoons of the remaining butter, brown sugar, cinnamon, nutmeg, ginger, cardamom, cloves, and salt to the medium mixing bowl of browned butter. Stir until fully combined into a thick paste.

Roll the sweet roll dough into a 9x18" rectangle about ⅛"-thick.

Leaving about ½" on the long sides of the rectangle, spread the spiced butter mixture all over the dough.

Roll the dough into a long, tight log and cut it into 1½"-thick rolls using a sharp, buttered knife.

Transfer the rolls to the prepared baking dish, spiral-sides up. Cover the dish tightly with plastic wrap and allow the rolls to rise until you can leave an indent in the dough with your finger, 20 to 30 minutes.

Meanwhile, in a small saucepan, warm the whipping cream over medium-low heat.

Remove the plastic wrap from the rolls, pour the cream over them, and bake for 15 to 18 minutes, or until lightly browned.

Meanwhile, add the cream cheese and remaining tablespoon of butter to the browned butter in the bowl of the stand mixer. Beat with the paddle attachment on medium speed until smooth and creamy, about 1 minute. Add the bourbon and vanilla, and mix to combine. Gradually add the powdered sugar until fluffy.

Cool the cinnamon rolls for 5 minutes before frosting. Enjoy immediately!
Calculate nutrition information for this recipe.