Dinner Recipes
Hot & Sour Dumpling Soup
Here in the U.S., hot and sour soup is a beloved Chinese take-out staple whose origins can be traced back to Sichuan and Hunan cuisines. Though the dish has changed and evolved since crossing the ocean (as emigrant food tends to do), one aspect has remained constant: using white pepper to make the broth "hot" and vinegar to make it "sour."
So what are some things that make the Chinese-American version of the soup a little different? We'll name a couple: In China, Zhenjiang black vinegar is typically the acid of choice; in Chinese-American restaurants, it's often a basic white vinegar. Also, many restaurants here add cornstarch to the broth, making it as lush and silky as it is hot and sour. This recipe follows suit on both fronts.
Here, the broth is also infused with the spicy warmth and umami meatiness of sautéed ginger and shiitake mushrooms, respectively. They add aromatic depth to all the goodies floating in the pot: ultra-tender tofu matchsticks, delightfully woody bamboo shoots, and chewy, comforting chicken dumplings. Finished with green onion and red jalapeño, the soup gets a few extra pops of brightness and heat to round out all of its rich, savory, and punchy notes.
Given all those layered, complex flavors, you might think hot and sour dumpling soup requires hours of simmering. Think again! The whole dish comes together with all the swiftness and ease our weeknight schedules demand, while bringing spoonful after spoonful of soothing, satisfying flavor.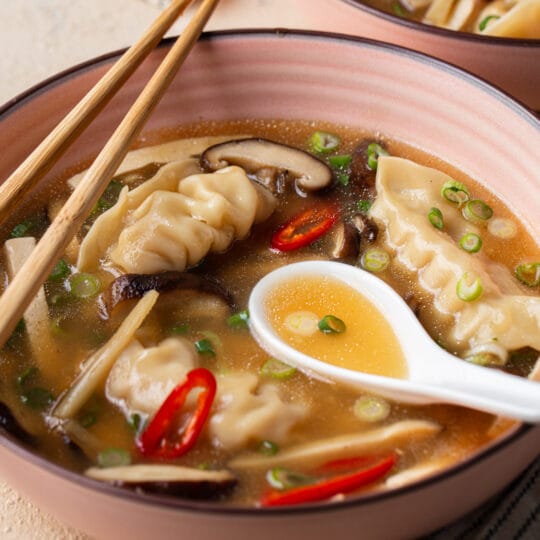 Dinner
Hot & Sour Dumpling Soup
Serves: 4
Ingredients
​​3 Tbsp extra virgin olive oil
8 oz fresh shiitake mushrooms, stemmed and thinly sliced
2 Tbsp fresh ginger, peeled and minced
Freshly ground Gelson's black pepper, to taste
8 cups low-sodium chicken broth
6 oz firm tofu, cut into 2x¼" matchsticks
⅓ cup low-sodium soy sauce
2 oz sliced bamboo shoots, drained and sliced into matchsticks
¼ tsp ground white pepper, plus more to taste
12 frozen chicken pot stickers
3 Tbsp distilled white vinegar
¼ cup sliced green onions, for garnish
1 red jalapeño, thinly sliced, for garnish
Directions
In a large saucepan, heat the olive oil over medium heat. Add the mushrooms and ginger, and season with salt and black pepper. Cook, stirring occasionally, until softened, about 3 minutes.

Stir in the chicken broth, tofu, soy sauce, bamboo shoots, and white pepper. Increase the heat to high and bring to a boil.

Add the dumplings, reduce to a simmer, and cook until the dumplings are heated through, about 5 minutes.

In a small bowl, whisk the cornstarch with ¼ cup water to form a slurry. Stir the slurry and vinegar into the soup and simmer until slightly thickened, about 2 minutes. Season the soup with salt and white pepper.

Divide the soup between 4 bowls and garnish with the scallions and jalapeños. Serve hot.
Recipe source: New York Times