Appetizer Recipes
How to Make Bagels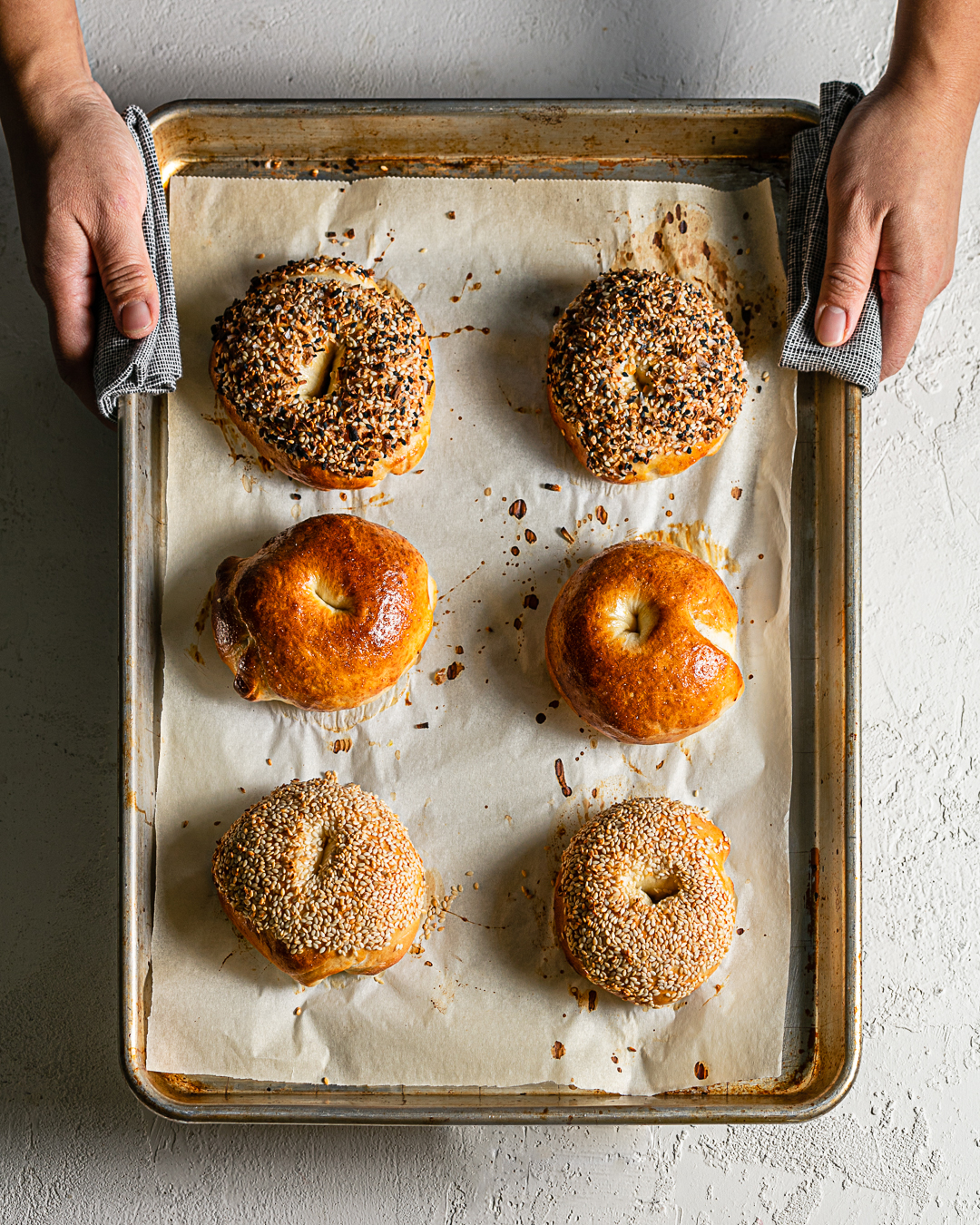 While we love store-bought bagels, nothing beats biting into one that's fresh out of the oven. So with an adventurous spirit and the fervor of last spring's sourdough-baking sensation, we set out to make our own. It may seem like a daunting project, but this recipe makes the process simple and approachable: the dough gets a bunch of flavor out of a quick ferment, and the bagels bake up with shiny, tight yet tender crusts and perfectly chewy insides.
We make the dough with a packet of active dry yeast, bread flour, salt, and water (your usual bread-baking suspects), plus a little malted milk powder for, well, maltiness. It only takes about an hour for the dough to proof, at which point it'll be soft, supple, and so fun to work with. In fact, you may want to enlist your kiddos for the rolling, hole-poking, and finger-spinning part — they'll have a ball!
Next comes the blanching: we add a bit more malted milk powder and a couple tablespoons of honey to the pot to infuse the bagels with an extra jolt of their characteristic subtle, malty sweetness. Once all your bagels are parboiled, it's time to bake. But first … flavorings!
We decided to turn some into (our favorite) everything bagels with a mix of white and black sesame seeds, dried onion and garlic, poppy seeds, and flaky Maldon salt. It gives each bagel a toasty, crunchy, garlic-forward coating that's so very satisfying (especially with lox, cream cheese, and a sprinkling of chives). That said, feel free to make the bagels your own with anything from cinnamon sugar to plain white sesame seeds — or perhaps Parmesan, Gruyère, and chopped rosemary.
Servings: 12
Ingredients
For the bagels:
1 pkg active dry yeast (2 ¼ tsp)
1 ⅔ cups warm water (about 110°), divided
5 ½ cups bread flour
1 ½ tsp kosher salt
2 ½ Tbsp malted milk powder, divided
2 qt water
2 Tbsp honey
1 large Gelson's egg, beaten for egg wash
For the everything bagel seasoning:
1 ½ Tbsp white sesame seeds
½ Tbsp black sesame seeds
½ Tbsp flaky Maldon salt
1 Tbsp minced dried onion
1 Tbsp minced dried garlic
1 Tbsp poppy seeds
Directions
In a small bowl, dissolve the yeast in ⅓ cup warm water. Stir and let sit for 2 minutes.

In the bowl of a stand mixer fitted with the hook attachment, combine the flour, salt, ½ tablespoon malted milk powder, yeast mixture, and remaining 1 ⅓ cups warm water. Mix on low speed for 8 to 10 minutes, or until the dough is smooth and firm.

Place the dough into a large, greased bowl, cover with plastic wrap, and let rise in a warm place for 1 hour, or until the dough has doubled in size.

Meanwhile, on a small plate, add the everything bagel seasoning ingredients and mix until combined. Set aside.

In a large pot, add the 2 quarts of water and remaining 2 tablespoons of malted milk powder. Whisk until combined and bring to a boil. Whisk in the honey until fully dissolved. Turn off the heat until ready to use.

Preheat the oven to 425° and line 2 rimmed baking sheets with parchment paper.

Cut the dough into 3-oz portions, and cover them with plastic wrap to keep them from drying out while you are shaping the bagels.

Roll and shape each piece of dough into a circle, press it into a 2"-thick disc, and then use your finger to poke a hole all the way through the center of it. Spin it on your finger or stretch the dough out until the center hole is about 1 ½" wide. Place the bagels on the prepared baking sheets.

Warm the malted milk mixture over medium heat until it is at a gentle simmer.

Add 3 bagels at a time and blanch for 1 minute, flipping each bagel halfway through. Don't overcrowd the pot. Transfer the parcooked bagels to the baking sheets.

Repeat step 10 until all of the bagels have been parcooked. Let the bagels sit for 1 to 2 minutes to allow the excess water to come off.

Brush the top of each bagel with the egg wash and immediately dip the tops in the everything bagel seasoning.

Bake for 18 to 20 minutes, or until golden brown.

Enjoy immediately or store in an airtight container for 1 day or the freezer for up to 30 days.
Calculate nutrition information for this recipe.