Dinner Recipes
How to Make Ricotta Cavatelli Pasta with Broccolini & White Beans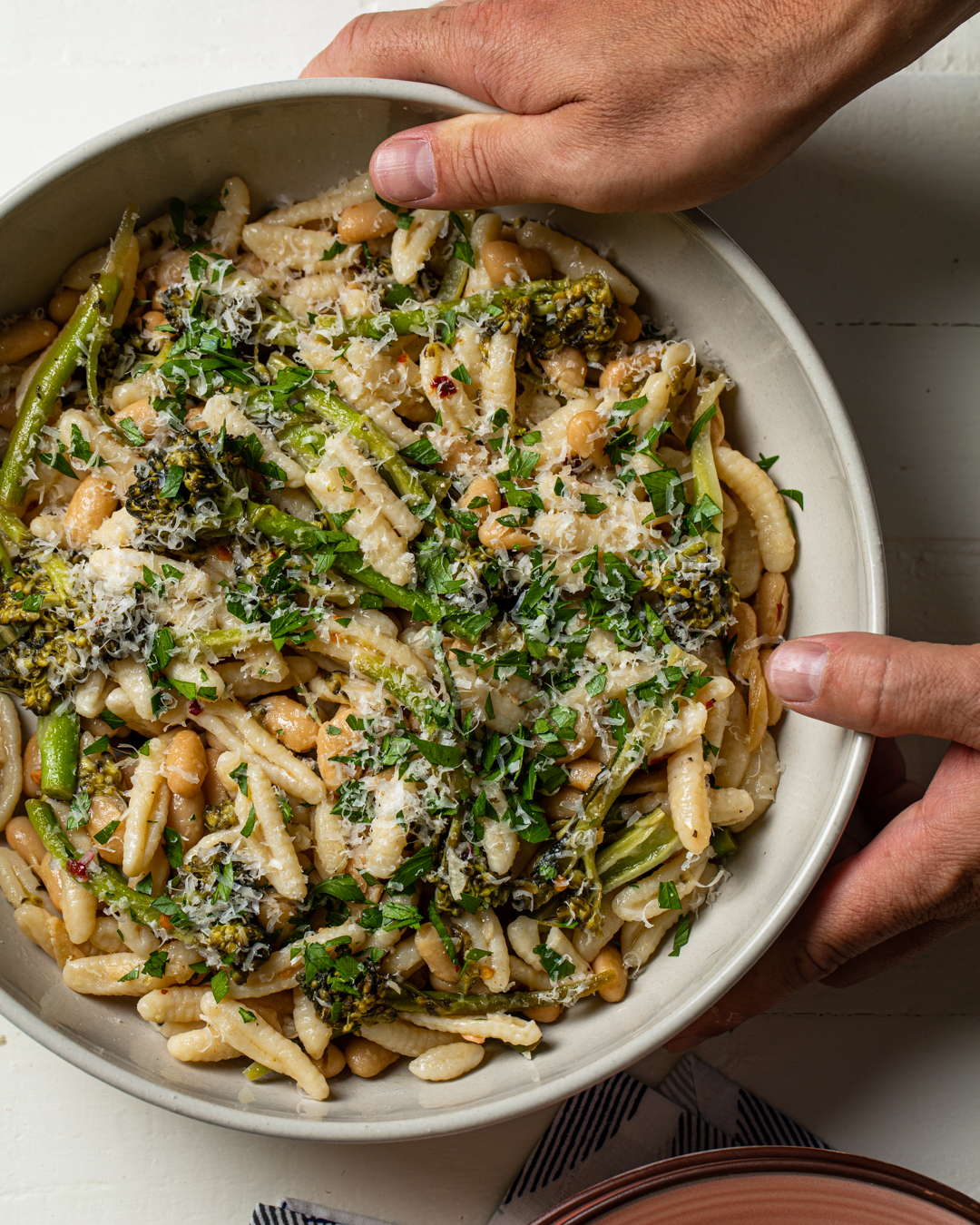 Ricotta cavatelli is surely the easiest pasta to make from scratch. The ingredient list is short: flour, ricotta, egg, and salt. And it comes together in a smooth, workable dough that you only have to roll into long ropes and feed through a hand-crank cavatelli maker — a quick, fun project you can do with the kids. Watching those little pastas fly out of the extruder is truly delightful. It's like an edible Play-Doh project.
For all that ease, we do have a couple tips from the test kitchen: First, be sure to drain your ricotta very well. Wet ricotta will create a tacky dough, which will be harder to roll. If it is tacky, you can add a little more flour as you're kneading it. And second, if you don't have a cavatelli maker, you can cut and shape the pasta by hand (the interwebs will show you how), but be sure to keep your dough balls covered with plastic wrap until you're ready to roll and cut them so they stay supple and workable. (You can also find the hand cranks online, and it may be worth the investment: to make ricotta cavatelli once is to make it weekly.)
However you cut it, ricotta cavatelli is a delicious, versatile pasta. A near 1:1 flour-to-cheese ratio gives it a lovely, dumpling-like texture that's pillowy soft, a little chewy, and deeply comforting. Its subtly creamy flavor pairs beautifully with all kinds of sauces, from a delicate brown butter to a hearty meat ragu — and its boat-like shape holds on to them, so you get excellent coverage.
Here, we serve the cavatelli with a rustic combination of broccolini and white beans. We start by frying a handful of garlic and crushed red pepper in olive oil until it's fragrant, and then tossing the broccolini in it. And then we add white beans, white wine, Parm, and parsley. Yes, it's a simple dish, but the layers of flavor and texture are wonderful. Soft white beans and creamy cavatelli are the dynamic duo of comfort. And we love how the broccolini stalks are tender while the tips of their florets are lightly charred and crispy. They seem to soak up all the aromatics — biting into them is like an explosion of savory heat.
Cavatelli with broccolini and white beans will make a brilliant vegetarian main, but if you're feeling meaty, an herby turkey meatball or two would not be a bad idea. For a more luxe meal, it would also make a flavorsome side for grilled salmon, pork chops, or chicken breasts.
Yield: about 4 cups
Ingredients
2 cups all-purpose or 00 flour, plus more for dusting
12 oz whole milk ricotta cheese, drained
1 tsp kosher salt, plus more for boiling water
1 large Gelson's egg
Special Equipment: cavatelli maker
Directions
In the bowl of a stand mixer fitted with the dough hook, mix all of the ingredients together on low speed until a loose ball forms.

Turn the dough ball out onto a lightly floured work surface and knead with the palms of your hands until the dough becomes smooth and firm to the touch. It should not be tacky. Dust with flour as needed throughout the kneading process.

Cover the dough ball with a clean towel and let rest for 30 to 60 minutes.

Using a bench knife or chef's knife, cut the dough into 8 equal parts.

Roll one portion of the dough into a rope, approximately ½- to ¾-inches thick. Lightly dust the rope with flour, if needed.

Lightly dust a sheet pan with flour. Feed the dough rope through the cavatelli machine, catching the pasta on the sheet pan. Be sure to keep the pasta in one layer on the pan, being careful to not overcrowd it. Use another sheet pan if necessary.

Repeat steps 5 and 6 until all of the dough has been used.

If you are using the cavatelli right away, it can be cooked immediately in a large pot of salted, boiling water. Cook the cavatelli until they all float, 3 to 4 minutes.

Alternatively, you can freeze the cavatelli on the sheet pans and bag it up once it has completely frozen through. Cook from frozen using the same method, but allow 4 to 6 minutes in the boiling water.
---
Servings: 4
Ingredients
Kosher salt, to taste
¼ cup extra virgin olive oil
5 garlic cloves, thinly sliced
1 tsp Gelson's crushed red pepper
1 bunch broccolini, blanched and chopped into 3" strips
15-oz can cannellini beans, drained and rinsed
½ cup white wine
4 cups fresh ricotta cavatelli
½ cup pasta water
Freshly ground Gelson's black pepper, to taste
¼ cup grated Parmigiano-Reggiano cheese
2 Tbsp parsley, chopped
Directions
Bring a large pot of salted water to a boil.

Meanwhile, in a large skillet over medium heat, heat the extra virgin olive oil.

Add the garlic and crushed red pepper, and stir continuously with a wooden spoon until very fragrant, being careful to not toast the garlic, about 3 minutes.

Increase the heat to medium-high and add the broccolini, stirring continuously, allowing the broccolini florets to fry in the oil until their tips are beginning to brown and get crispy.

Stir in the cannellini beans. Pour in the white wine, reduce heat to medium, and let simmer for 3 to 4 minutes, reducing the wine by half. Reduce the heat to low and keep the mixture warm while you cook the cavatelli.

Cook the cavatelli in the boiling water until they all float, 3 to 4 minutes. Reserve ½ cup pasta water, and then strain the cavatelli.

Toss the cooked cavatelli with the bean and broccolini mixture. Stir in the reserved pasta water, and season with kosher salt and black pepper.

Garnish with the Parmigiano-Reggiano cheese and chopped parsley. Serve hot.
Calculate nutrition information for this recipe.