Recipes
Impossible™ Meatball Subs (Made with Impossible™ Burger)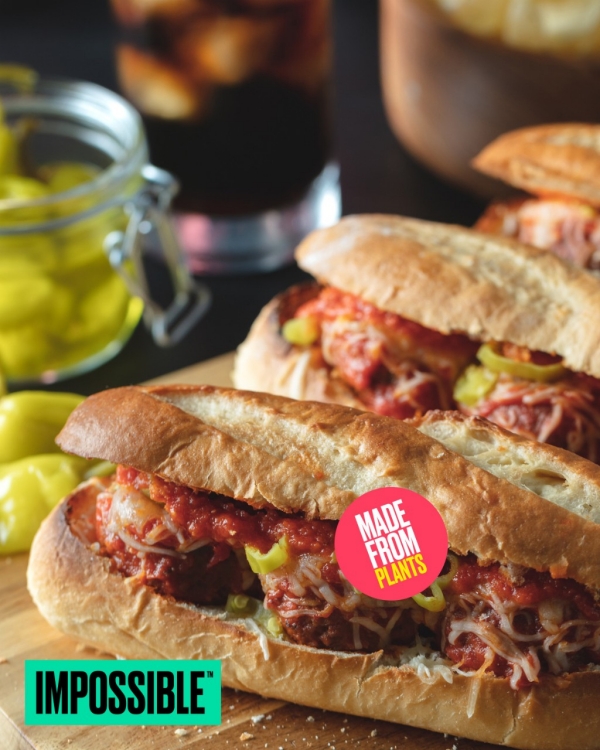 A meatball is always a good thing, whether it's served on a tangle of spaghetti, or as we've done here, in a very saucy submarine sandwich. We love the texture of these meatballs. They have a beefy density, and yet they're tender and light. They taste rich and meaty, but in a bite we get all the savories that went into them too — garlic, parsley, red pepper flakes, and Parm. And all of that is extra amazing because they're made with the Impossible™ Burger, which tastes, cooks, and smells like meat but is made from plants.
You'd never, ever know the meatballs weren't made with beef: In the test kitchen, our chef and chief meatball roller got halfway through eating her hoagie before she remembered.
These meatballs are straight-up awesome in submarine sandwiches. We put them on hoagie buns, loaded them up with tangy marinara, mildly spicy pickled peppers, and mozzarella cheese — and then slid them under the broiler to finish. Three minutes later, they emerged toasty warm, melty, and sloppy in the best way.
What could be more simple to make or more scrumptious? You can even bake off the meatballs the day before you need them, so the sandwich comes together lickety-split. That makes them perfect for a cozy weeknight meal with the family.
Our tip: You can use almost any bread for a meatball sub, but we like a hoagie bun because it stays soft in the oven. That means you can bite through it without wounding your gums. It also means the bread can absorb some of the juices from the meatballs and sauce, which is ideal.
Yield: 24 meatballs
Ingredients
For the Impossible™ meatballs (Made with Impossible™Burger):
1 cup Italian breadcrumbs
½ cup milk
2 12-oz pkgs Impossible™ Burger
⅓ cup Parmesan cheese, shredded
⅓ cup onion, minced
1 egg
¼ cup parsley, minced
3 cloves garlic, minced
½ tsp crushed red pepper flakes
¼ tsp onion powder
½ tsp dried oregano
1 Tbsp grapeseed oil, plus more for greasing
Salt, to taste
Black pepper, to taste
For the subs:
4 cups marinara sauce
8 hoagie rolls
24 meatballs, hot out of the oven
4 cups mozzarella, shredded
1 ½ cup banana peppers, sliced
Directions
To make the meatballs: preheat the oven to 400º.

In a large bowl, combine the breadcrumbs and milk and let the mixture rest for 10 minutes.

Fold in the Impossible Burger, and then add the remaining ingredients, mixing gently until fully incorporated.

Grease a baking sheet with a light coating of grapeseed oil.

Roll the mixture out into 1 1⁄2-inch balls and place them on the baking sheet, leaving about 1 inch between them. You should have about 24 meatballs.

Bake the meatballs for 10 minutes, or until golden brown, and then flip and bake for another 5 minutes.

In the meantime, warm the marinara sauce in a small saucepan.

To assemble the subs: kick the oven up to broil.

Slice the rolls in half, scoop out the inside of each side, and put them on a baking sheet.

Place 3 meatballs in each roll, and then divide the marinara and mozzarella cheese between them.

Broil the meatball subs for 2 to 3 minutes, or until the cheese is melted.

Transfer them to plates, top with the banana peppers, and serve hot.