Breakfast Recipes
Instant Pot Steel-Cut Oatmeal
Making stovetop oatmeal is a pretty simple, straightforward endeavor — you can't go wrong. But there's a certain beauty to cooking oats in an Instant Pot: It allows you to make a big batch of the stuff that can then be reheated on the stove or in the microwave for a few days' worth of breakfasts. And it's totally hands off. No hovering over the stove required!
For this reason, we especially love using the Instant Pot for steel-cut oatmeal, which not only requires a lot of stirring but also takes a notoriously long time to make on the stove. Here, we cook the little groats with almond milk, cinnamon, and maple syrup until they're al dente, so you get some chew amid all that starchy creaminess. Thanks to the magic of the pressure cooker, it only takes about 15 minutes.
We top our steel-cut oats with banana slices, toasted pecans, hempseeds, maple syrup, and a splash of almond milk. Together, they make the wholesome oats taste like a treat — full of light, natural sweetness and cozy, nutty flavor. It's a wonderful breakfast: scrumptious yet hearty enough to keep you full and happy until lunchtime and delightful with a hot cup of coffee.
Our tips: When the oats are ready, there will be about an inch of water and milk on top; keep calm, and stir it through the oatmeal for the perfect consistency. Also, feel free to adjust the oatmeal's sweetness by using more or less maple syrup or by using an additional sweetener, like brown sugar.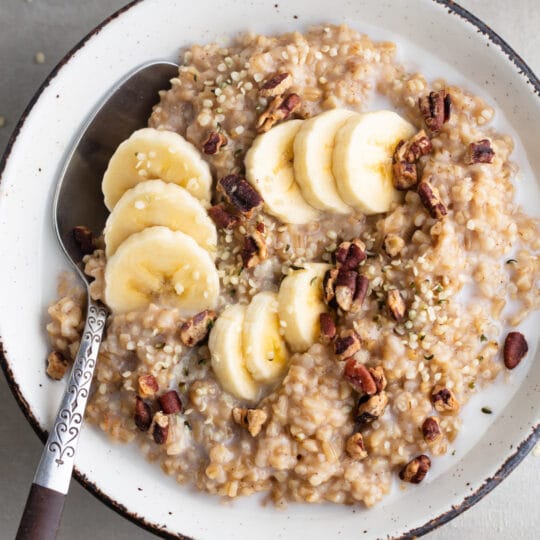 Breakfast
Instant Pot Steel-Cut Oatmeal
Serves: 8
Ingredients
½ tsp Gelson's ground cinnamon
1 cup unsweetened almond milk, plus more for topping
3 Tbsp pure maple syrup, plus more for topping
Banana slices, for topping
Toasted pecan pieces, for topping
Directions
In a 6-quart Instant Pot, combine the oats, salt, and cinnamon. Stir to combine, then stir in the almond milk, water, and maple syrup.

Seal the Instant Pot and cook on high pressure for 4 minutes. Let the pressure release naturally for 10 minutes.

Carefully open the valve to release any extra pressure and remove the lid.

Stir the residual liquid into the oatmeal, and let sit for 5 minutes. The oats will continue to thicken as they cool.

Divide the oatmeal among 4 to 8 serving bowls and garnish with almond milk, banana slices, toasted pecans, hempseeds, and maple syrup, to taste. Serve hot.

Leftover oatmeal can be stored in an airtight container in the refrigerator for up to 5 days. To reheat, combine the oatmeal and a few tablespoons of almond milk in a saucepan over medium heat. Cook, stirring occasionally, until warmed through, 5 to 7 minutes.
Recipe adapted from: Well Plated