Dinner Recipes
Iowa Skinny Sandwich
If we were to write a love song, it'd surely be about the Iowa Skinny Sandwich. The Midwestern diner staple is like a fried chicken sandwich, except it's made with a big ole pork tenderloin — and (dare we say it?) it gives its poultry cousin a run for its money. It's nothing fancy, it's just darn good. Case in point: in the test kitchen, we all wolfed down our sandwiches in about two minutes.
We butterfly and pound the pork tenderloin, so it's super thin — and then marinate it in a mixture of buttermilk, eggs, Louisiana-style hot sauce, garlic, cayenne, and black and white pepper. Once it has had a long soak, we dredge the cutlet in panko breadcrumbs. A tip from the test kitchen: Don't skip pulsing the panko in the food processor! It's critical to ensuring you get a nice even crust over the pork cutlet. In turn, it fries up snappy and crunchy on the outside, tender and juicy on the inside.
We absolutely love how giant that crispy pork cutlet looks on the soft, squishy bun — so goofily, amazingly oversized. That fried goodness tastes fantastic with classic burger fixings. Think: tomato, shredduce (a.k.a. shredded lettuce), red onion, dill pickle chips, mayo, and mustard. But the hero condiment? Hot sauce. Glorious, glorious hot sauce. It cuts through the many layers of the sandwich for a tantalizingly spicy high note.
If you eat your sandwich the right way, you'll end up with a little leftover pork nugget that's pure, delicious awesomeness (especially if you drown it in more hot sauce). Add light, easy-drinking beer to the picture — and you're golden.
Yield: 4 sandwiches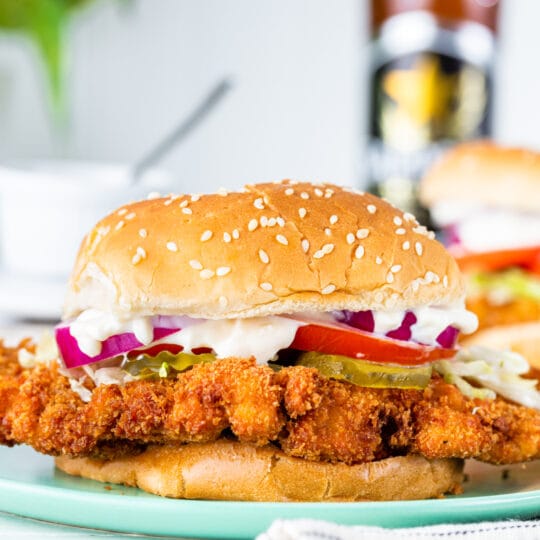 Dinner
Iowa Skinny Sandwich
Ingredients
1 Tbsp Louisiana-style hot sauce
2 tsp kosher salt, divided
½ tsp Gelson's garlic powder
¼ tsp Gelson's cayenne pepper
⅛ tsp Gelson's ground white pepper
⅛ tsp freshly ground Gelson's black pepper
2 cups panko breadcrumbs, pulsed a couple times in a food processor
4 cups vegetable oil or other frying oil
4 sesame seed hamburger buns
2 cups shredded iceberg lettuce
Directions
Trim any fat or sinew from the pork tenderloin, and then slice the tenderloin in half crosswise. Butterfly the tenderloin pieces by slicing each tenderloin lengthwise, being careful to not cut all the way through.

Fold the pieces open and lay them flat on a cutting board. Cover each piece with a sheet of plastic wrap. Using a meat mallet, pound each piece into very flat, thin pieces, a little less than ¼" thick. Cut the pounded pieces in half, creating 4 pork cutlets.

In a large bowl, combine the buttermilk, eggs, Louisiana-style hot sauce, 1 teaspoon kosher salt, garlic powder, cayenne pepper, white pepper, and black pepper, and whisk together until combined.

Place the cutlets in the buttermilk marinade, cover with plastic wrap, and press the plastic down on top of the cutlets. Refrigerate for at least 2 hours and up to 6 hours.

In a medium bowl, mix together the all-purpose flour and ½ tsp kosher salt.

In a separate medium bowl, mix together the panko breadcrumbs and the remaining ½ tsp kosher salt.

Using tongs, remove one cutlet from the buttermilk marinade, letting any excess drip off, and then dredge the cutlet in the flour mixture, shaking off any excess. Dip the cutlet back into the buttermilk, again letting any excess drip off, and then dredge it in the panko breadcrumbs, lightly coating each side completely. Transfer the breaded cutlet to a clean sheet pan and repeat with each of the remaining cutlets.

In a deep Dutch oven, carefully heat the vegetable oil over medium-high heat until it reaches 350° on a candy thermometer. Gently place 1 to 2 breaded cutlets in the oil, making sure they are not touching. Fry the cutlets on one side for about 3 minutes, gently flip them, and fry the other side for 2 minutes more.

Transfer the cutlets to a paper towel-lined plate to drain.

Repeat steps 7 to 9 until all of the cutlets have been fried.

To assemble the sandwiches: Spread yellow mustard on the bottom of each hamburger bun and a generous amount of mayonnaise on the tops. Place 1 fried cutlet on each bun, then top with lettuce, tomato, red onion, and dill pickle chips. Close the sandwiches and serve warm.