Recipes
Kumquat Chutney
Kumquat Chutney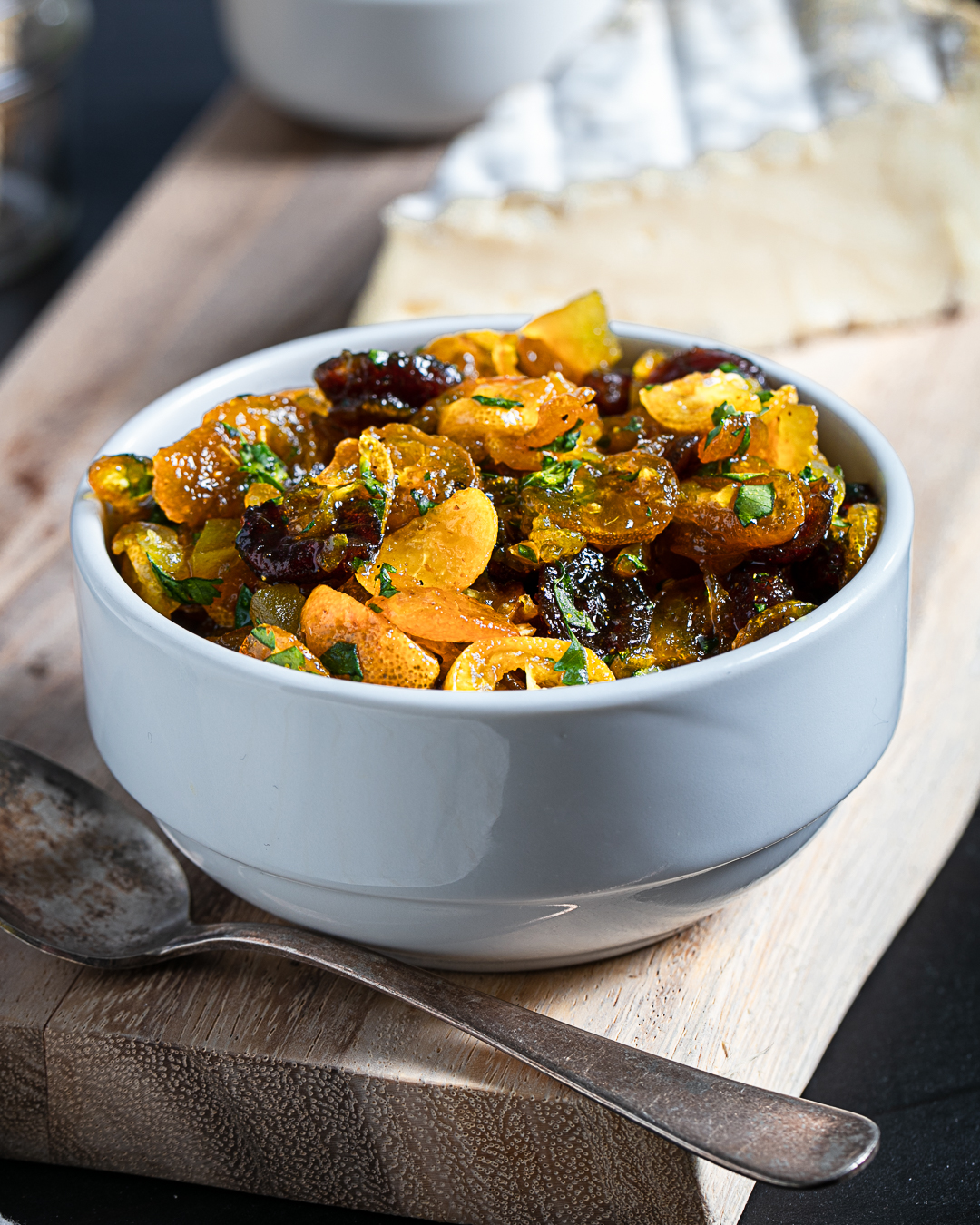 In SoCal, kumquat trees are nearly as common as Queen palms, and though less dramatic, still a wonderful sight. We love their glossy green leaves and blaze orange fruits — super tiny yet packed with flavor. Kumquats are the only citrus you can pick off the tree and eat whole, skin and all. Take a bite, and it's as if they've been turned inside out: the skin is tangy-sweet, and the flesh is puckery and sour.
This chutney makes the most of those flavors. We simmer kumquat slices, dried cranberries, and candied ginger in a concoction that's more of a thick brine than a sauce: sugar, vinegar, water, and curry spice. Once it cools, we stir in fresh slices of kumquat and a handful of chopped cilantro. The result is full of chewy texture and deeply flavorsome, from the sweet-tart fruits to the subtle warmth of the ginger and curry to the cilantro's peppery pungency.
Chutney is one of the simplest condiments to make — it's fueled by your pantry and gains all its depth in the fridge — and it's also one of the handiest. It's wonderful paired with any rich meat: think roast duck, rack of lamb, pork chops, or even a ham sandwich. It loves cheese, too, so we'd layer it on grilled cheese sandwiches. Better yet, do as we've done here, and put it on a cheeseboard or charcuterie platter. It'll bring everything from the creamiest brie to the strongest pepperoni into sharper contrast. It's also pretty tasty all by itself on a slice of golden brown toast with plenty of salty sweet cream butter.
Our tip: make a double batch and leave a jar on the porch of someone you love.
Yield: 12 oz
Ingredients
½ cup granulated sugar
¼ cup white wine vinegar
2 Tbsp water
2 Tbsp chopped crystallized ginger
2 Tbsp dried cranberries
1 tsp curry powder
1 ⅓ cups kumquats, sliced and seeded, divided
2 Tbsp chopped Gelson's organic fresh cilantro
Kosher salt, to taste
Freshly cracked black pepper, to taste
Directions
In a small saucepan over medium-low heat, combine the sugar, vinegar, water, ginger, cranberries, curry powder, and 1 cup kumquats. Gently simmer, stirring occasionally, until the mixture is thick enough to coat the back of a spoon, 6 to 9 minutes.

Pour the mixture into a small glass bowl and refrigerate until completely cool. Stir in the remaining ⅓ cup kumquats and cilantro. Season with salt and pepper. Refrigerate for at least 30 minutes.

Serve after cooled, or store in the refrigerator in an airtight container for up to 1 week.
Recipe adapted from: Serious Eats
Calculate nutrition information for this recipe.